The Charles Helou bus station in Beirut is not among the most charming places in the city. It's set right under a the highway that leads north, and it lacks things like silence, a rosy smell and access to direct sunlight. But it's always an interesting place to visit – like always with transportation hubs, it's a place for unexpected meetings.
Last evening, after a night playing backgammon and watching night-time Beirut from one of its rooftops, we made a short stop before making our way home. In a small room right behind the northern part of Charles Helou is the workshop of Salam Omar, an Iraqi artist who came to Lebanon from Baghdad.
We sit down for a few minutes and talk about his work and his life in Lebanon, a place that resembles his native Iraq in some ways – "I could not stay in Iraq, but I could not fully emigrate either, to Europe or elsewhere."
His works span from this colorful pop-arty piece to his characteristic bronze and metallic sculptures, and a large painting on one wall – it's called "Syria" – with rows of faceless, somber figures dotted with black spots.
We talk for a bit, and Salam takes out his iPad which has a large album with pictures from Iraq in the first part of the 1900s. There are photos from social gatherings, with smiling groups of friends. There's a picture from one of Baghdad's girl schools – neat rows of girls with combed hair and new dresses, smiling to the camera. "Look at this," says Salam. "This is how my country used to be." He flips to the next picture – three straw huts in a dusty field. Barely walls, barely a roof on top of each of them. "This is how the schools look today."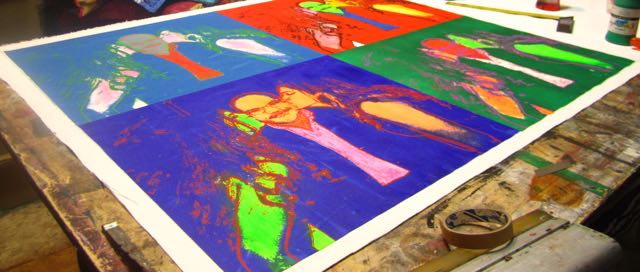 Update: Swedes (and Swedish-speakers), here is an interview with Salam – SR's Duraid al-Khamisi met him in Beirut last year.