Sustainable the Bangla way
One of the very special things about Bangladesh is how people keep making use of each and every single thing. The country is definitely on the way to become more prosperous (and thereby less reliant on saving and taking care), but it remains dependent on not wasting and over-consuming. There simply is not room for 160+ million people to lead a lifestyle where things are bought one second and disposed of the next.
Many, many Bangladeshis continue to get by day by day – and those who don't, well, they most likely experienced rough times at least at some point in the past, or heard the stories from parents and grandparents. Not more than one or two generations ago, poverty was a very real thing. To many, it still is. Therefore, what you see all across the country is endless ways in which people recycle, re-use and invent smart solutions for maximizing the utility of everything.
There is also another aspect: accessibility. Many things are simply not available in Bangladesh. Shakil, a friend, explained: "The main thing that keeps people from buying new things is availability. Cars, computers, new gadgets – you simply cannot find them. And definitely not afford them. Why do you think I have a pirated Windows on my laptop? Why do people buy clothes that have already been worn by people in the West?"
With these things in mind, here are a few Bengali everyday innovations. Things to get inspired by. Maybe next time carry the bananas home with a piece of string?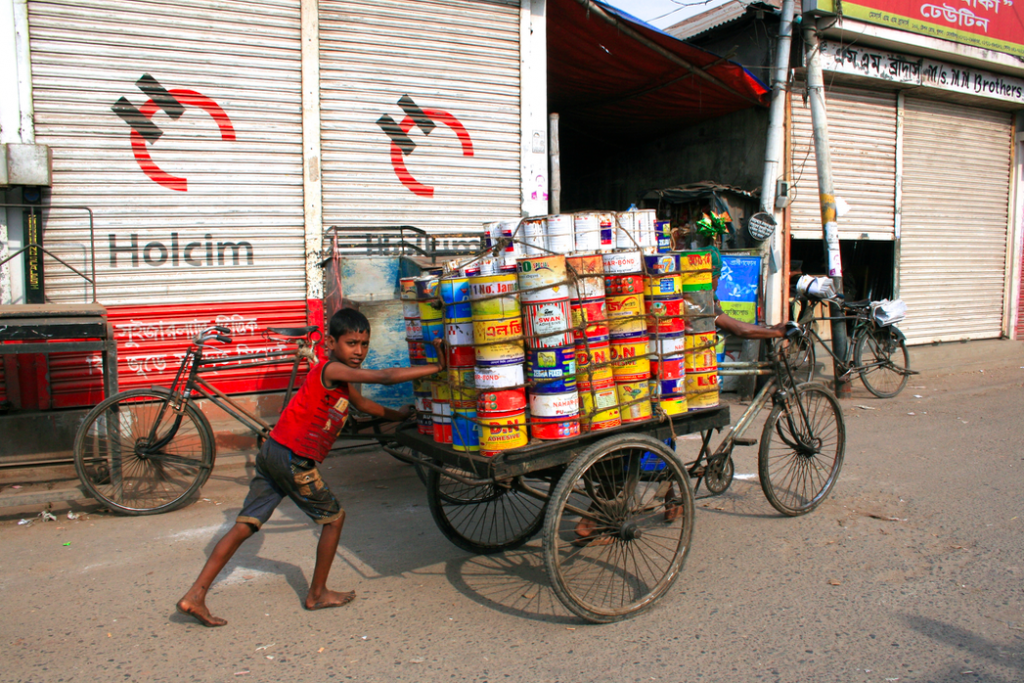 What can be saved and made use of – no reason to throw away.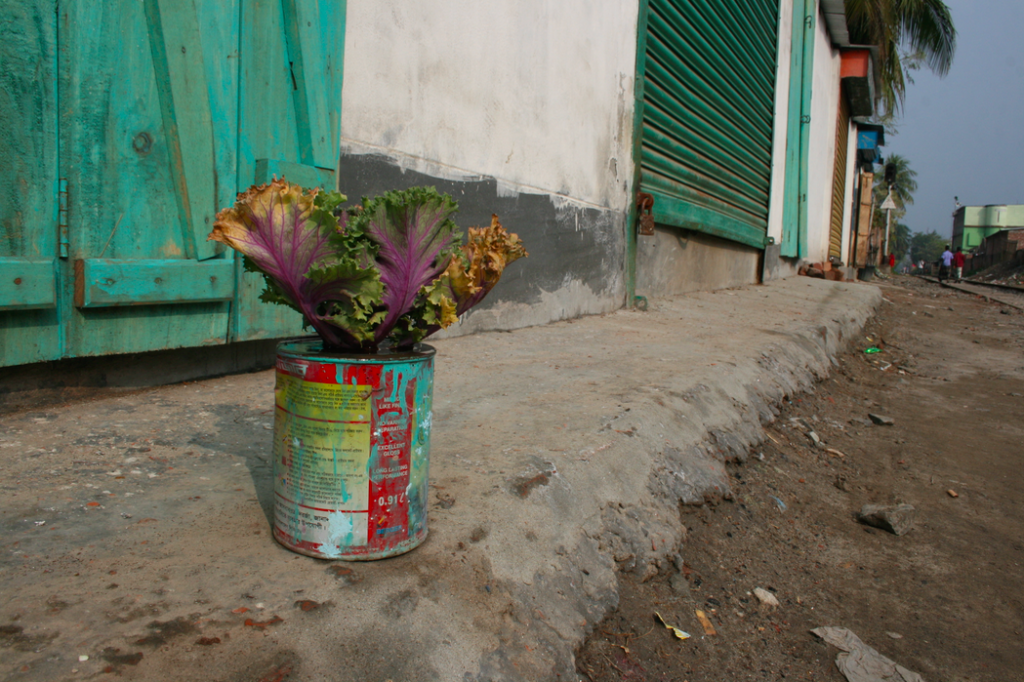 Instead of buying a new flower pot.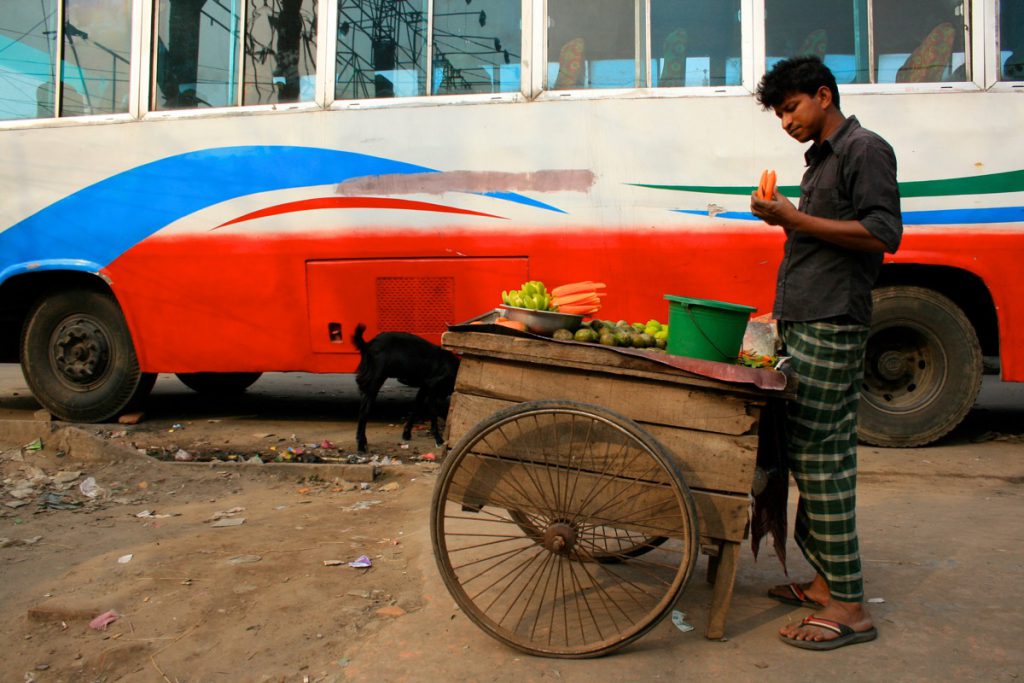 Better than baby carrots in plastic bags: artistically cut chilli flavoured veggies at Dhaka's bus station.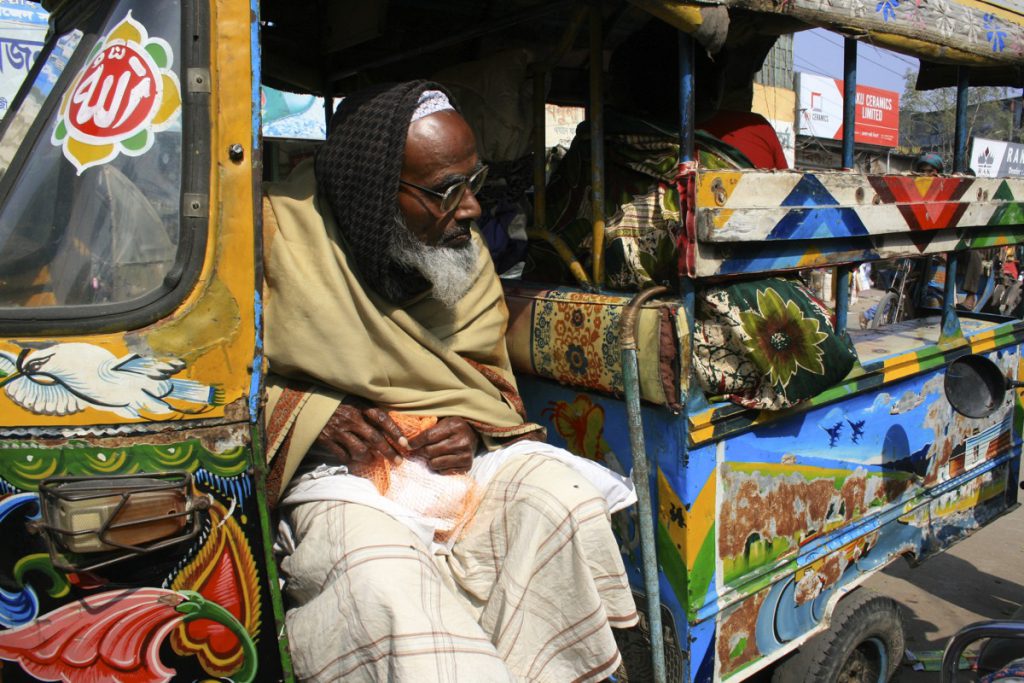 Heading home from the market, carrying the morning's purchases in a planet-friendly bag.
Plastic by the way, is rare in Bangladeshi stores. Plastic bags were banned at one point (in upmarket shops and vegetable markets you do get them though): instead, you get your things packed in bags made from old newspapers or notebooks (notes included!), or mesh/jute bags like the one in this gentleman's hands.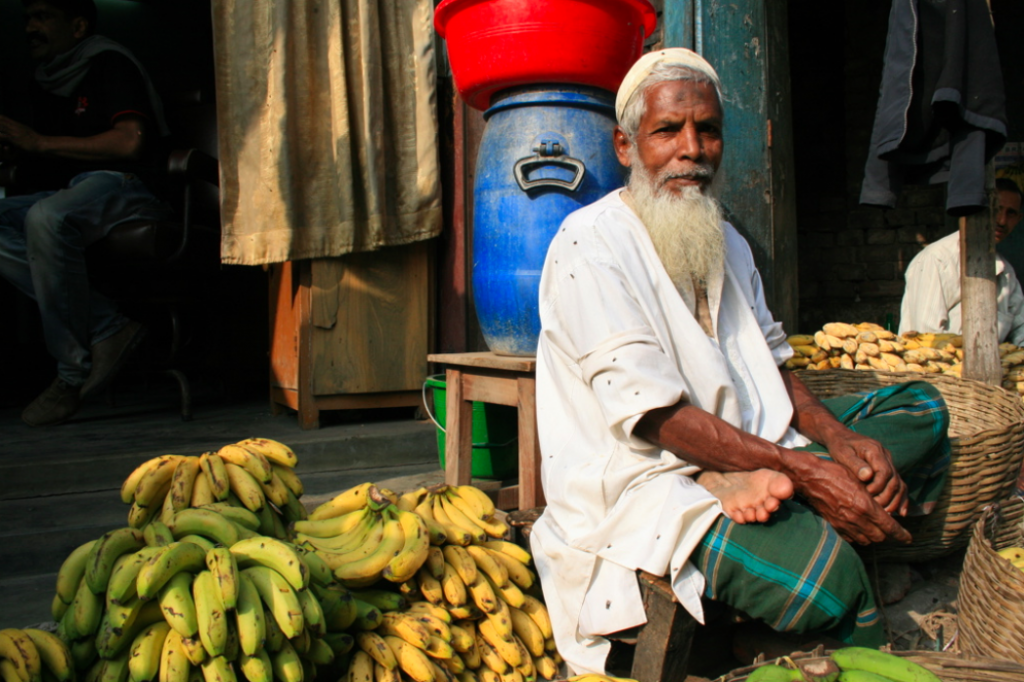 Bananas come with a carry-friendly piece of string when you buy them.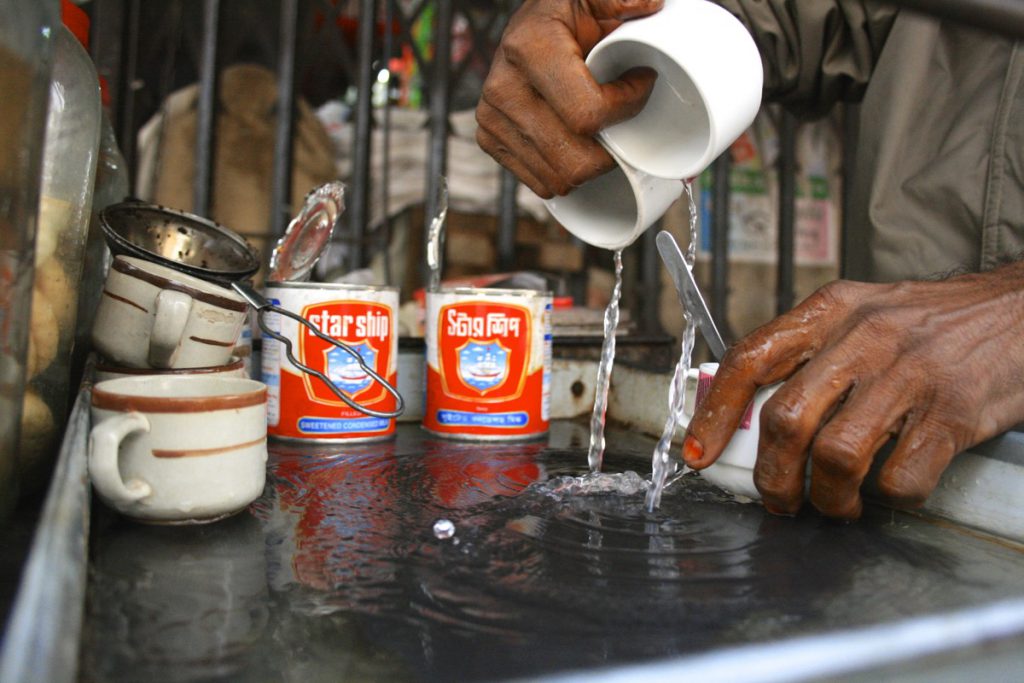 Then of course – no disposable plates or paper cups! Buy a tea, you sit down for five minutes to drink it. Same goes for the roadside snacks: they come served on tiny plates (very far from supersized portions) which are cleaned and reused after each customer. Even eating utensils are recycled bits of hard paper – no plastic spoons or forks!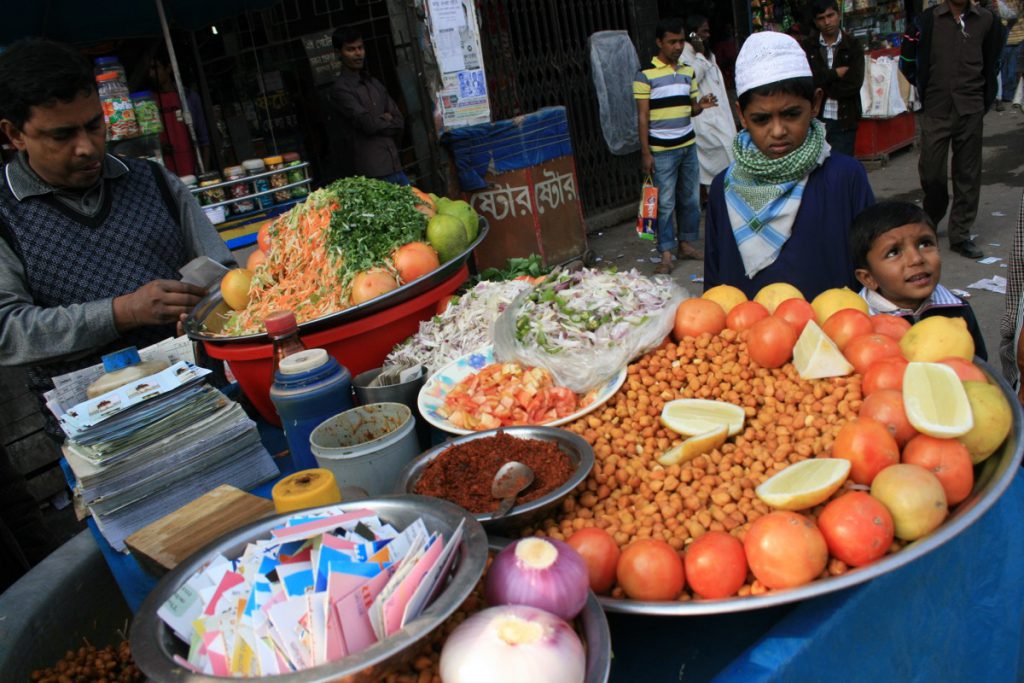 When you bring the snack to go, it is served on a piece of yesterday's news or sheets of paper from a used notebook.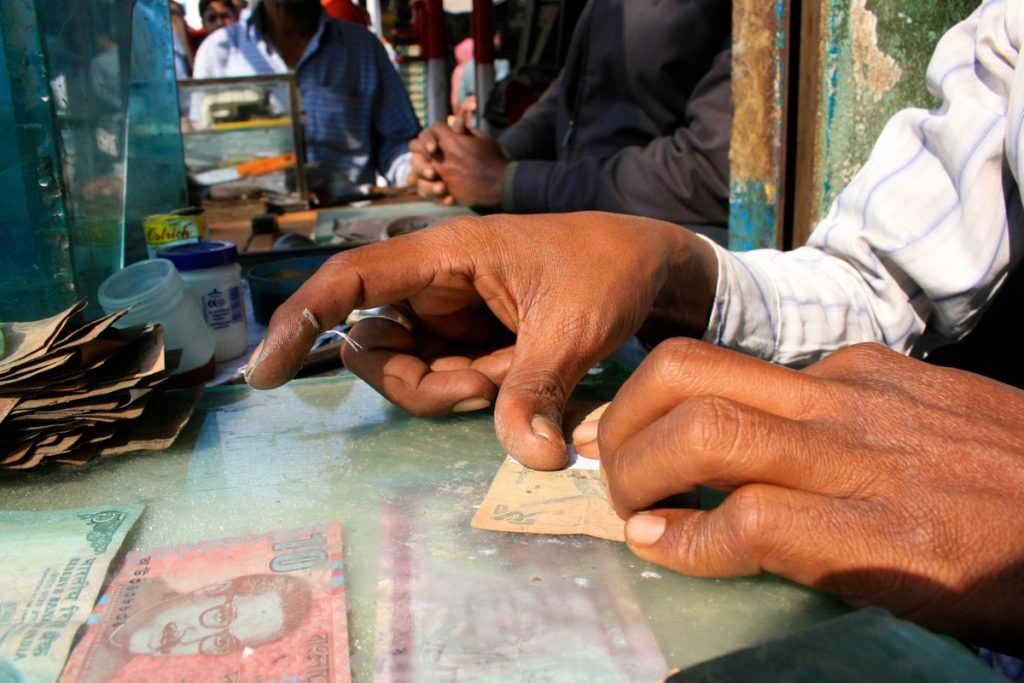 If it's broken, don't throw it away. This man has a small booth on the side of the road where he repairs 2 taka notes, worth $0.025 each.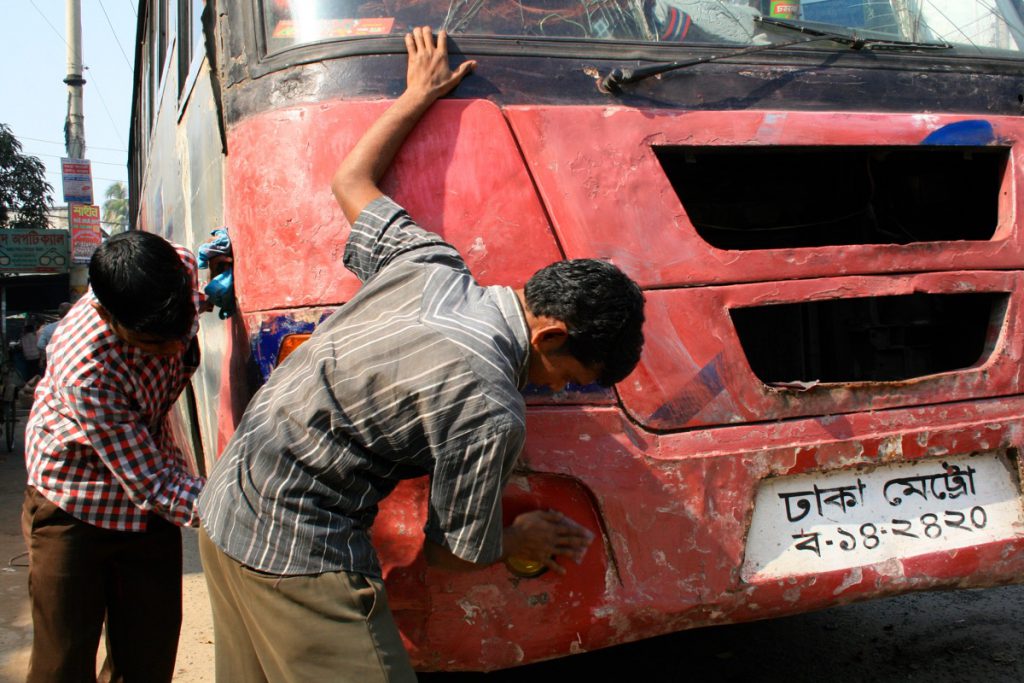 Ok. Maybe there are things that should not be recycled. Yep, buses have many lives, the question is just how many.