Election/"Election"
Stepping out into the streets this Sunday morning, it was hard to believe you were in one of the world's largest and most busy cities. Central Dhaka, normally jammed in traffic and a never-ending flow of people, resembled more a sleepy town than its actual self.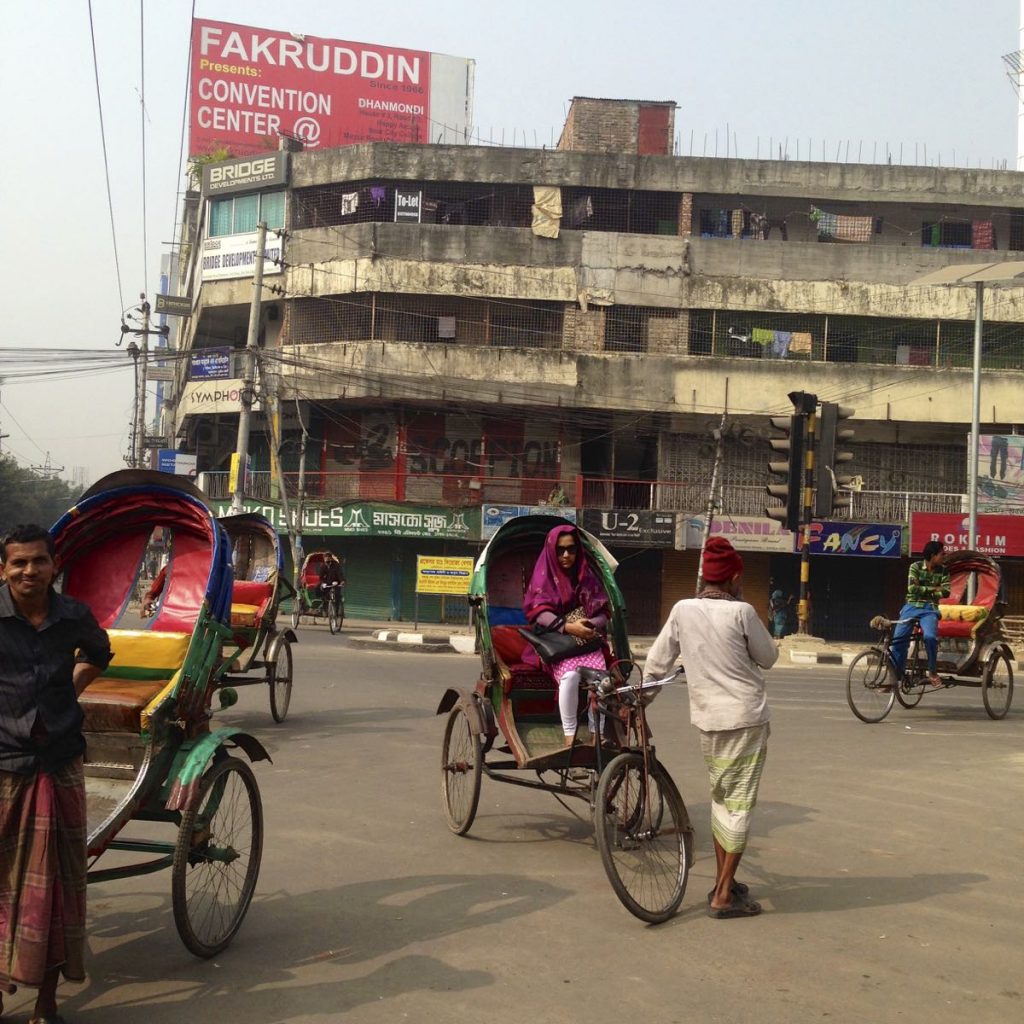 Motorised vehicles were banned, which gave the rickshaws lots of room on Dhaka's wide and, today, empty roads.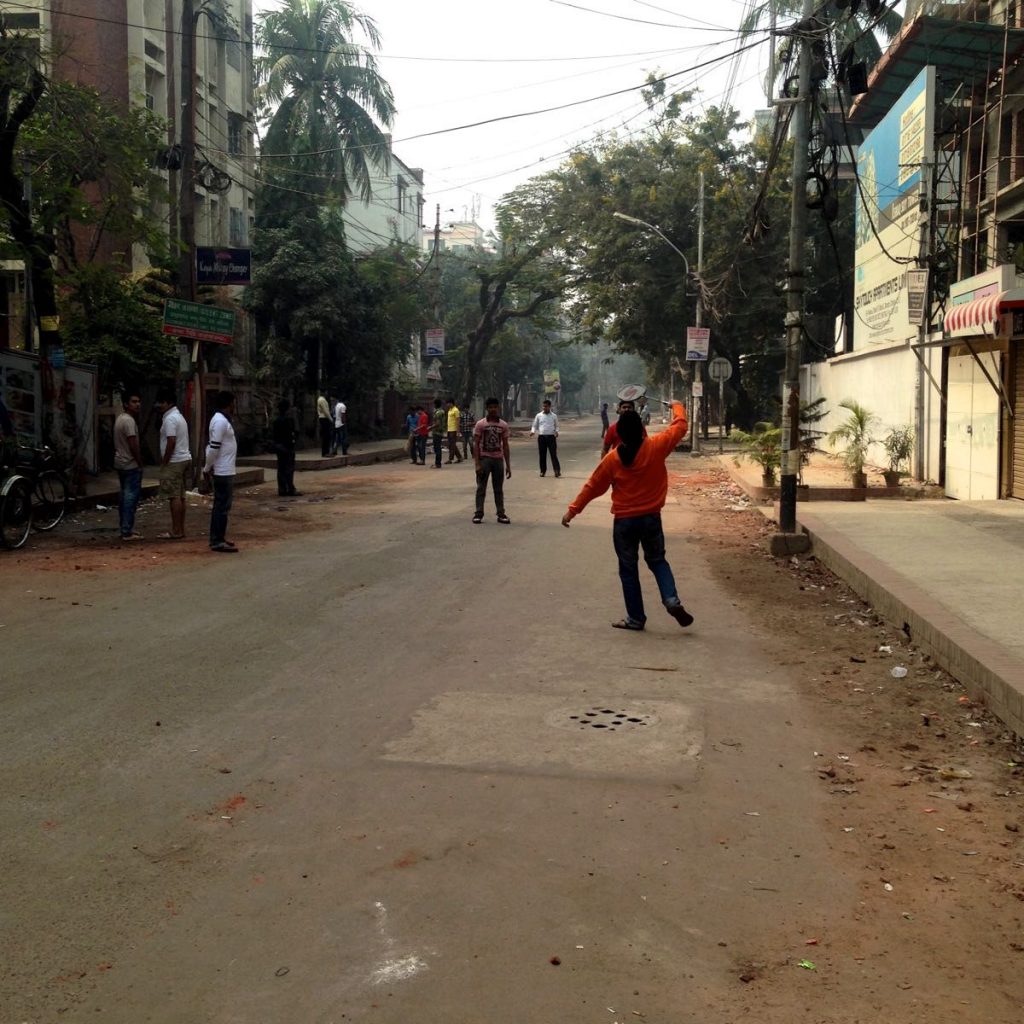 But there are other ways to use the streets.
The election, which was the 10th parliamentary election held in Bangladesh, started in the early hours of morning. But already from the beginning, everyone knew that this was going to be everything but a real contestation. The opposition, led by Bangladesh Nationalist Party (BNP), one of the country's two big political parties, had already weeks beforehand declared that they were boycotting the election. Its leader, Khalea Zia, had her house in northern Dhaka surrounded by police vehicles and was stopped from getting out; another politician, the former dictator Hussein Muhammed Ershad, the leader of Jatiya Party, was not let out of the hospital where he was confined. In the weeks leading up to the elections, many more – Human Rights Watch says thousands – opposition figures were arrested. The result: Awami League (AL), who are currently in power, saw their candidates run totally without a threat. The absurd situation even led to a number of them running against each other, and more than half of the constituencies – 153 out of 300 – were left uncontested.
Meanwhile, violence and sabotage has left the country in a much worse state than in a long time. It is mainly supporters of Jamaat-e-Islami, a party that dates back to the days of when Bangladesh was under Pakistani rule, that have been employing a sort of urban guerrilla war in cities and villages across the country. Cars and buses have been burned, buildings have been destroyed, and people – especially Hindus, who make up the largest minority in Bangladesh – have been attacked. The response from the police has been brutal. More than 110 people have died in the month leading up to the elections alone. On the day of the election, at least 18 people were killed throughout the country.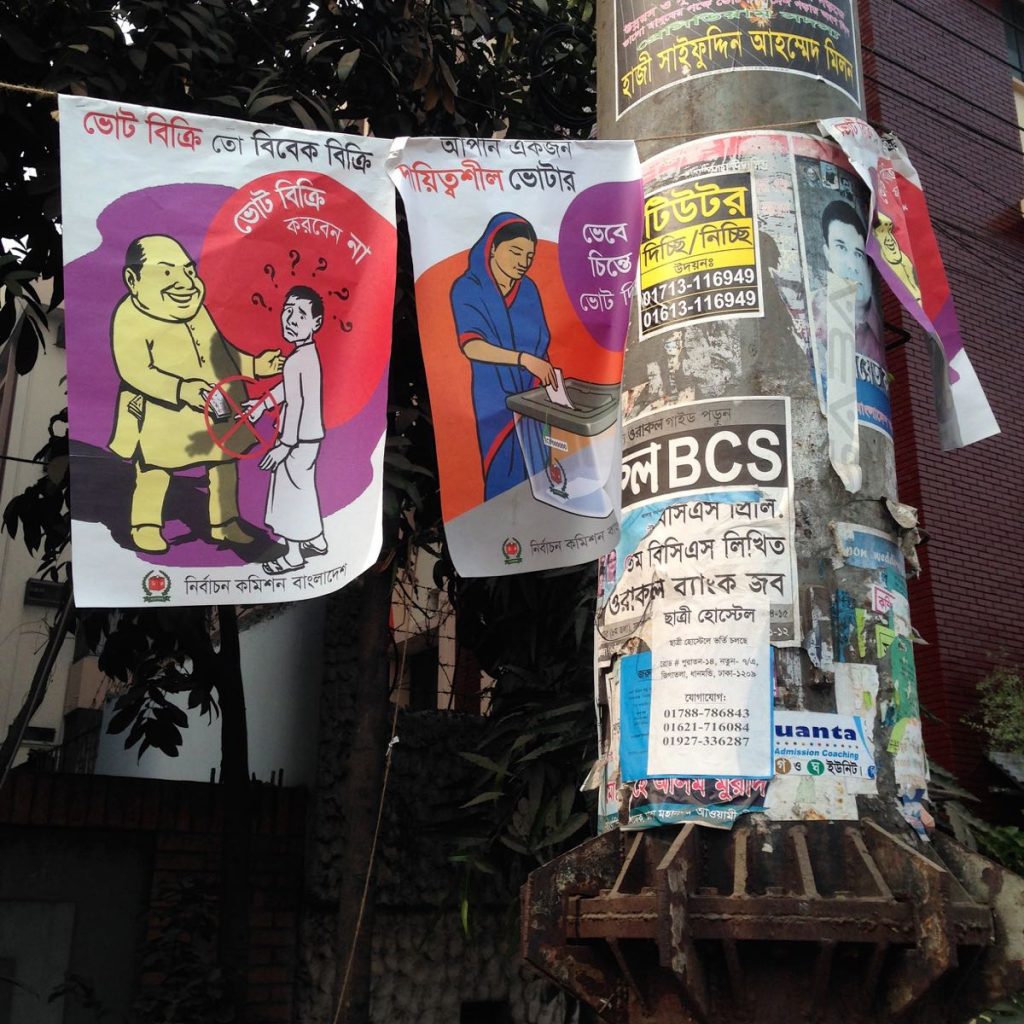 Posters indicating what to do and what not to do during an election.
Therefore, waking up to an empty Dhaka on the election day was not surprising. Samira Sadeque, a friend and journalist at Dhaka Tribune, was at a polling station in Banani, northern Dhaka, from eight in the morning. At eleven, she had seen seven people vote. The most heartbreaking thing she heard all day, she says, was "Dhaka wasn't this empty even during the war". The same with the places we visited. In Mohammadpur, western Dhaka, we spoke to Abdul Razzak, who was seated – like every day from noon – outside a small newspaper shop.
"You will not find anyone here who will vote. I wouldn't call it an election, because there's only one option. That's not a vote!"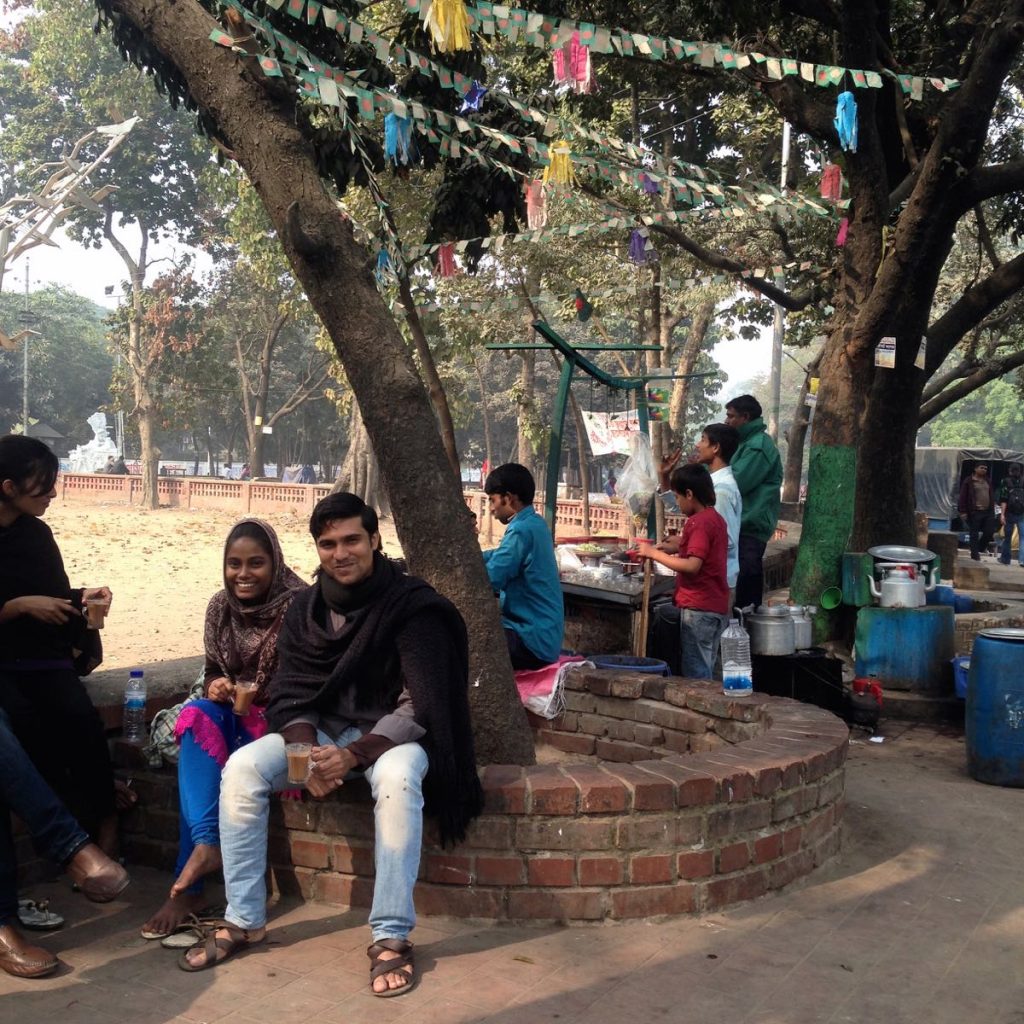 Students having tea outside Dhaka University. "Not voting," they said with a smile.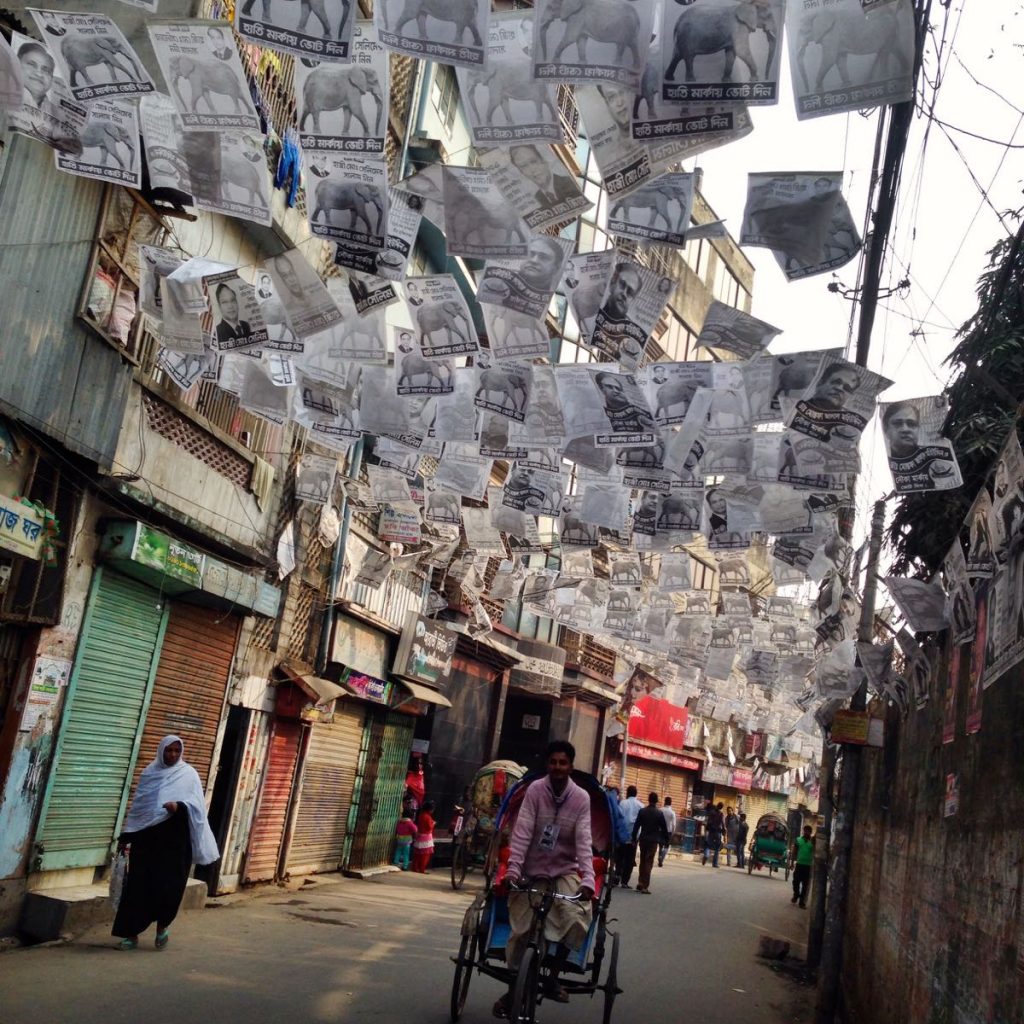 Lots of elephants in old Dhaka.
Except for a couple of polling stations we visited in old Dhaka, which were quite busy. Crowds of people, all with blue bands around their necks and pictures of an elephant – the symbol of local politician – were in a celebratory mood. With no opposition, they could be sure of the outcome. An old woman, dressed in a beautiful and carefully wrapped black-and-silver sari, was interviewed on TV. Another local resident, a man with an embroidered shirt in blue and white, happily showed up his elephant tag. We went there with Mahmud Hossain Opu and Andrew Biraj, two photographers. "It's nothing but a game at this point, and everyone knows it," said Andrew. At another polling station, not far away, we talked to Razzak Hassan and his sons. They were actually voting – but not out of support for the candidate.
"This is not a democracy. The leaders are only fighting for their power. But I'm voting anyway. The Jamaat is growing so strong and have a really strong economic base. They're so bad for the country," Razzak said.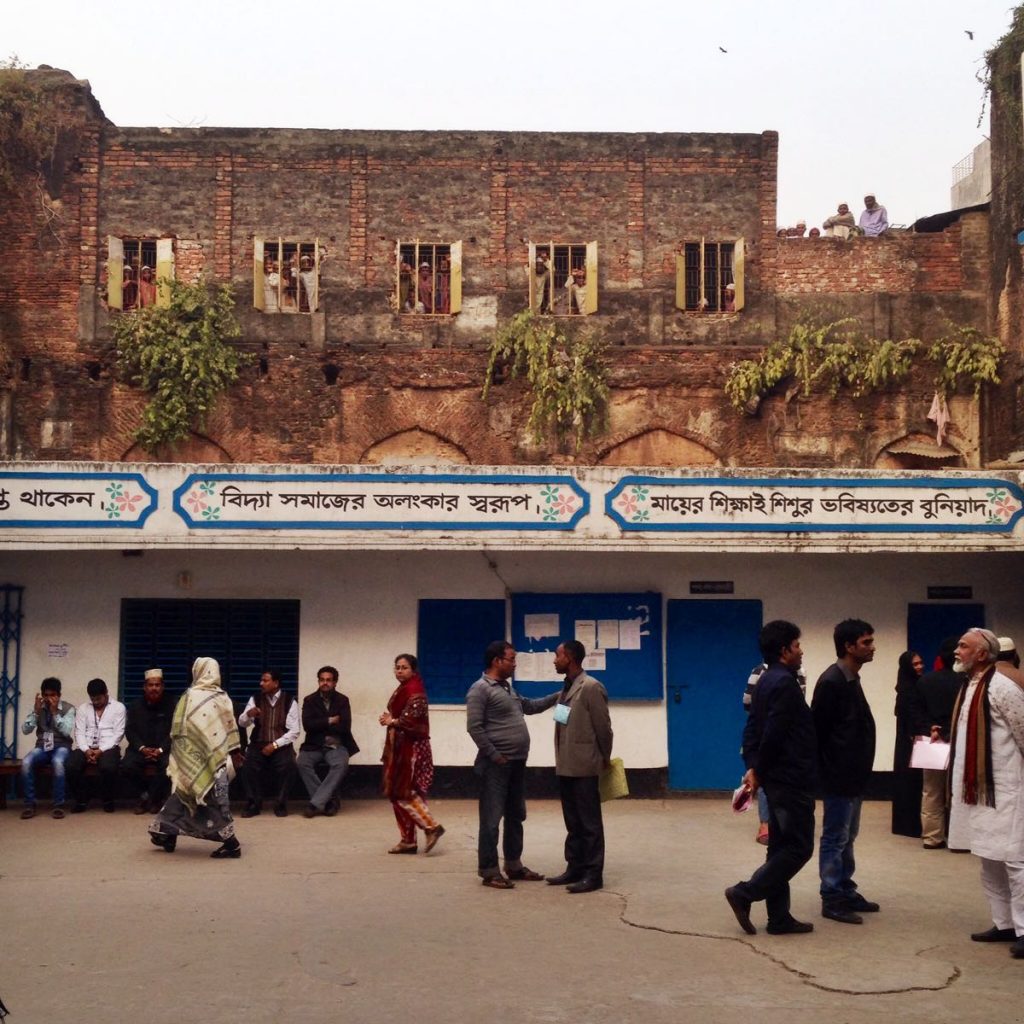 A polling station in old Dhaka's Boro Katta, votes are being counted inside. Behind, curious children look down from the nearby madrasa.
What Razzak said is something many other voters also have in mind – the wish for the violence and instability to stop. 2013 has been the most unstable year for Bangladesh in a long time. The rift between the two political factions have grown wider, protests and hartals (country-wide strikes) have continued to disrupt economical activity. International Crisis Group just listed Bangladesh among four countries on its Conflict Risk Alert list for the beginning of the year.
"Before, at least they used to burn empty vehicles – now they're setting buses with people inside on fire. That's really alarming. I don't know because I wasn't alive back then, but people say they haven't seen this much violence since the 1971 war," said Samira.
Like so often, it's the poor who suffer the most from the disruption. In terms of development, Bangladesh has done quite an extraordinary journey since the 1990s – much thanks to NGOs, who have done a fantastic job in improving health, education and the small-scale economy (micro finance, awarded the Nobel Prize, was born here). The average age has risen with ten years, from 59 to 69, and nearly every kid at least starts school today. From being an impoverished, struggling country, Bangladesh is well on the way to be a place with more and better opportunities for its 160 million people. With political deadlock and continued violence, that risks being brought to a halt.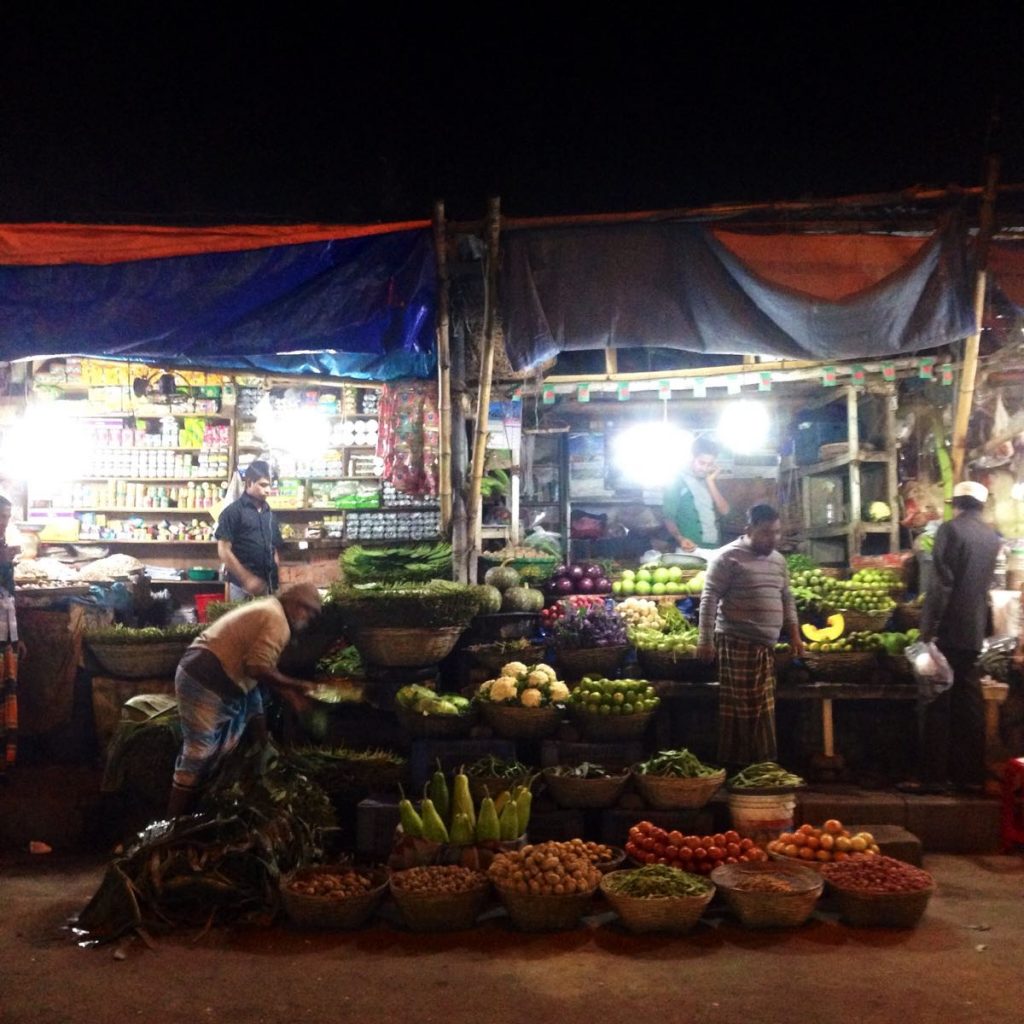 A woman shopping at a market in central Dhaka.
The issue, of course, is about much more than the actual vote. It's about the past and the future, about identity, belonging and survival. The violent tactics of Jamaat-e-Islami started escalating at the same time that the war crimes tribunal, in the beginning of 2013, began sentencing Jamaat leaders for crimes committed during the 1971 war (when the party was supporting the Pakistani army in its fight against Bangladeshis wanting independence). The tribunal spurred the Shahbag movement, which brought masses of Bangladeshis to the streets, chanting for tougher verdicts against those who were not sentenced to death. Jamaat, feeling increasingly isolated, answered by condemning the tribunal and increasing their attacks.
Parts of a mural outside Dhaka University.
The day before the election, I met with journalist and commentator Afsan Chowdhury at his office in Mohakhali, on one of the top floors of the huge BRAC building. We actually talked more about other things – the so-called lake (swamp) outside his window, where Dhaka's most expensive apartments overlook one of the city's oldest slums; how remittances are transforming rural Bangladesh; why he has chosen to stay instead of migrating, like he could, to Canada ("because Bangladesh is the one place where I feel that what I do actually matters and changes things") – but we discussed the elections as well. He was off to comment on one of the TV stations later that afternoon.
"If you can call it commenting – how do you comment on a non-election? Nobody will buy this election, not even the ruling party themselves, or their friends!"
He too is more worried about what will happen following the vote. The hanging, on December 12, of Jamaat leader Abdul Kader Mullah, is expected to be followed by more executions.
"For the Jamaat, it's about survival. That's the difference between them and those who are out fighting in the streets from BNP and AL. They are paying kids to make trouble, but not the Jamaat. They are fighting for a cause. They are in this tribunal now and they cannot change it."
Given the turnout and outcomes of the election – the only political force participating elected by a tiny percentage of the entire people – the feeling of being part of a larger process that you can do nothing to change is likely to be shared by many across the country.
In Swedish for Sydsvenskan, with photos from Karim: Oro för fortsatta attacker även efter valet