Hidden history in Old Dhaka
"See the monkeys playing on the roof? They've realised something that most humans haven't: the value of these old buildings."
Sourav, a student who lives in Old Dhaka, points towards a rooftop one building away from the roof where we're standing. A couple of monkeys play with a piece of cloth, which they must've snatched from the family drying their clothes in the courtyard below.
We're on the top of an old stone mansion in Old Dhaka – in Sutrapur, just north of the riverside Saderghat where all commuter boats dock. Sourav and two other friends from the neighbourhood, Sunny and Deepok, are taking us around to see the city's socio-architectural history. They're volunteers with Urban Study Group, an initiative to preserve and keep alive this shared heritage. While talking, we're also waiting for Taimur, the founder and tireless overseer of the group.
Meanwhile, Sourav continues to tell us about the neighbourhood. He's born and raised there, just like eight or nine generations of his family before.
"It's my home, my area. I wouldn't want to live anywhere else in the city, even if there are parts that are more modern and with more facilities. See these kids playing cricket outside? That's exactly what my friends and I used to do, on the same courtyard. It's nice to see others do the same."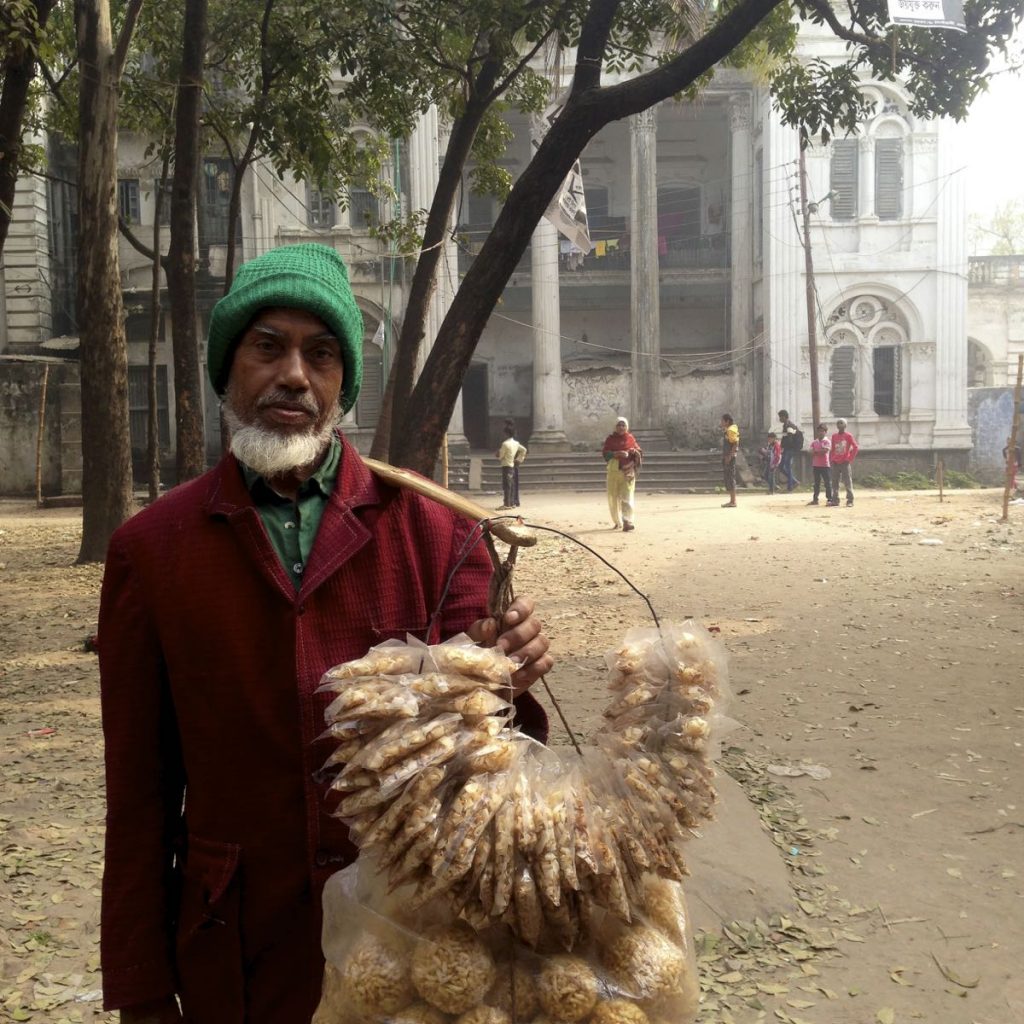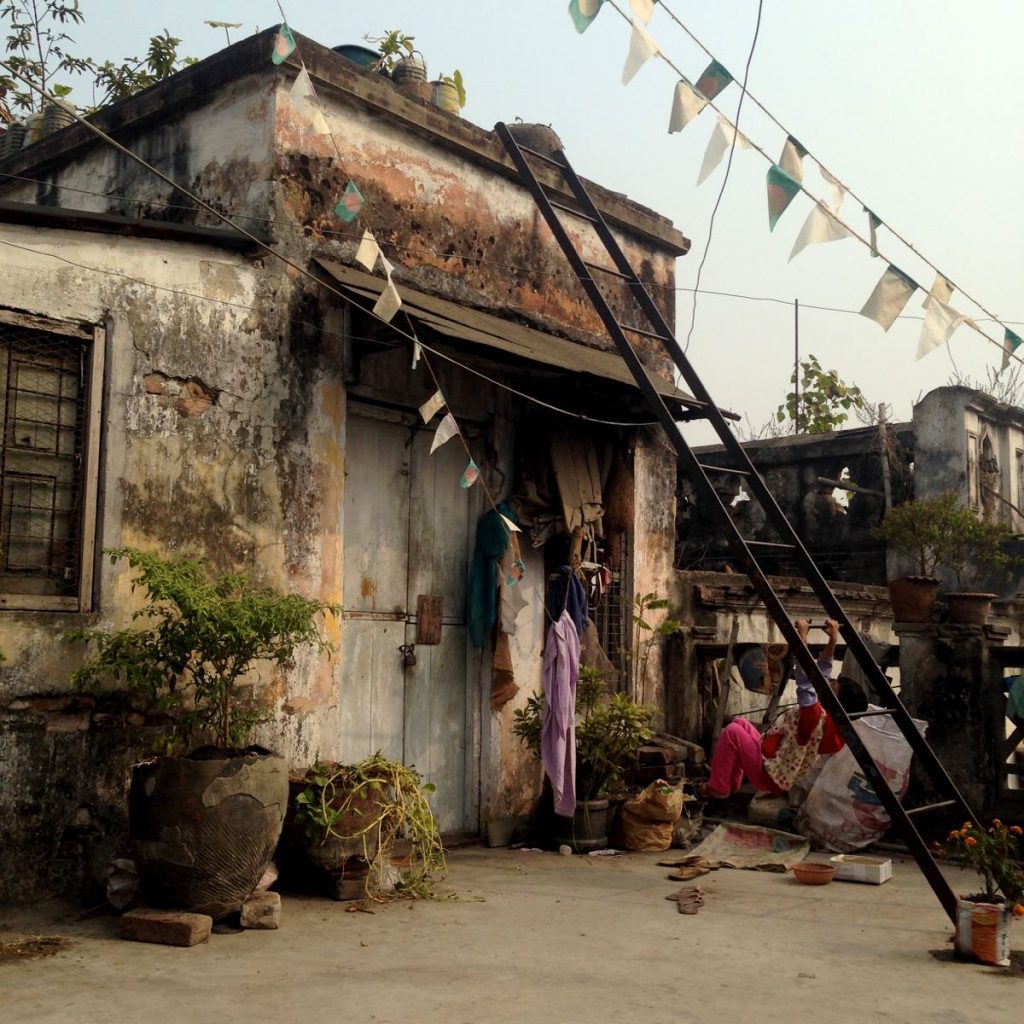 The building we're on top of is big. Huge, actually. It once was the residency of a zamindar family – influential and powerful landowners. As we're about to discover, Old Dhaka is full with such old mansions.
"The building was left empty in 1947, at the partition of the Indian subcontinent. Many Hindus in this part of the Bengal left for India, while Muslims in what's now West Bengal in India came here," says Sourav. "At first – this was during the time when Pakistan ruled over Bangladesh – the house was named 'enemy property'. The government took over it, and it was used as a training facility for fire fighters. It's still government-owned, but today it provides housing for families of those who work in the fire service. Guess how many families live here now? 53!"
We go down a flight of stairs; one of many that lead up and down the different parts of the building. The house has several courtyards as well, some of which are completely covered with tiny tin sheds. Most of the families who share the building have only one room, and have constructed small kitchens and bathrooms outside. We head back up to another part of the roof, where we meet Jakaria, who lives here with his wife and kids.
"My wife works at the fire department so that's why we live here. And her mum worked there before that, so she's brought up in the building. I'm very happy to have moved here, I love old architecture so it's great to get to live in one of these buildings that represent our old aristocracy. We pay around 6000 taka [$77] in rent each month, and on top of that electricity," he says.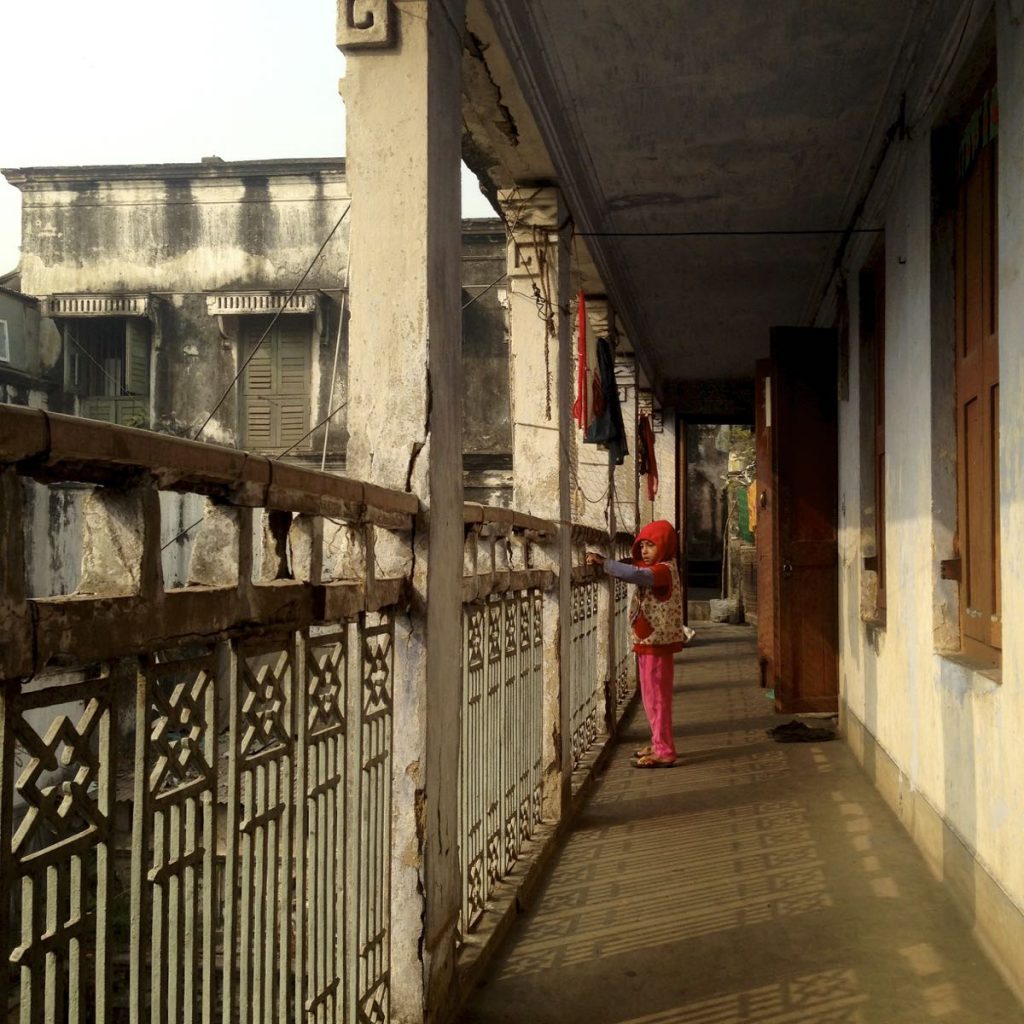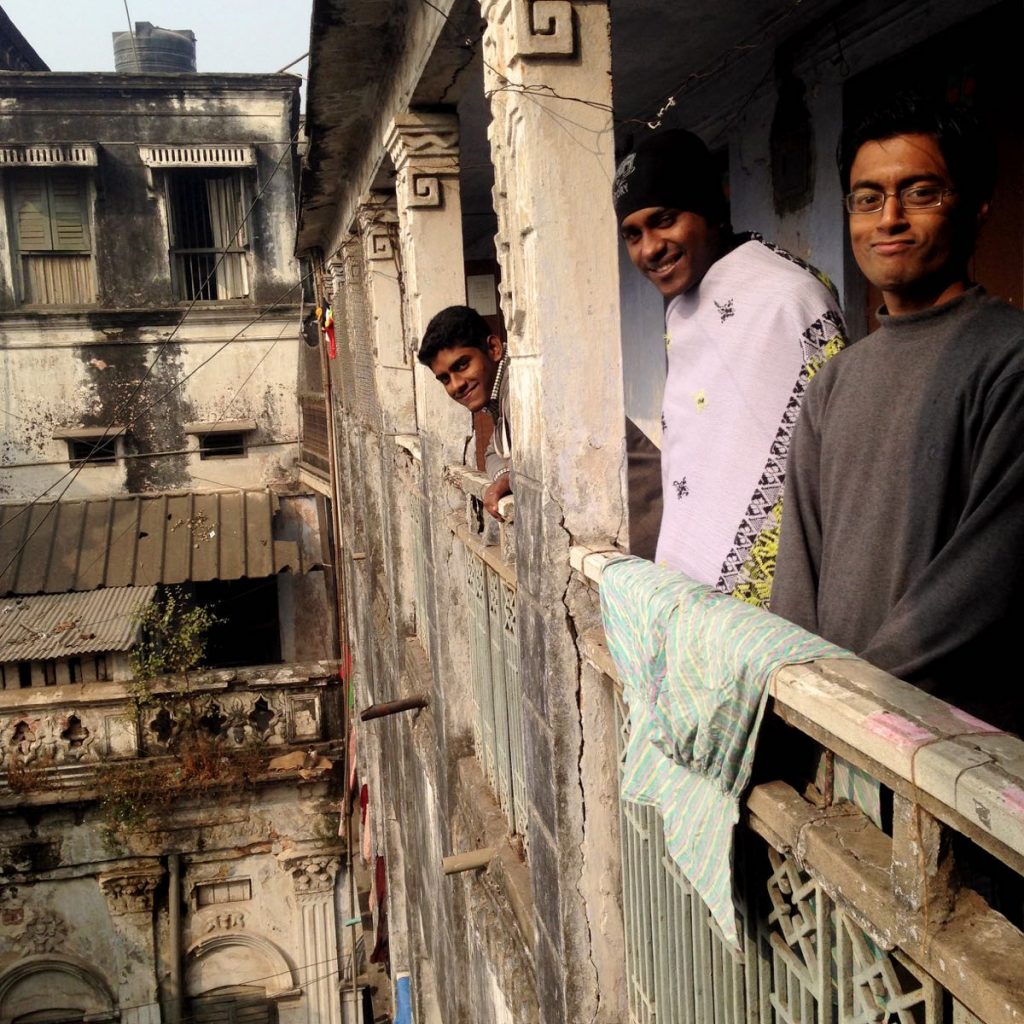 Sourav, Deepak and Sunny.
We're about to leave the house when we're joined by Taimur – an architect and a passionate advocate of preserving Dhaka's architectural wealth. He's been leading tours through the old parts of the city since 2005, and the last couple of years he's had help of young volunteers like Sourav and the others.
"It all began in 2004 when an old building collapsed in Old Dhaka. That brought attention to the sad state that many houses were in. The government set out to deal with the issue by demolishing these buildings – which we did everything we could to stop. Luckily, we succeeded. Instead of destroying 90 buildings, they decided to place 13 streets under heritage protection, and make a list with 100 buildings that cannot be demolished."
But, as Taimur says, the fight continues. Most of Dhaka's old houses are in a sad state: they're crumbling bit by bit, not being properly maintained or preserved.
The next building we go to exemplifies that. It's another zamindar residency, also this one in different use today. The place has been turned into a university dormitory for 200 students. Everywhere – on the walls, doors and stairways – are scribbles: the names of cricket teams from Dhaka, Barisal and Sylhet, and international football teams and players: Argentina, Brazil, Messi, Ronaldo.
"Everyone in Bangladesh loves either Argentina or Brazil," says Taimur. He smiles: "You should see Old Dhaka after one of them have won a game – there are huge celebrations."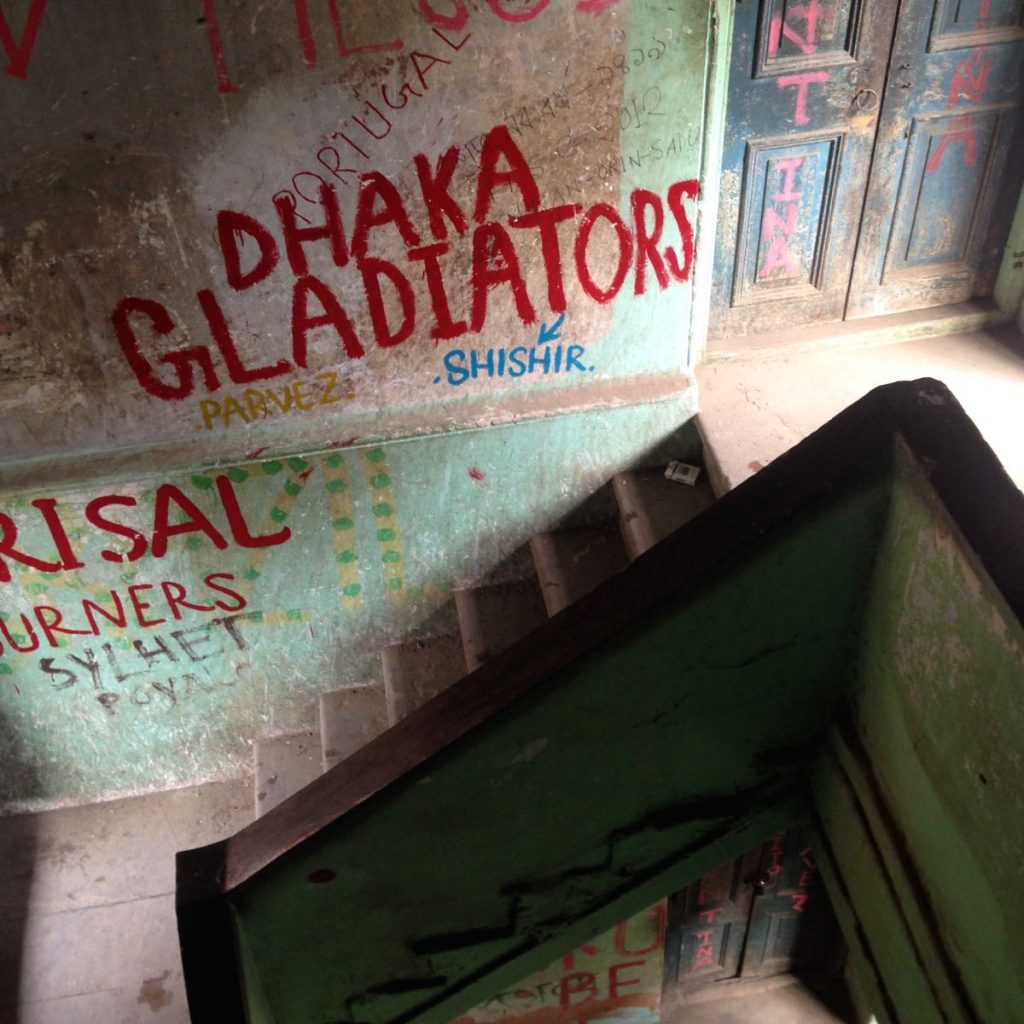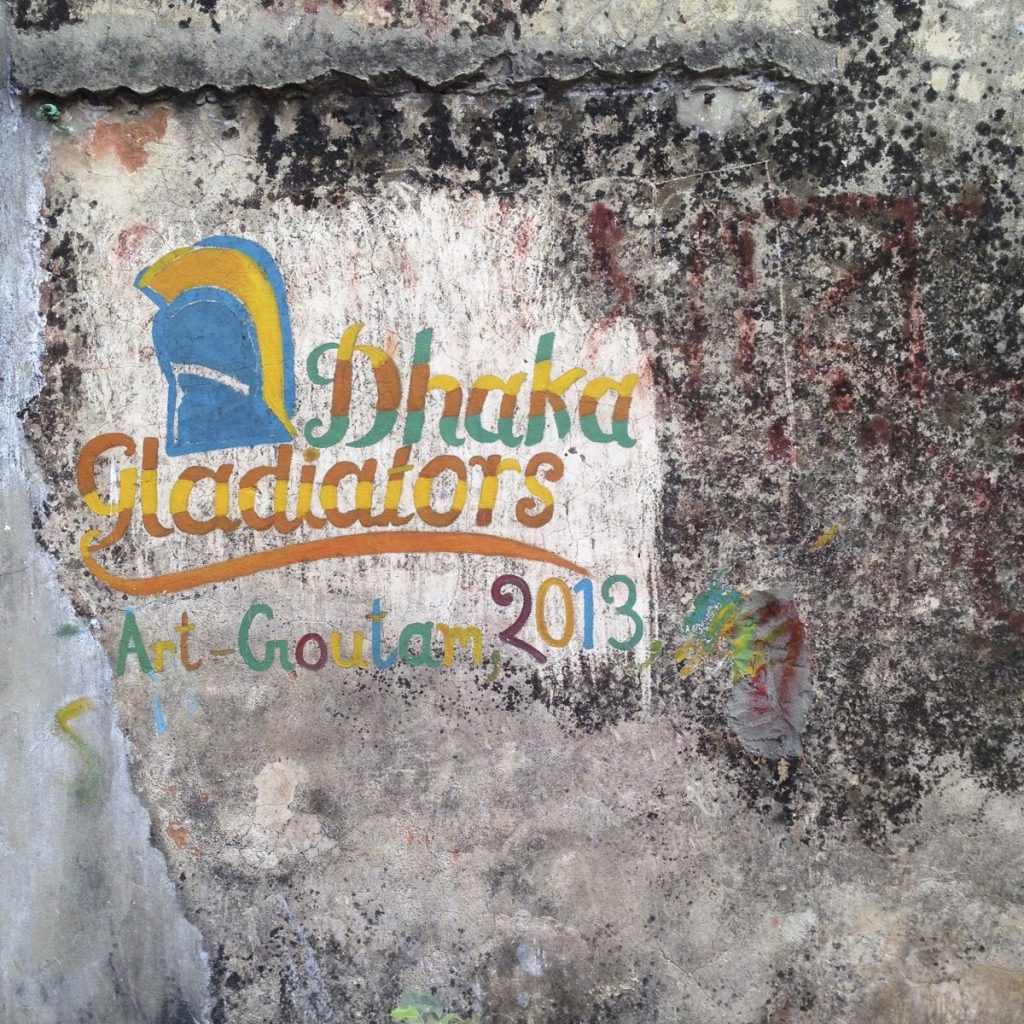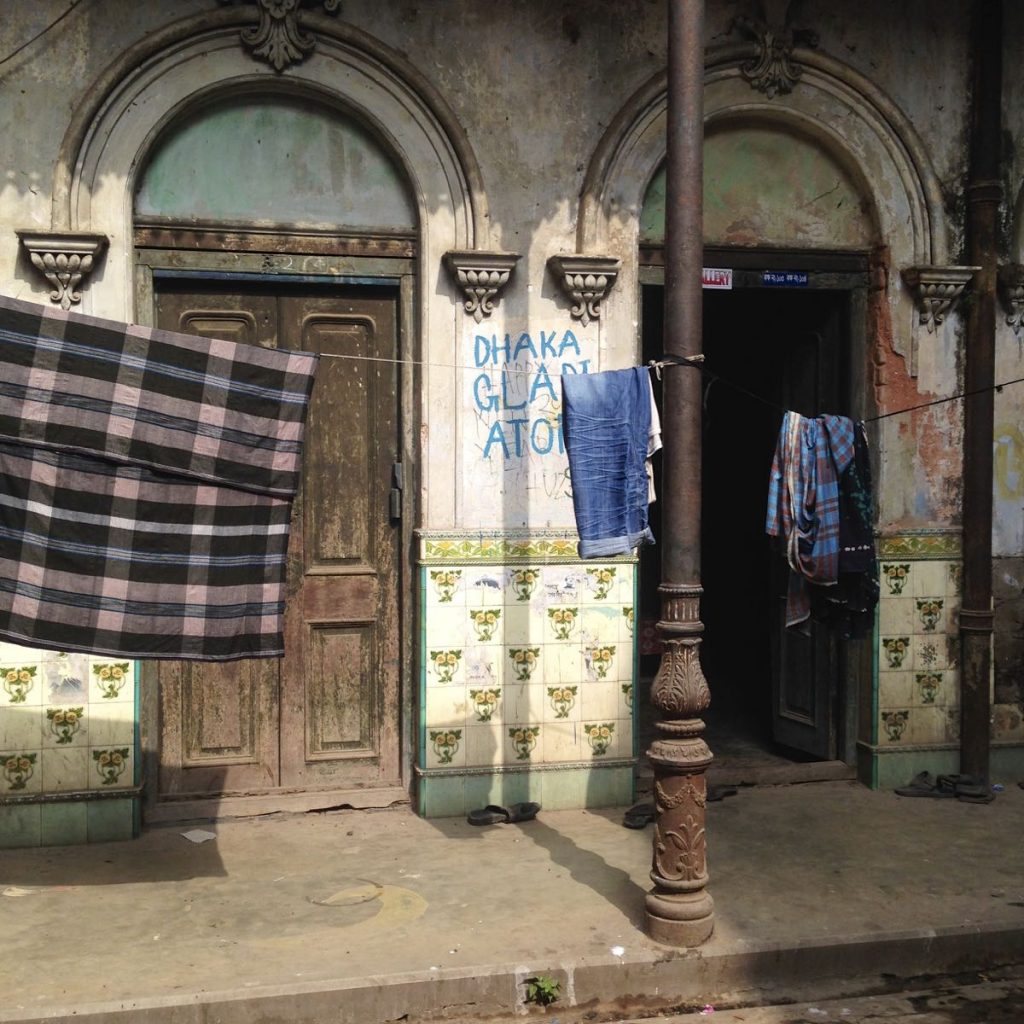 This building too was abandoned at partition. Like millions of people across the Indian subcontinent, the old owners saw themselves forced to leave due to the new political circumstances.
"Imagine what people faced back then – first having to leave everything, then arriving with nothing," says Taimur. "There are stories of people living in trains. It was incredibly hard for the government to provide housing to the newly arrived, and many ended up moving into abandoned buildings."
We leave the dormitory and continue walking. Narrow lanes lead us past more old houses, side by side with newer ones. Small mosques sit next to high buildings with pastel-coloured facades. There's something for sale in each corner – old men and women offer white cauliflowers, tiny potatoes and bright green chilli; kids display sunglasses, winter gloves and plastic combs; cha vendors serve small cups of tea for 6 taka each.
We're in one of the most crowded parts of this 15-million-city, which means there are things being made, built, created or distributed everywhere. Including inside most of the houses lining the streets.
"This area is called Kagajtila, which means 'the paper neighbourhood'. You see all the paper cuttings?" Taimur asks and points to small pieces of scrap everywhere on the street. "That's from the bookbinders and print shops. But it's all taken care of through recycling. Inside almost every building here, there's a room where people collect the paper waste. They sort them according to colour, then wrap them together and hand them over to be used for making new paper."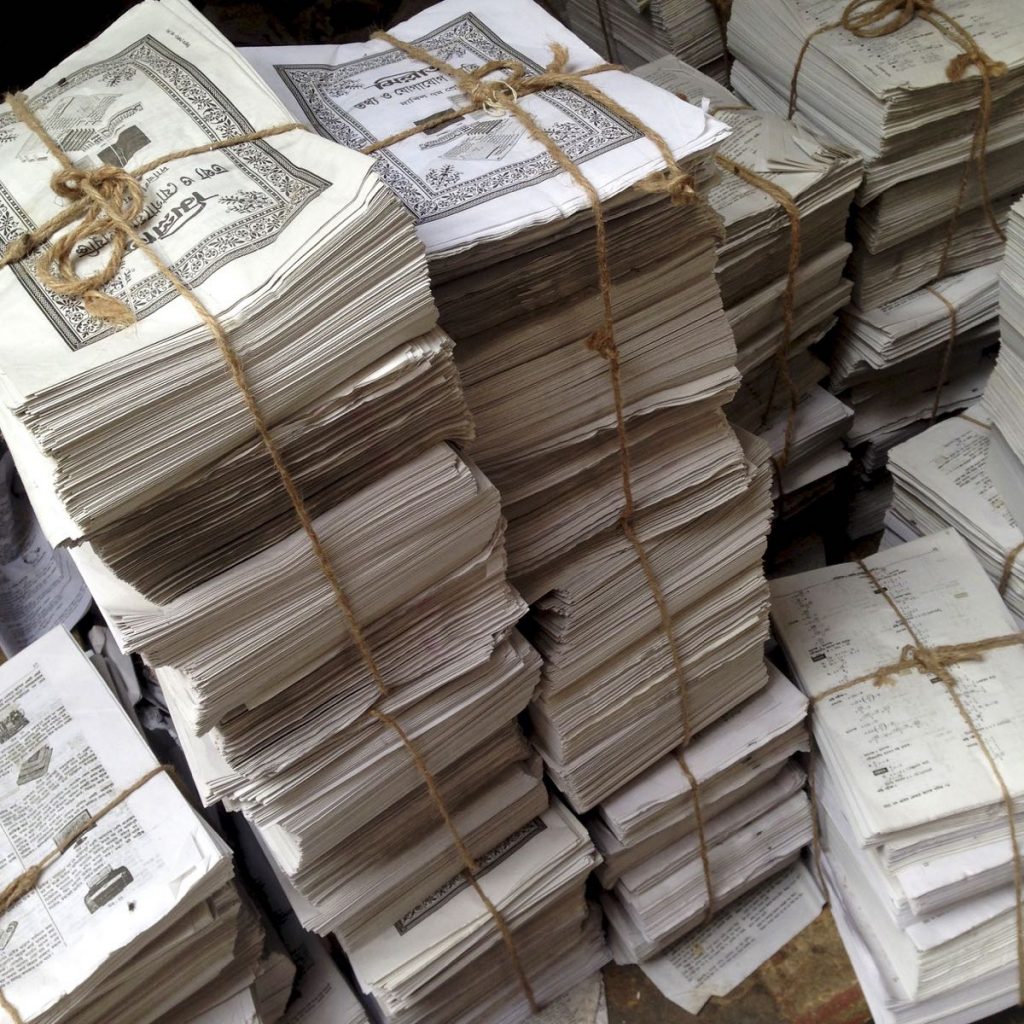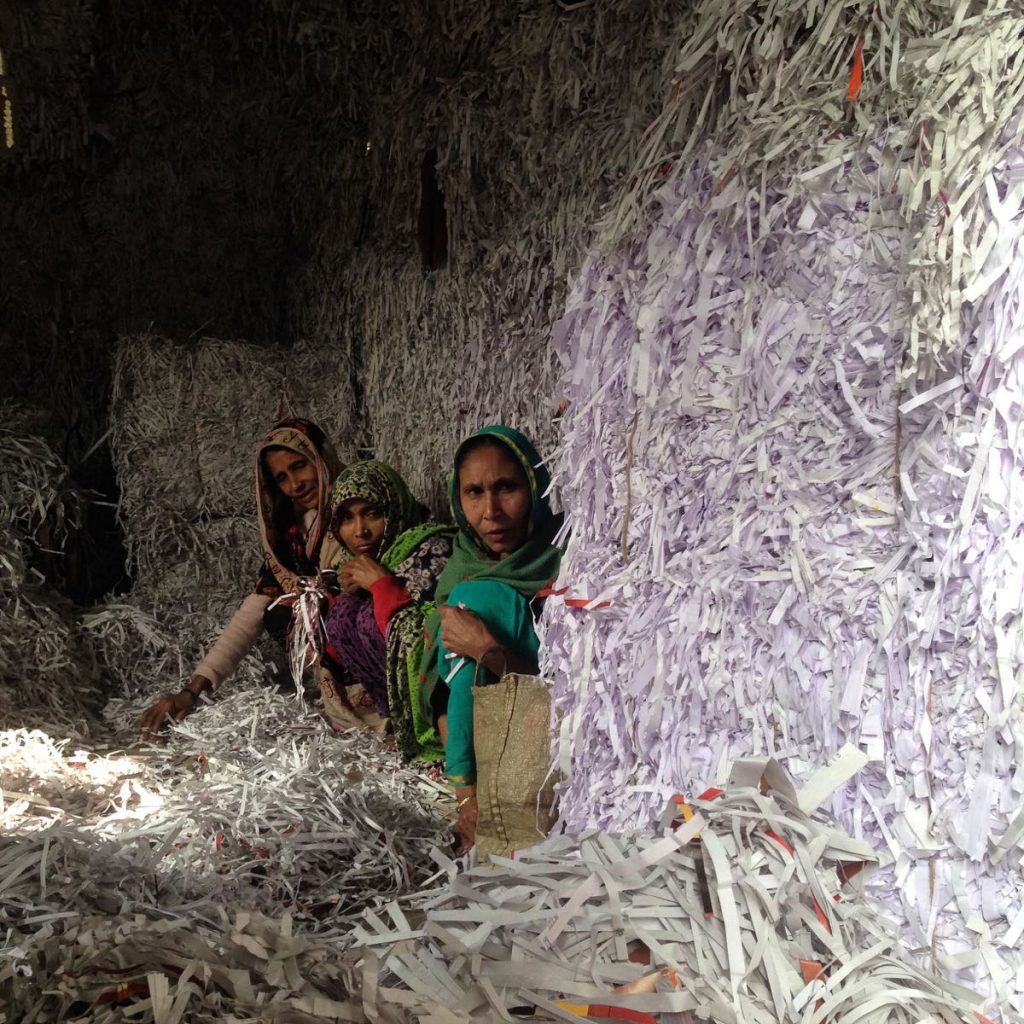 We continue, and soon step out onto a wider road. We're almost down by the river now – the Buriganga, which, had we followed it north, would eventually have taken us across the border to India. On our left is another old mansion, with a colourful and well-kept exterior. The iron gates are open – we step inside, cross the tiny garden and enter the building.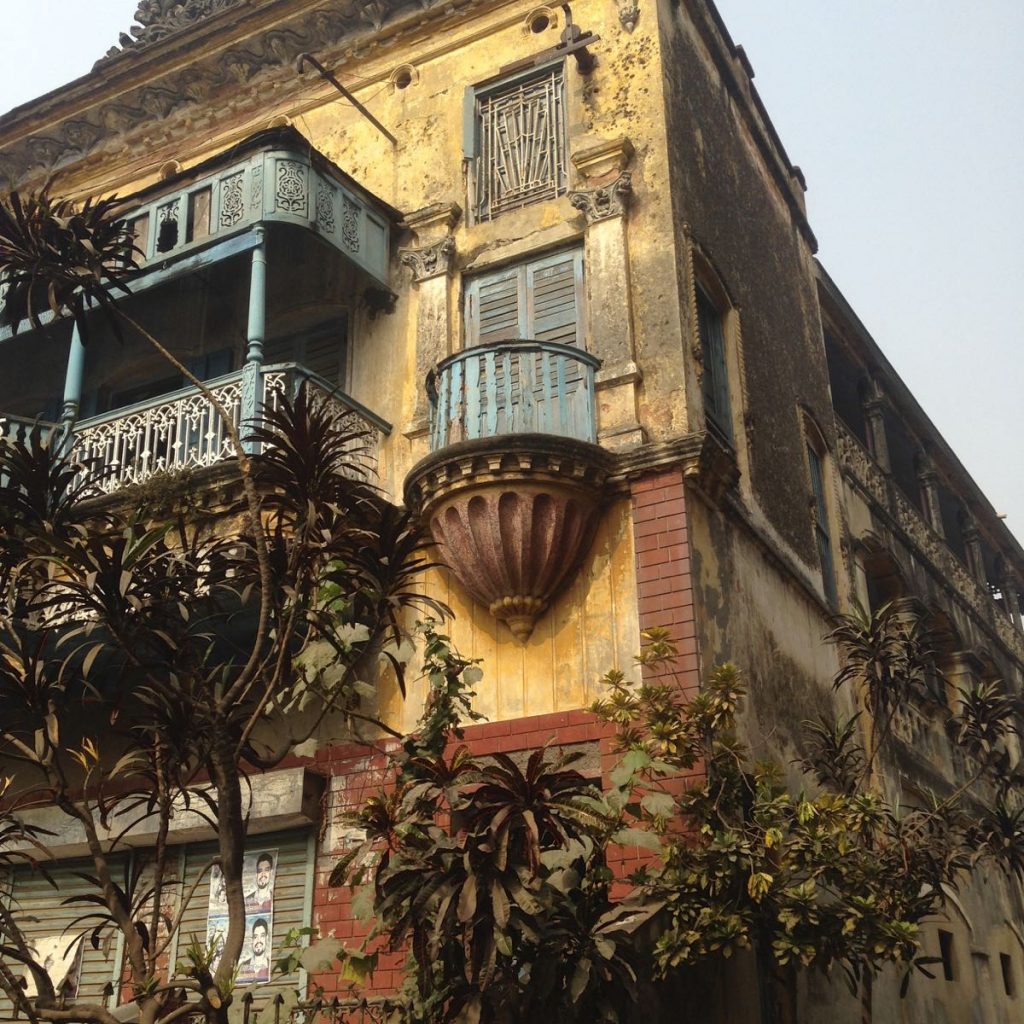 The floor inside has beautiful black-and-yellow tiles laid out in a neat pattern. The stairway, with wooden steps, leads up to a room on the second floor that opens up to a small balcony. The room is dark, but light is flowing in through the open balcony doors.
Just like the houses we've already visited, this was also left behind by a wealthy Hindu family in 1947. But, unlike the others, this was taken over by others who made the same (but opposite) journey: a Muslim family who left their home in Kolkata. The two families made an arrangement and took over each other's properties.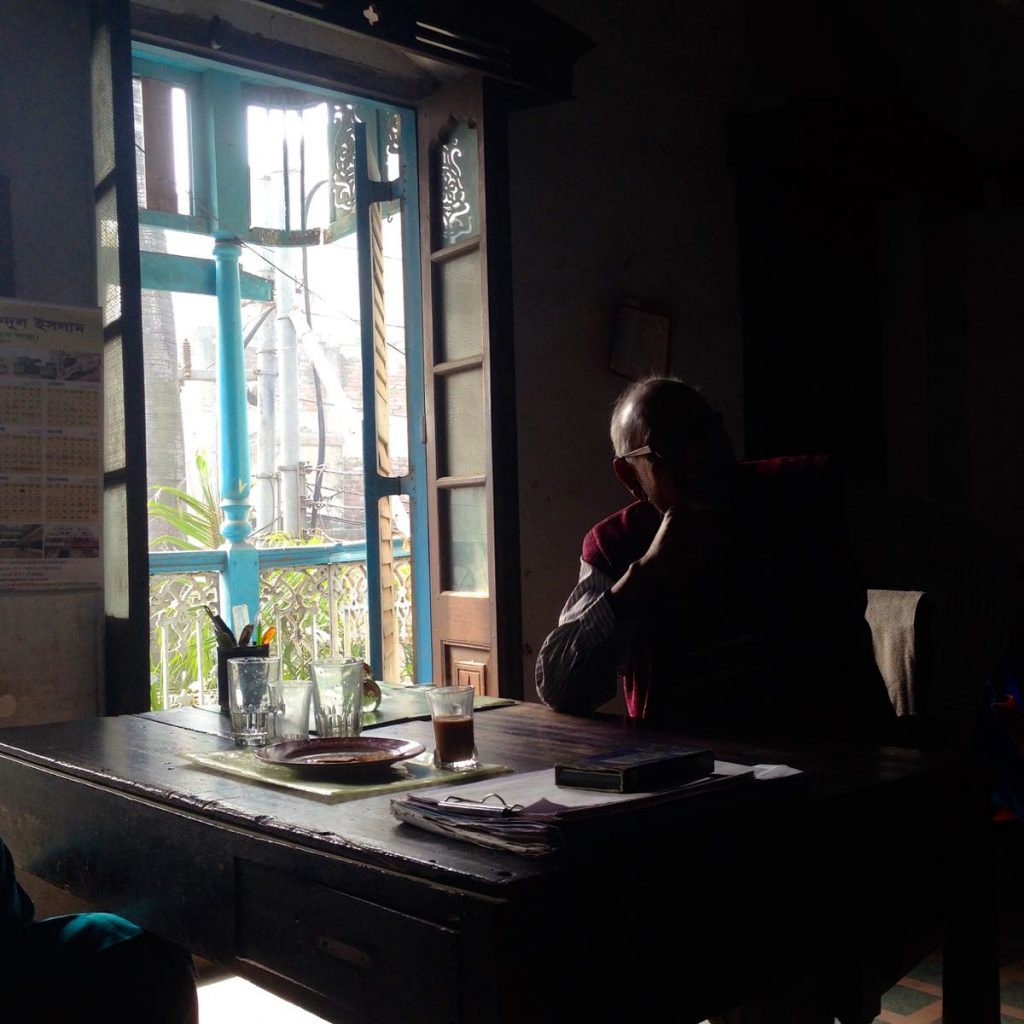 We talk to the son in the family, who was born only a couple of years prior to partition. He left the newly-born India as a small kid – and has never been back.
"But the other family, who live in our old house in Park Circus in Kolkata, came here last year. That was the first time they came back to Dhaka. They were happy to see that we've maintained the house. We're staying in touch, in case we'll visit India to see the building we left behind," he says.
The family has not lived in the house for many years. Today, it's considered unsafe to live in, and the only room in use is the one we're in. Old furniture line the walls – chairs, heavy cupboards, a black leather couch. Old law books in a wooden bookshelf are kept protected behind thin glass doors.
Many wealthy families had built beautiful homes on this street. Land down here, close to the river, was attractive to the urban elite. But eventually, all of the residencies faced the same destiny.
"There was actually one Hindu family that stayed," says Taimur. "During all these years, they never left. Then suddenly, last year, they packed their things and left. Over night – no one knew about it. They sold their property to a local politician, who was very happy to buy it. I don't know what made them take that decision now, probably the fact that they could sell it for a high price. Land is extremely scarce and very expensive in Dhaka."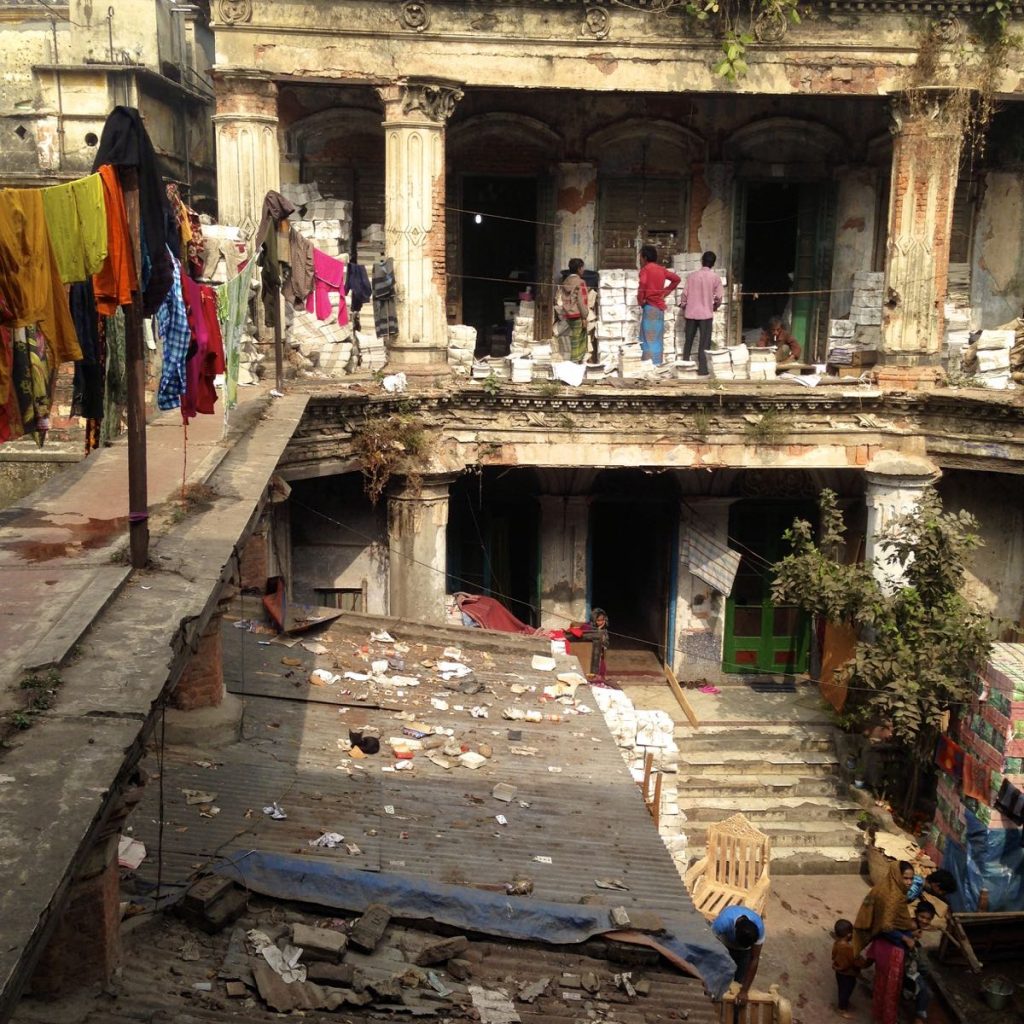 The last house we visit is just a few houses away, on the same street – BK Dash Road, which took its name from one of the old zamindar families. It was common for them to pay for things like street lightning and sewage, so in exchange they would get streets or neighbourhoods named after them.
If the house we just left was well-kept and quiet, this is the opposite. What used to be the home of one single family now houses several residents and workshops, and the courtyard is beaming with activity. There's a well in one corner, where a group of people in green and blue lungis shower and wash clothes with the help of buckets. All over the courtyard are stacks with books: textbooks for school children are being printed inside.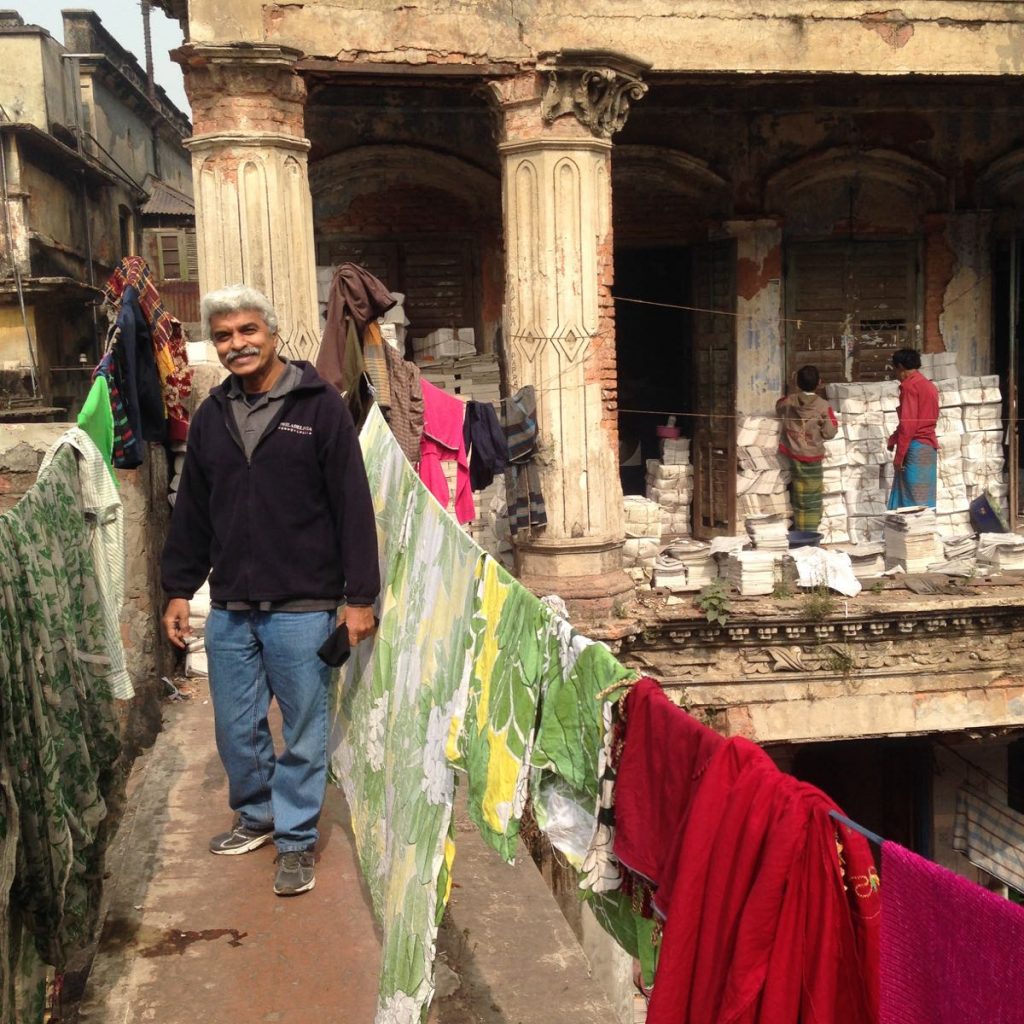 We follow Taimur who leads us up – once again – to the roof.
"We'll go up to see a family. It's much thanks to them that this house is still here," he says. "The building is owned by three brothers, with large families, so there are lots of people involved. They've been trying to tear it down, but we've managed to stop them several times. Once, they brought 10-15 workers here one late Thursday evening – they usually do these attempts during the weekend, when they think no one will react. But we heard about it and brought a TV team with us. Now, due to the help and support of the families who live here, the building is on the list of protected properties and can't be demolished."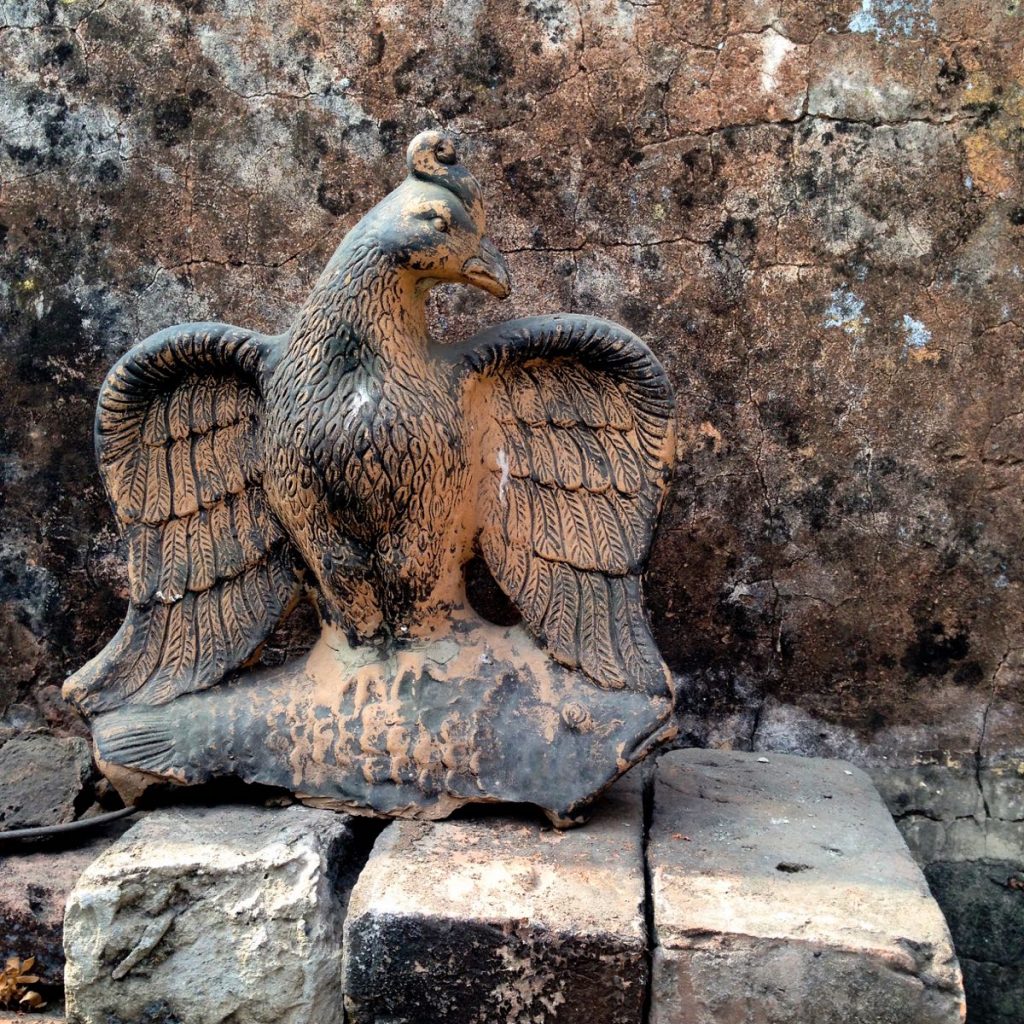 We meet Joisree, a bank employee who lives in a small space on the roof together with her husband and children. Ormi, her daughter, brings us tea and shows us the outside. We climb a wooden ladder to the roof of their home, from where we can see the dense and brightly coloured Old Dhaka from above. The area looks totally different from down in the streets.
"You always have to do this, climb up on top of buildings, to be able to see and understand a city," says Taimur.
Before we walk down, we say goodbye to Joisree who is preparing lunch in the small kitchen. She's making a curry with fish and tomatoes, cooked in generous amounts of mustard oil. The pot is placed over an open fire – the owners, not happy to have tenants, won't allow the family to use gas inside.
Back outside, we make a sharp left turn onto a small lane that leads through Saderghat's vegetable market. The piles of vegetables, herbs and spices are endless. Chubby turmeric, mountains of dried chilli and snow white garlic are sold alongside tomatoes, bananas, cabbage and pink onions.
Down by the water, men and women unload more produce from long wooden boats. Chunky coconuts – the brownish kind, with the clear and juicy water inside – will be sold for a couple of taka on the streets; a big, pale green vegetable I don't know the name of will end up in oily curries.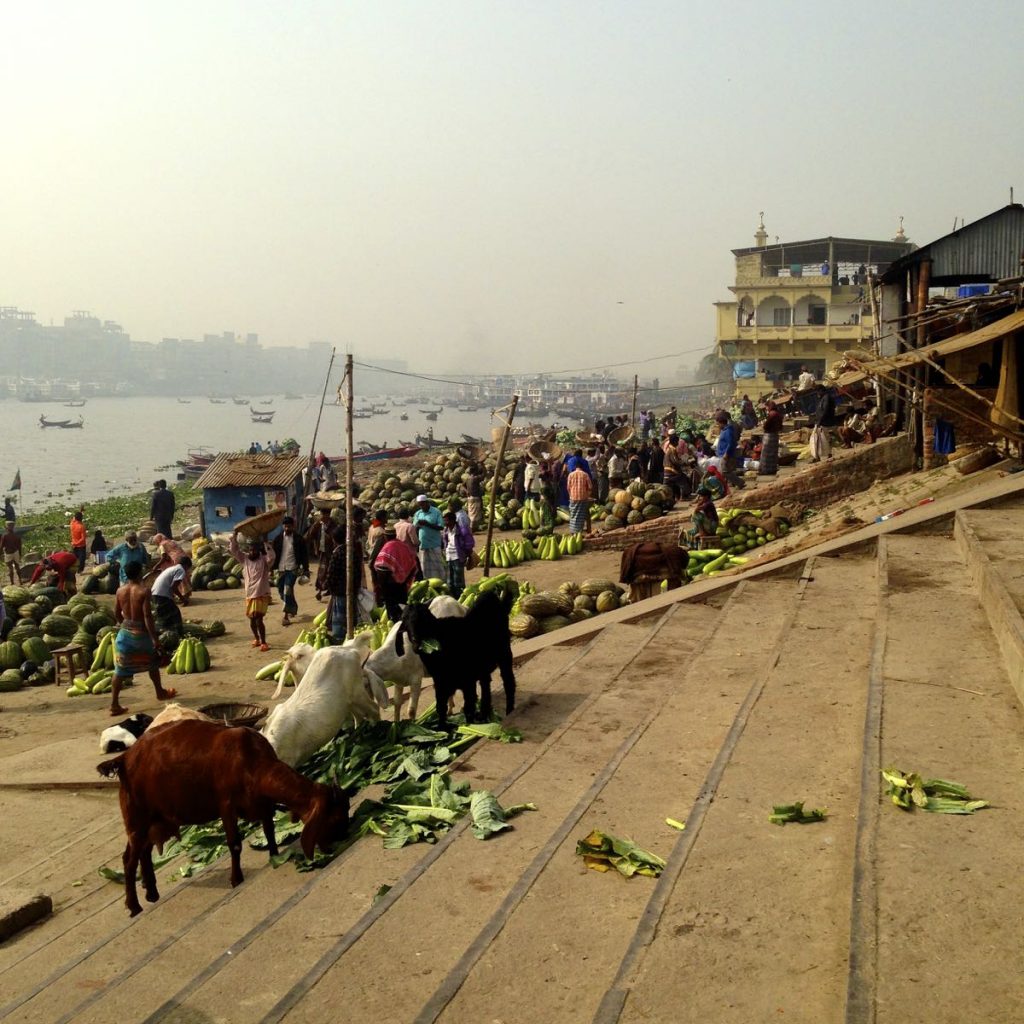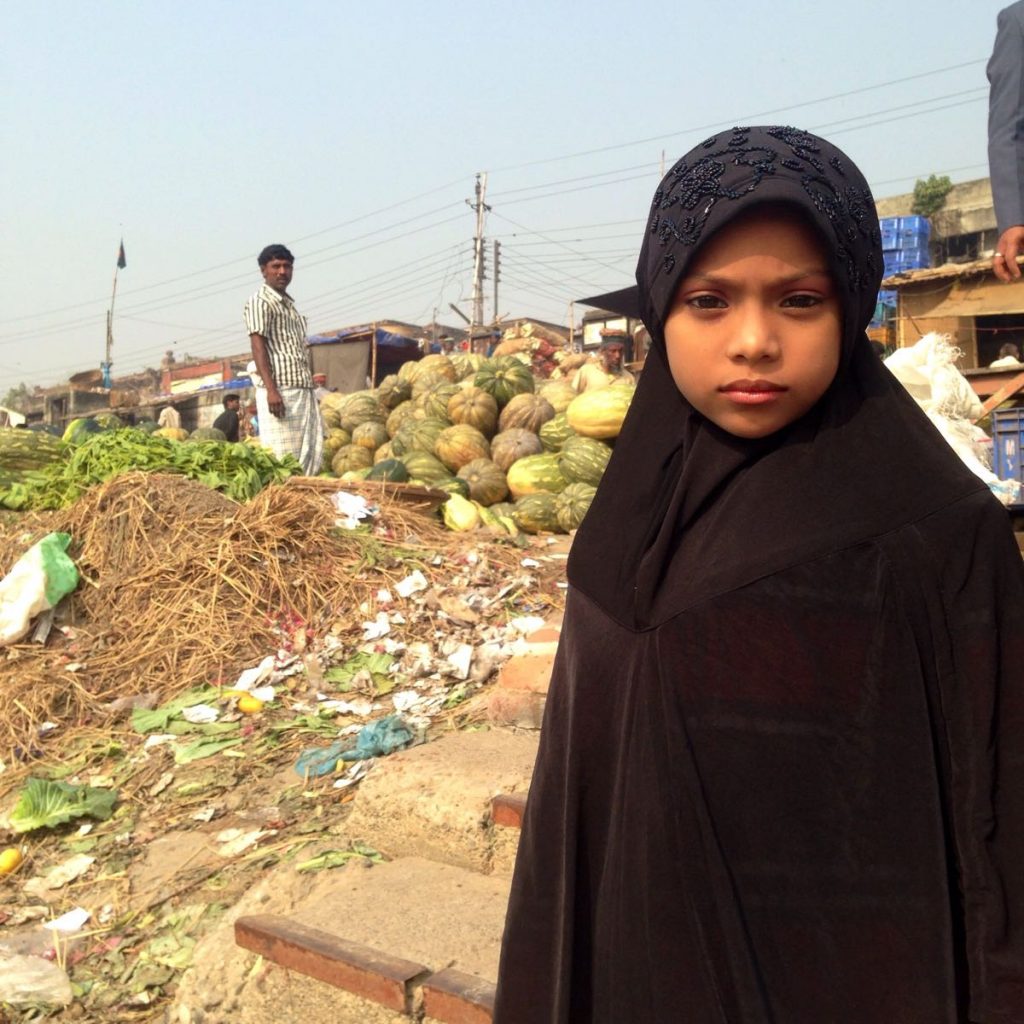 Taimur tells us about Buckland Bund, the riverfront promenade that used to be down here. It's hard today to imagine that Saderghat once was a place to go for a peaceful, quiet walk along the water, but in the early 1900s, that's what the urban bourgeoisie used to do. The promenade was constructed in 1864, by Charles Thomas Buckland who was the British-appointed commissioner at the time. Before the 1960s, when it finally gave way to neglect and the merciless growth of the vegetable market, Buckland Bund was a beautiful gathering point, lined with trees and benches and fortified with bricks and stone.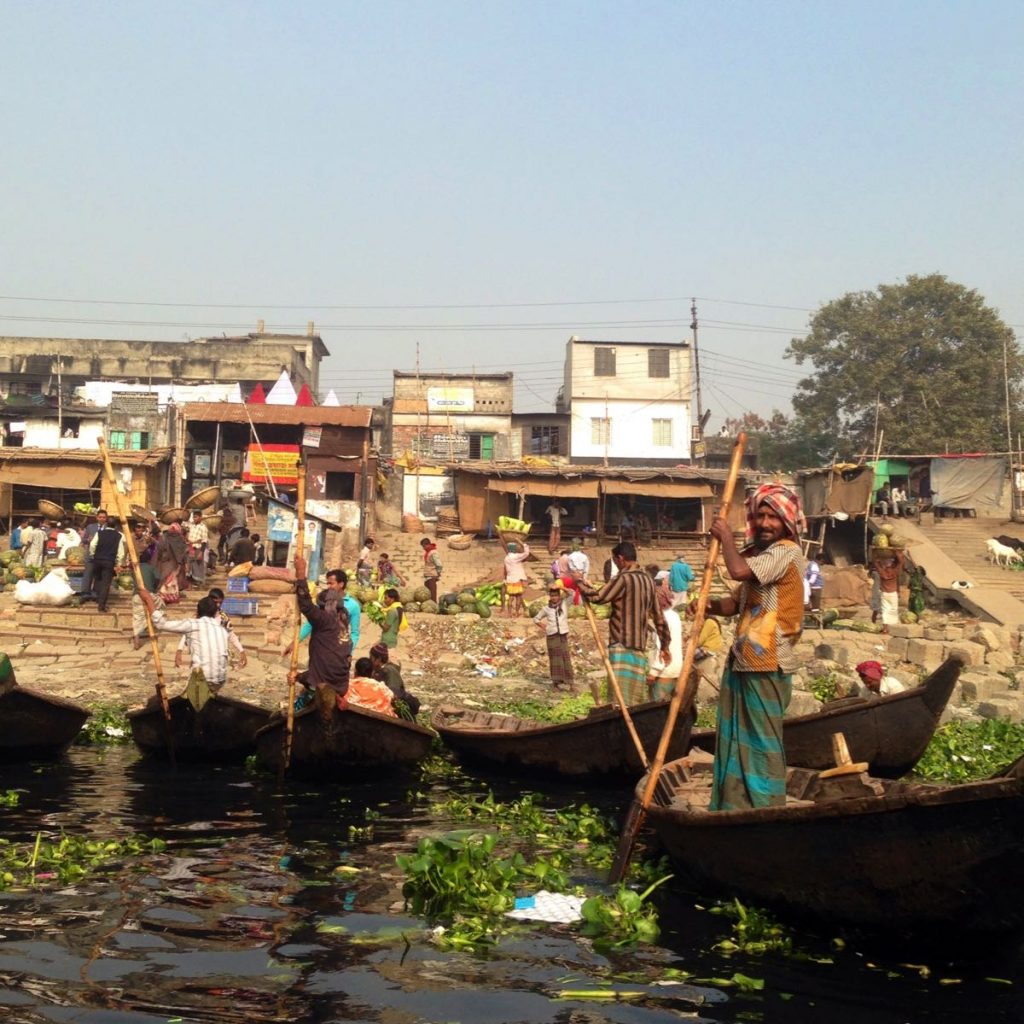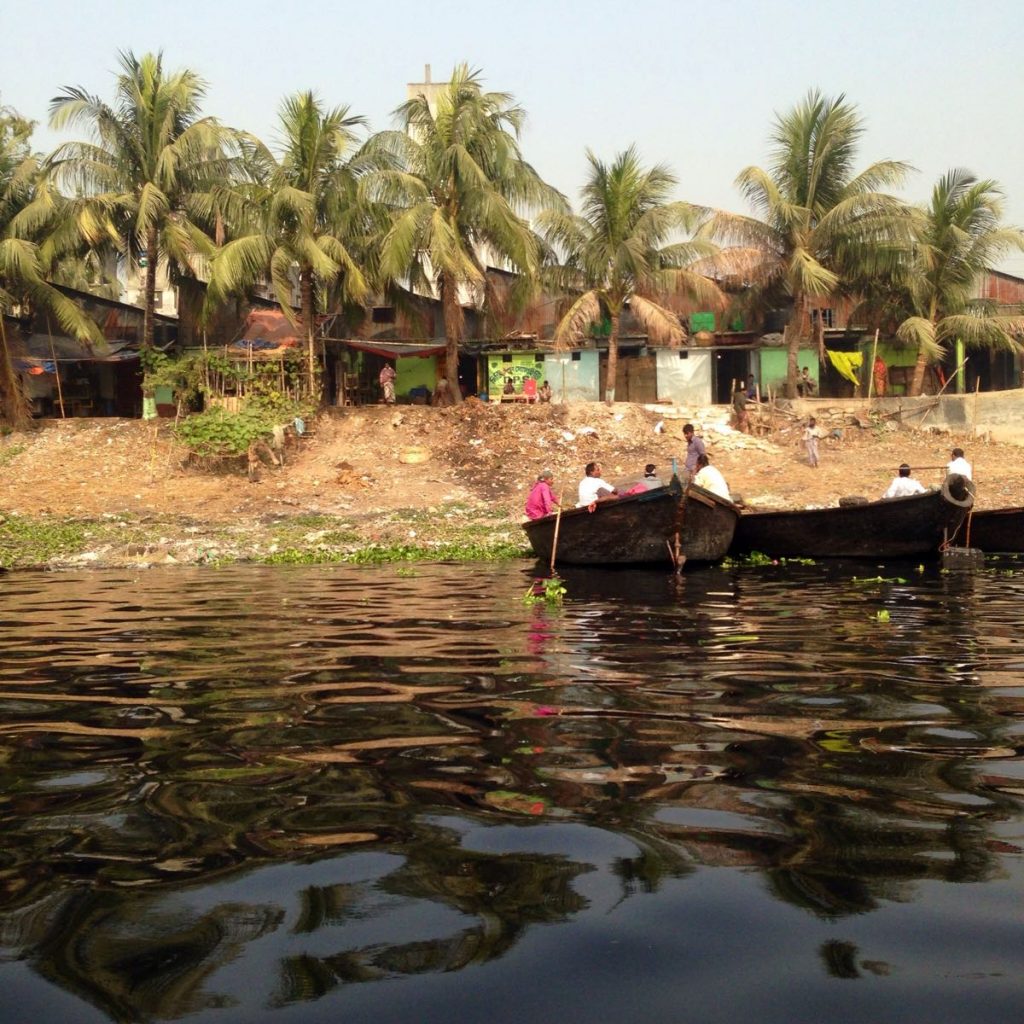 The promenade is long gone today – but we're still drawn to the river. Water does that to us. But, looking out over the Buriganga, it's impossible not to feel a deep sense of sadness. The river, upon which so many of Dhaka's inhabitants depend, is badly polluted and – at this time of the year, with months since the last rains – dark and smelly.
"It'll be even blacker, like thick asphalt, right before the monsoon begins," says Taimur. "Then, after the rains, it will have a milky green colour for a while."
I ask him how he feels about the future of Old Dhaka. Is he worried, or does he feel hopeful?
"Well, I'm positive," he answers. "One has to be. And we've managed to do many things. We've seen buildings survive, and there's a growing awareness, both among people here and some of the local leaders and politicians. But it's hard with the developers. They always look at things from a different point of view: how they can expand and increase, not how they can preserve. What we need is a revitalisation project, to make people see the beauty of the area."
Just like the monkeys.