Kids, children, shishu, babies
We came back to Dhaka a couple of days ago, after almost a month in southwestern Bangladesh. Getting back to the capital was nice, the way it always is when you've been away from a familiar place. After the eight-hour train ride (which wasn't bad at all – took us through greenery and fields, over rivers, and away from the packed roads) there was one thing I wanted to do more than anything else: grab a tea at the tea stalls at Shahbag.
In the evenings, this part of Ramna Park turns into a place where you meet all sorts of people: Dhaka University art students with Che Guevara t-shirts and beards; the young girl who DJs at expensive hotels like The Radison and The Westin ("Hindi music, Bangla music, Shakira"); friends who are out to gather donations to the Kombol project, delivering winter blankets to poor people in rural Bangladesh; a mother and her baby serving pithas, steamed rice snacks; the filmmaker Jimi, who's looking for "any kind of job" at the moment.
That evening when we got back, we sat down at a bench near the courts where people play badminton in the evenings, in the white light of small, strong lightbulbs. Next to us sat three kids, with dusty feet and thin legs and arms. "Mum, dad?" I asked them; they shook their heads. No, no parents. The same as many of the kids in Ramna Park. No mother, no father. They are each others' families.
We talked, made jokes and smiled at our common attempts to mimic the famous Lungi Dance, performed by Shah Rukh Khan and therefore known by every single kid in Bangladesh (and India, I'm sure). It got late and we said goodbye. Then, I remembered that I had a bag of grapes in my bag. I took it out and gave the grapes to the kids. It was not a lot, only a handful or so each. Here's what they did. The youngest, Shamim, immediately walked over to a group of friends standing a bit away from us and shared his grapes with them. Shojib, his friend, looked at the fruit in his hand and when he realised that I had nothing left in the bag, he refused to take it. I should keep some for myself, he said. Only after I assured him that really, there was more earlier and I had already finished it and didn't want to eat more, did he agree to take the grapes.
As we left them and walked away from the lights, into the dark evening, it made smile, their very spontaneous and genuine generosity. It had me think of all the bubbly, curious and sweet kids I've met in this country – on city streets and dusty village roads, in parks and markets and schools and homes.
Meet some of them!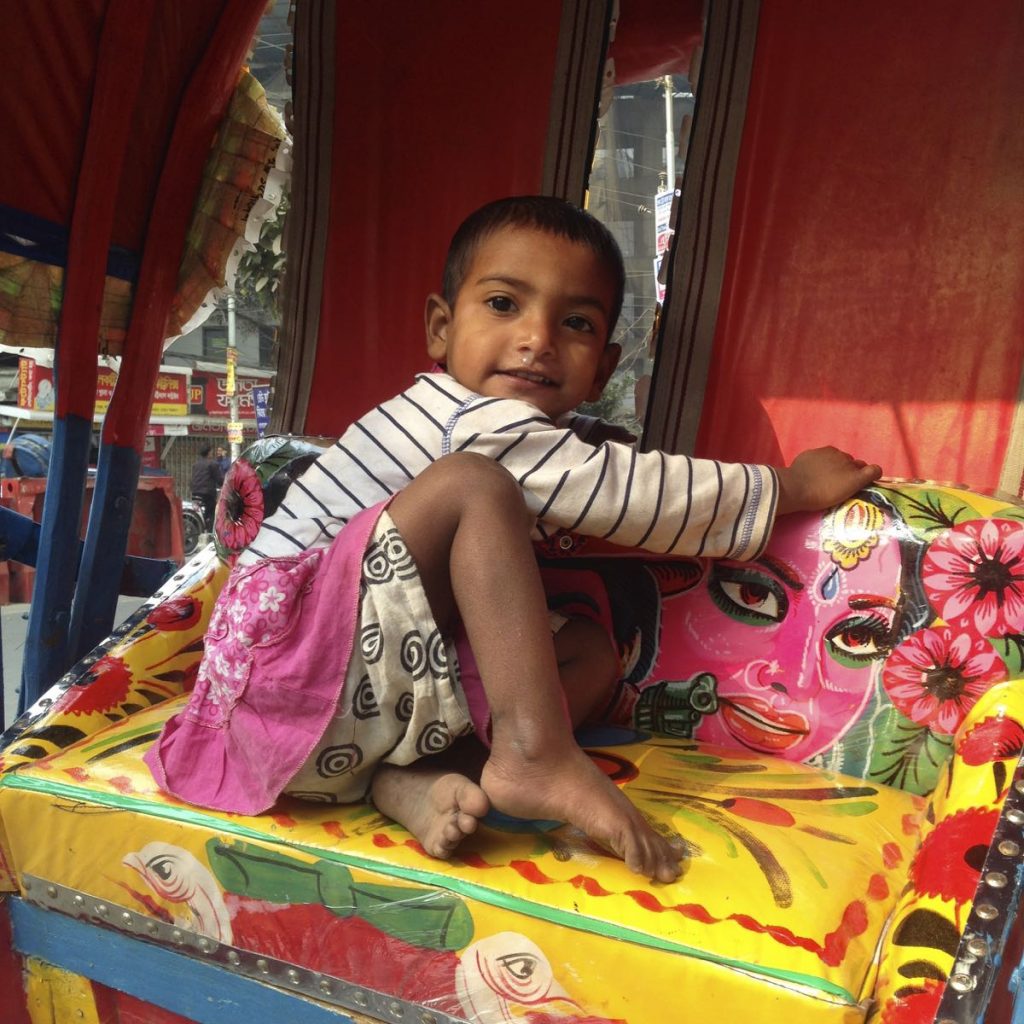 As I walked down the street one day in Shanti Nagar, I saw a small girl looking out from between the shades of a rickshaw. Her name, said her mother who was seated on the pavement, is Satya. The rickshaw belongs to her father, who tirelessly works on the streets of Dhaka. I wonder what Satya will be when she grows up.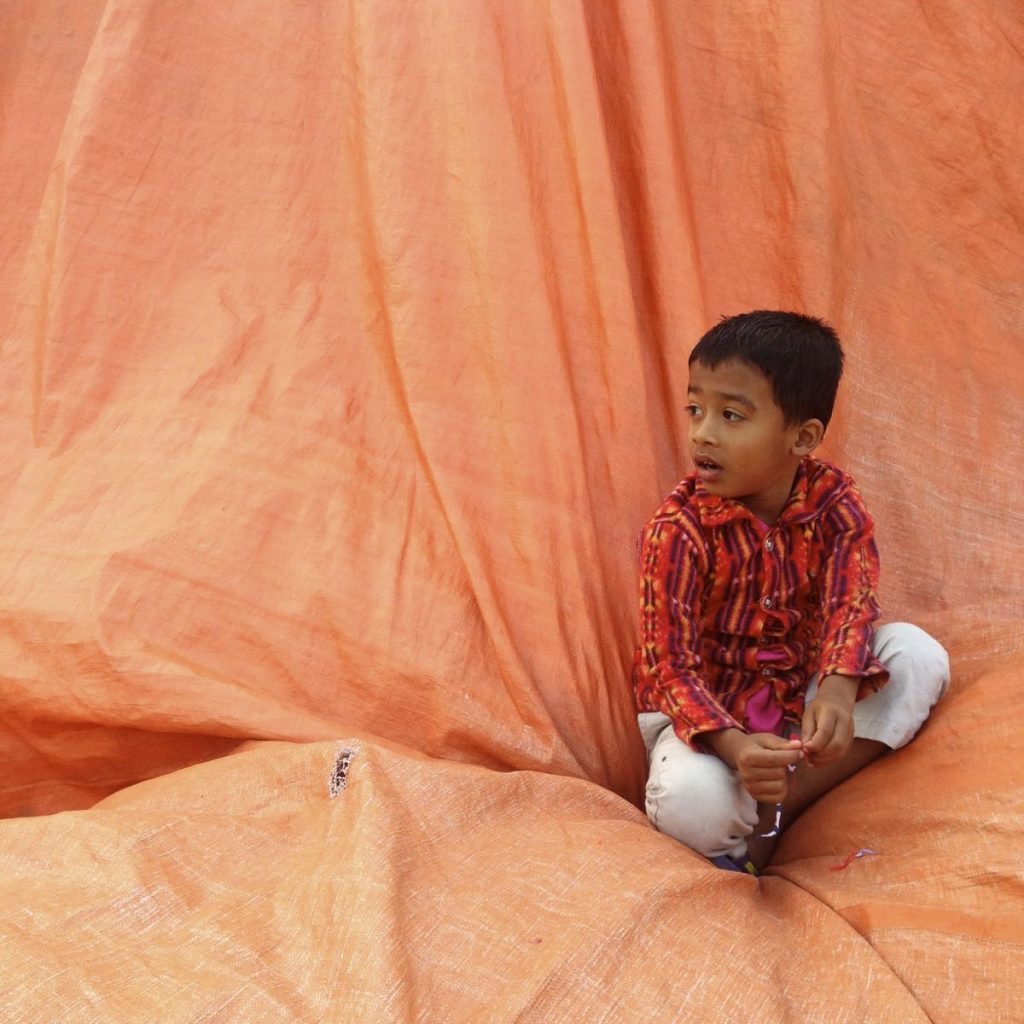 This is from Tongi, just north of Dhaka. This boy was seated on a giant pile of something, covered with tarpaulin, right next to a busy, noisy road. But as I passed him by, he looked very much at peace where he was sitting. And very tiny on the big orange pile!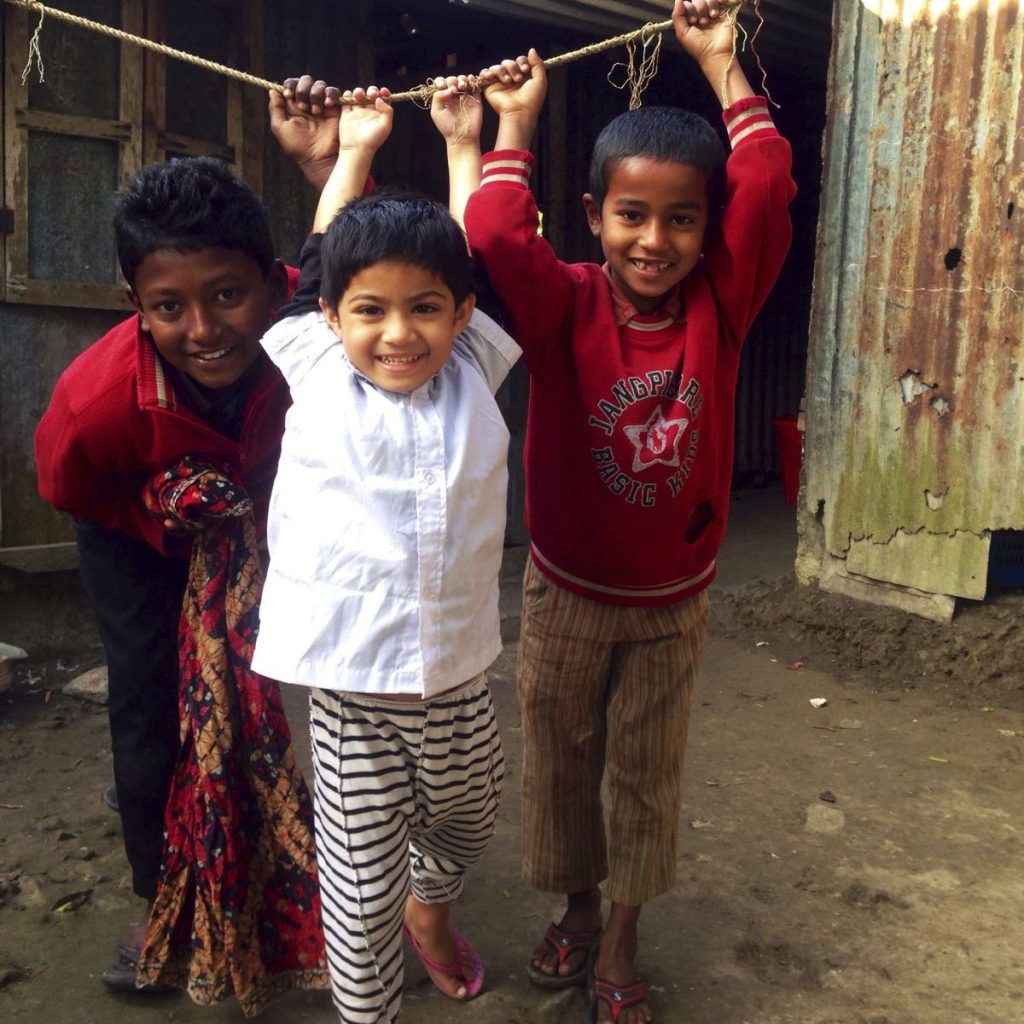 This is Nahid, Shoshi and Alamin, outside the kitchen of Shoshi's family in Charfasson on Bhola island. Nahid lives at the orphanage where Shoshi's dad is the manager; Alamin was staying with them temporarily with his mum, who was working together with Shoshi's mum. They had fun together. Climbing palm trees, eating stuff from the pots and pans in the kitchen, feeding the new goat huge banana leaves (that it didn't want).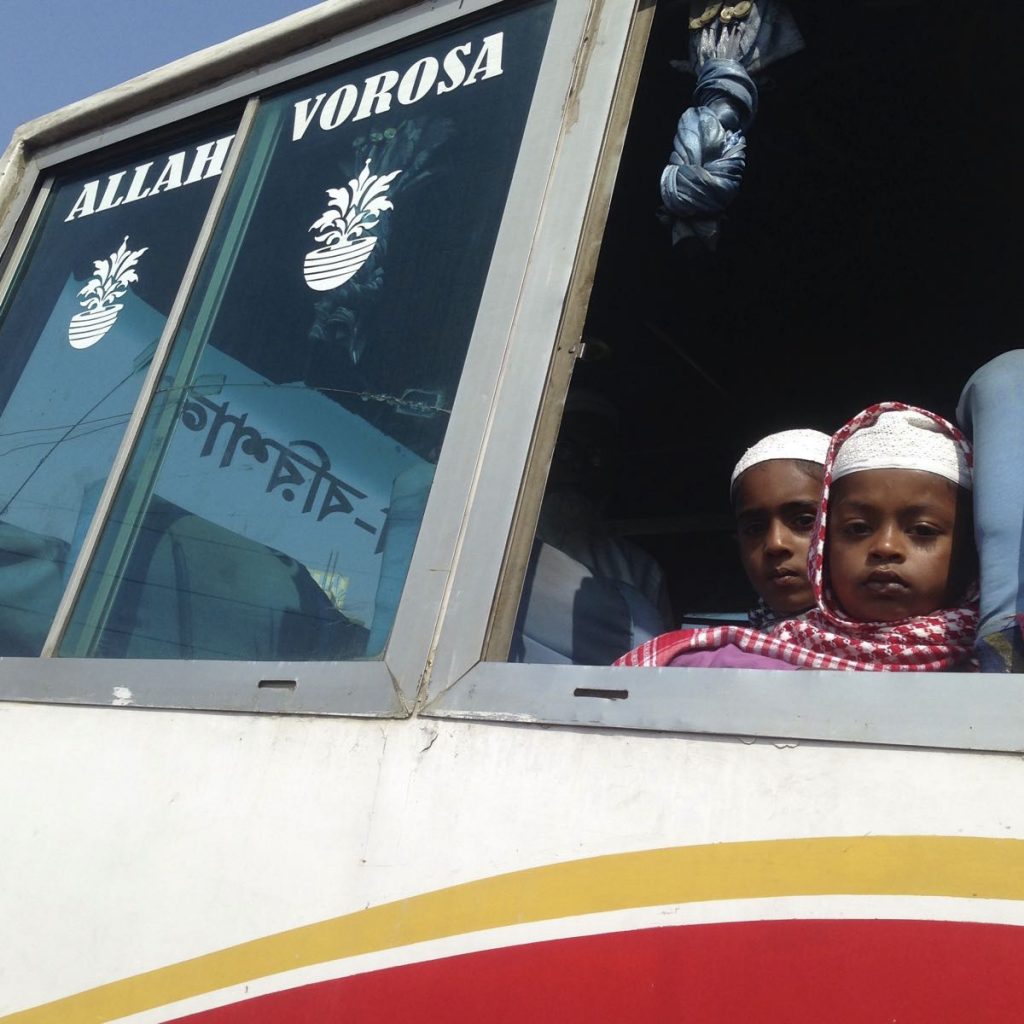 On a busy bus station (can't remember in what city), while trying to find out which bus of all the half-full-but-"will-leave-in-five-minutes" vehicles to get on, I suddenly saw these brothers inside one of the buses. Totally undisturbed, just waiting.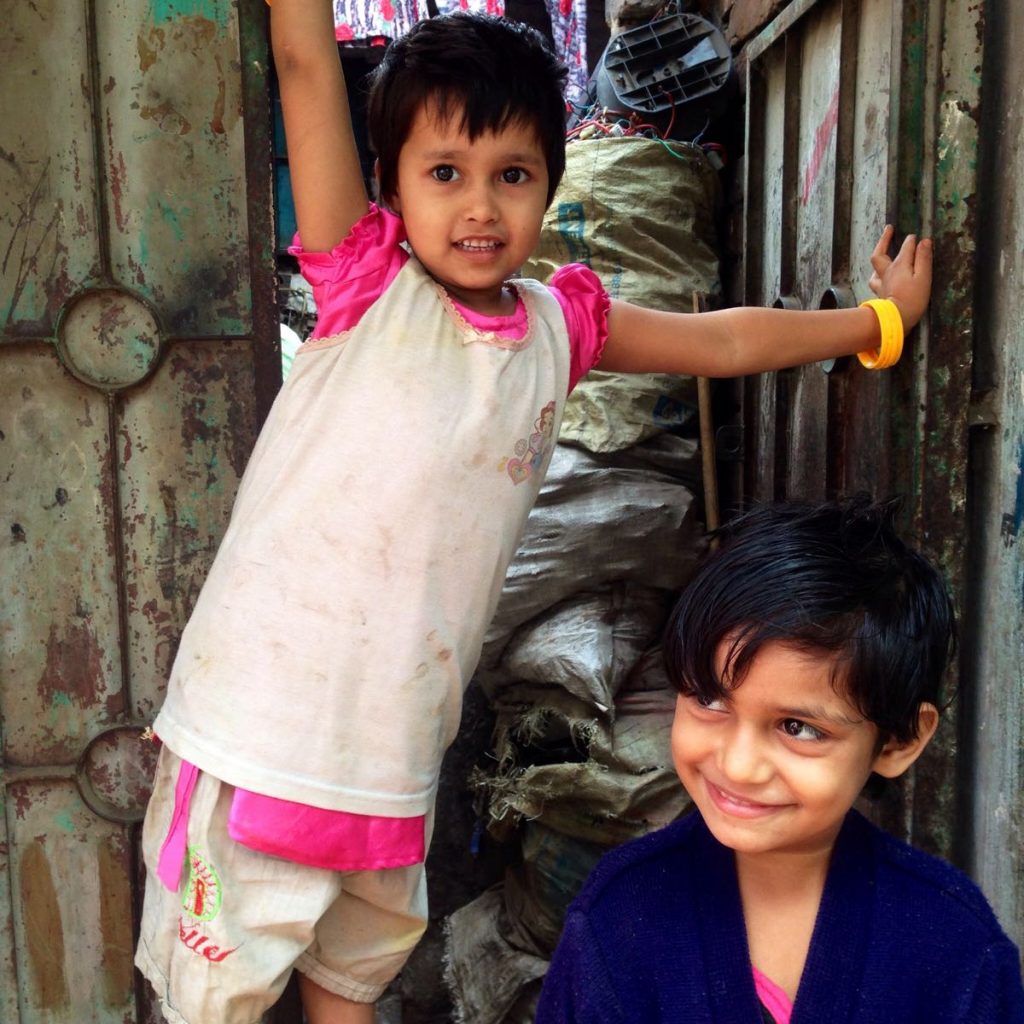 The girl on the left has a name that sounds almost like mine! Not Jenny exactly, but something like Jini if I remember well. Special connection!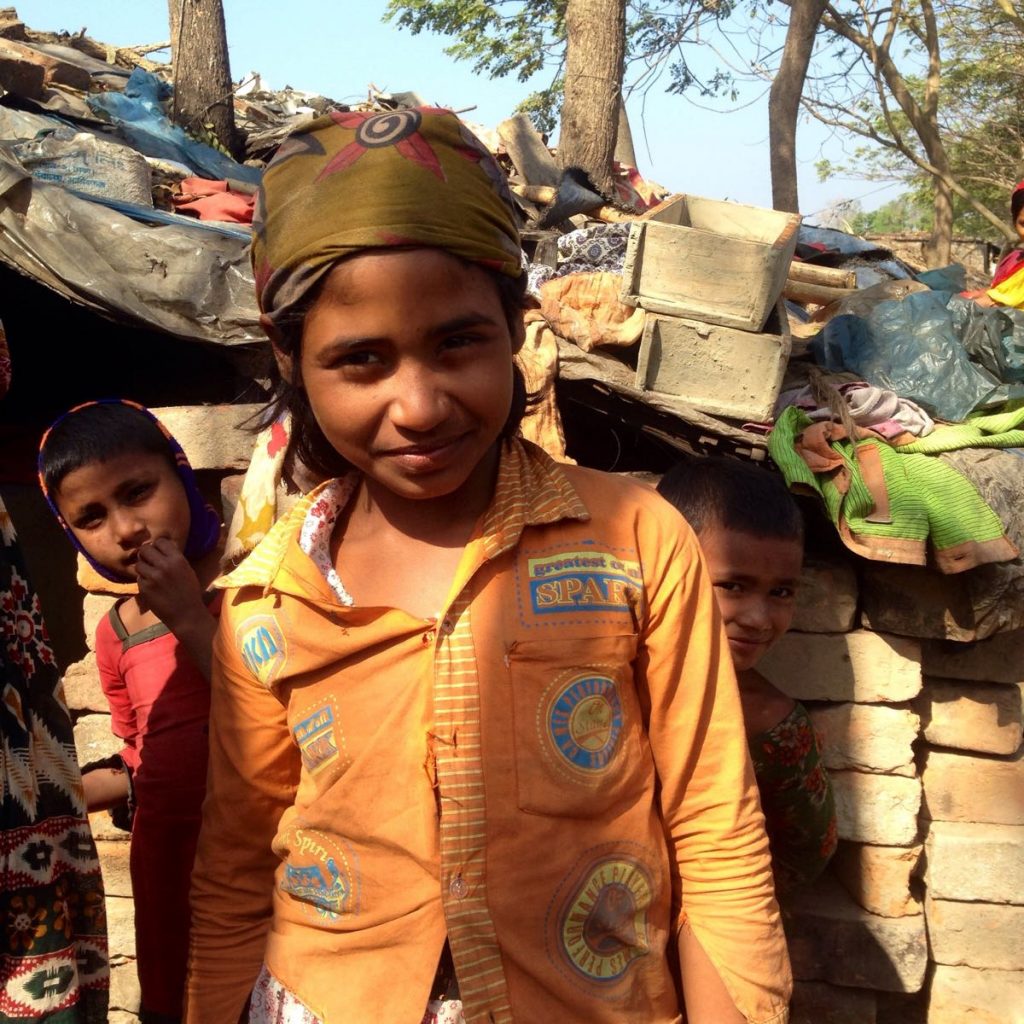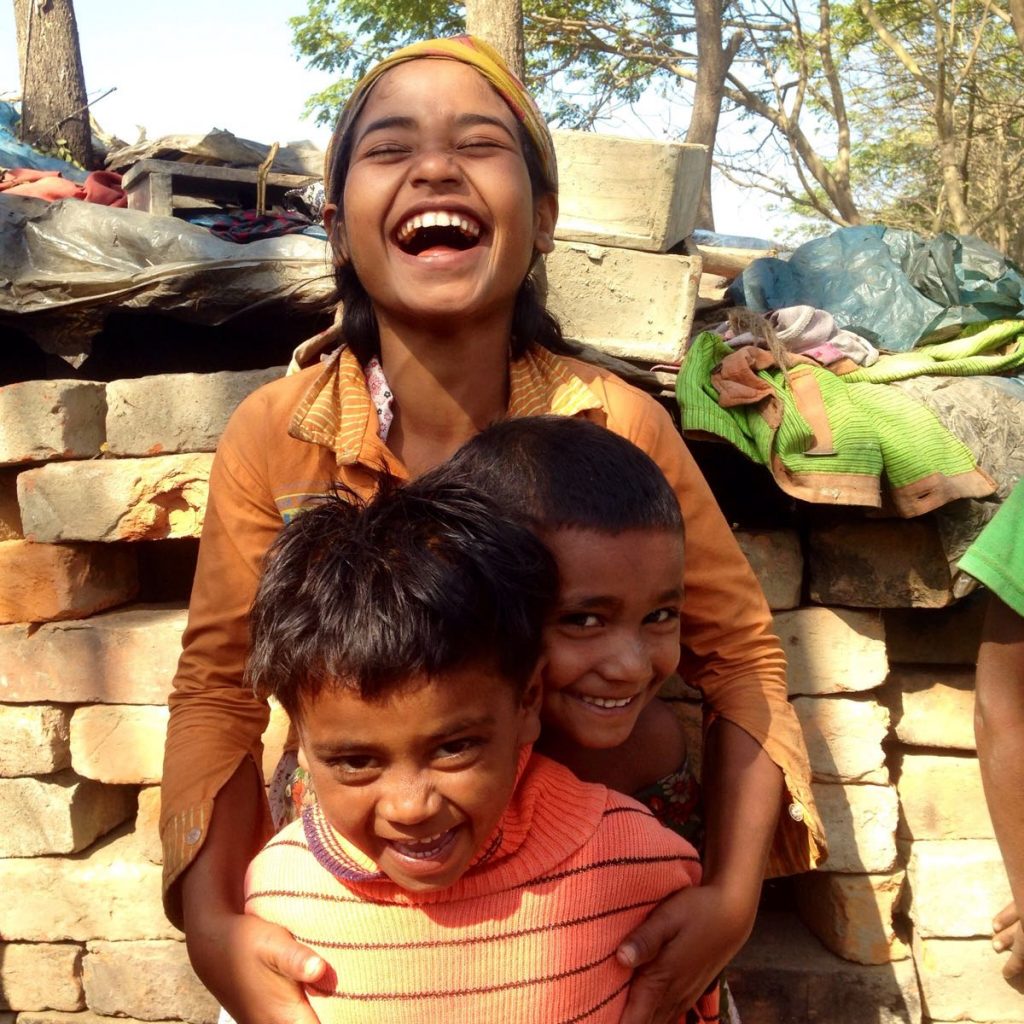 See that smile? Very special kid. Her name is Robia, she's ten and I met her when we were outside Khulna talking to workers at a brick field (there are about 10 000 of them in Bangladesh, providing very cheap – and bad, for both the workers and the environment – building material for the country's growing cities and towns). Robia works at the field, just like many other kids. But she doesn't want to be a brick worker when she grows up. Suddenly someone took out a mobile phone and started playing a song from it. Robia kicked off her sandals and started dancing. No, she said, she wants to be a singer and dancer.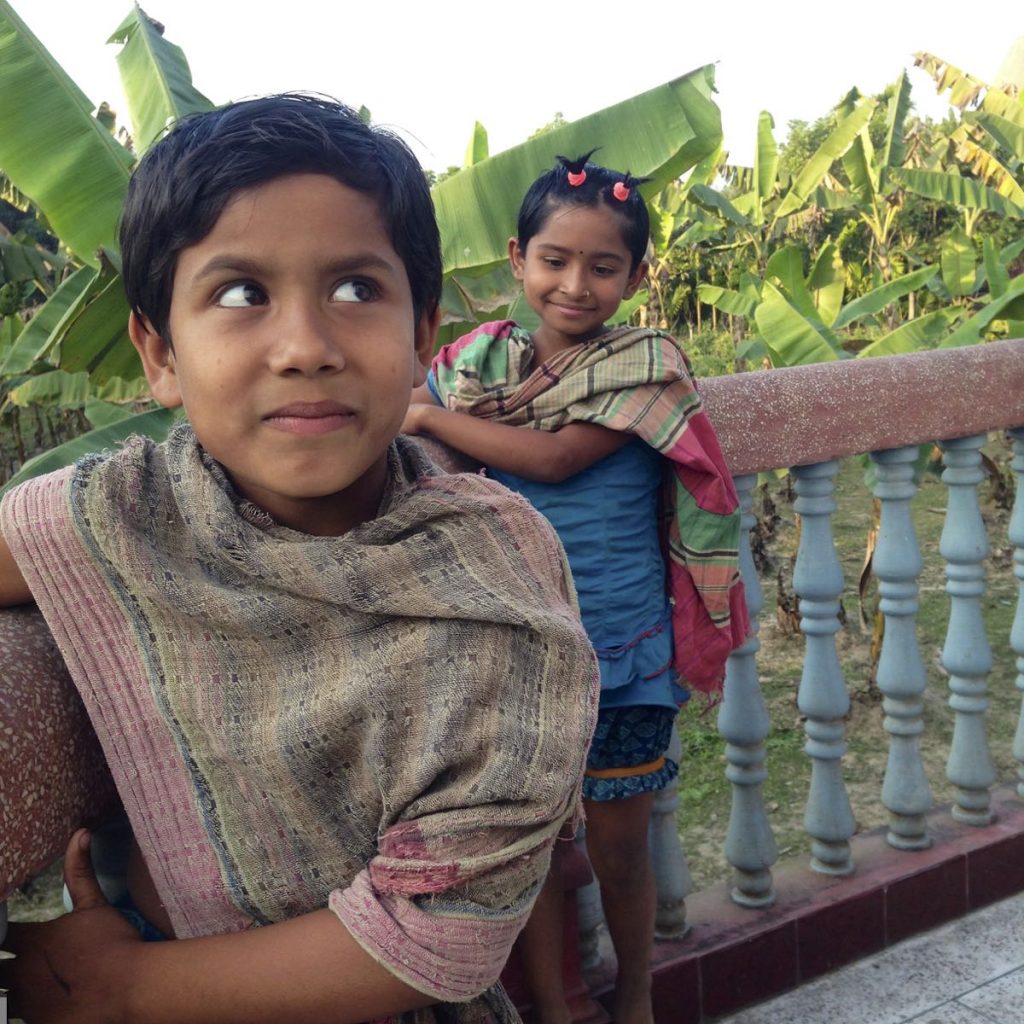 Sometimes, not speaking is the best way of talking.
These girls were playing outside their house on the outskirts of Jessore when I passed them by. Love their outfits. And their attitude.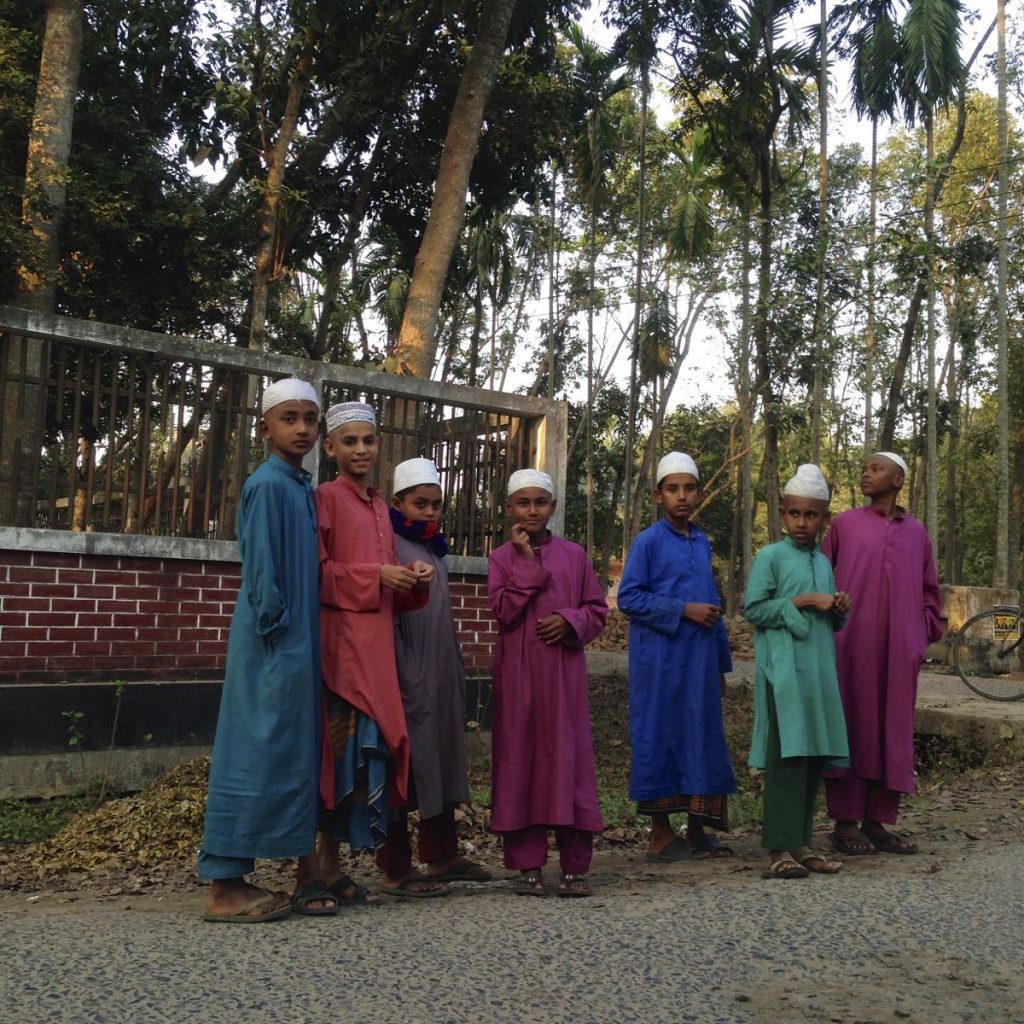 More great outfits. Also Jessore, along the same road.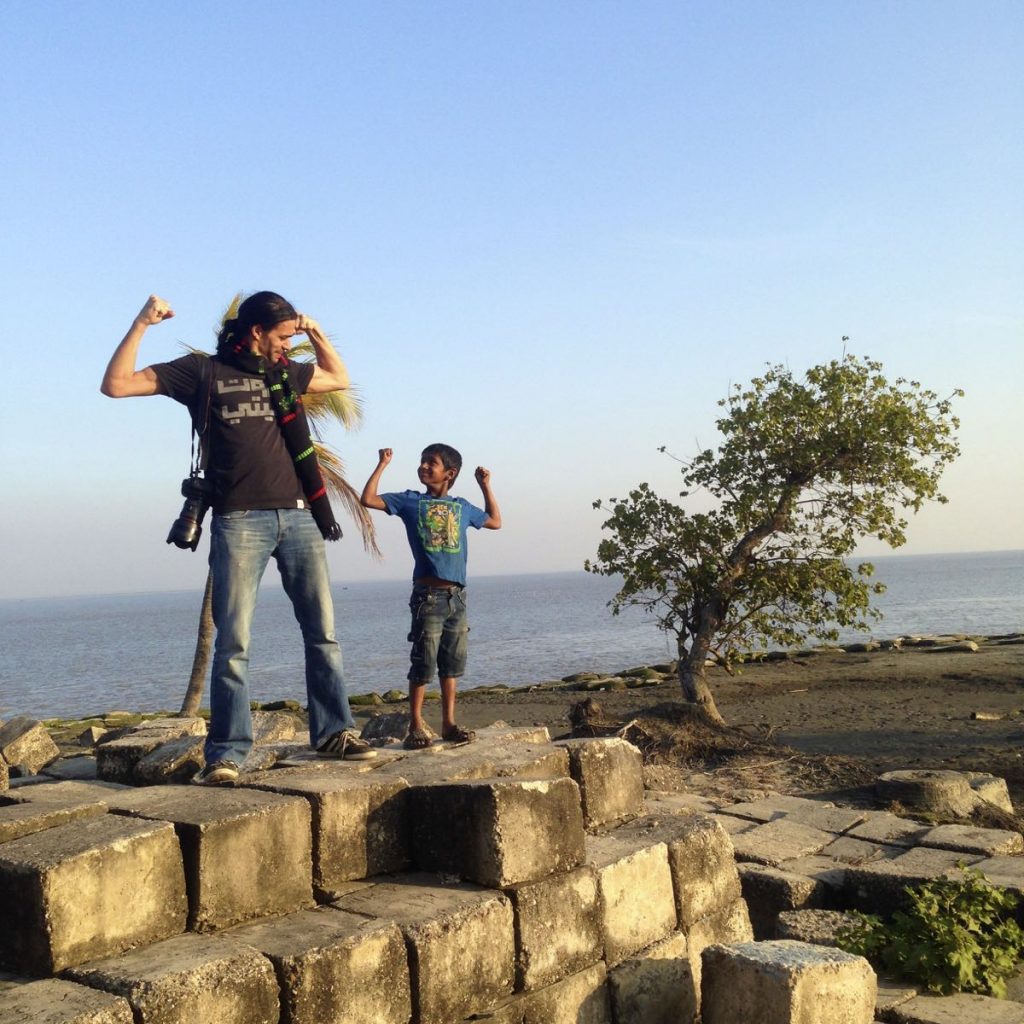 This is another picture from Bhola, near to where the boat from Dhaka arrives. The kid on the right is Ashraful, I've mentioned him earlier. He became very good friends with Karim (and me), and it made me happy to hear that he hasn't been working at the tea stall these past few weeks, but moved in to the orphanage and gets to go to school. I hope he will be happy there.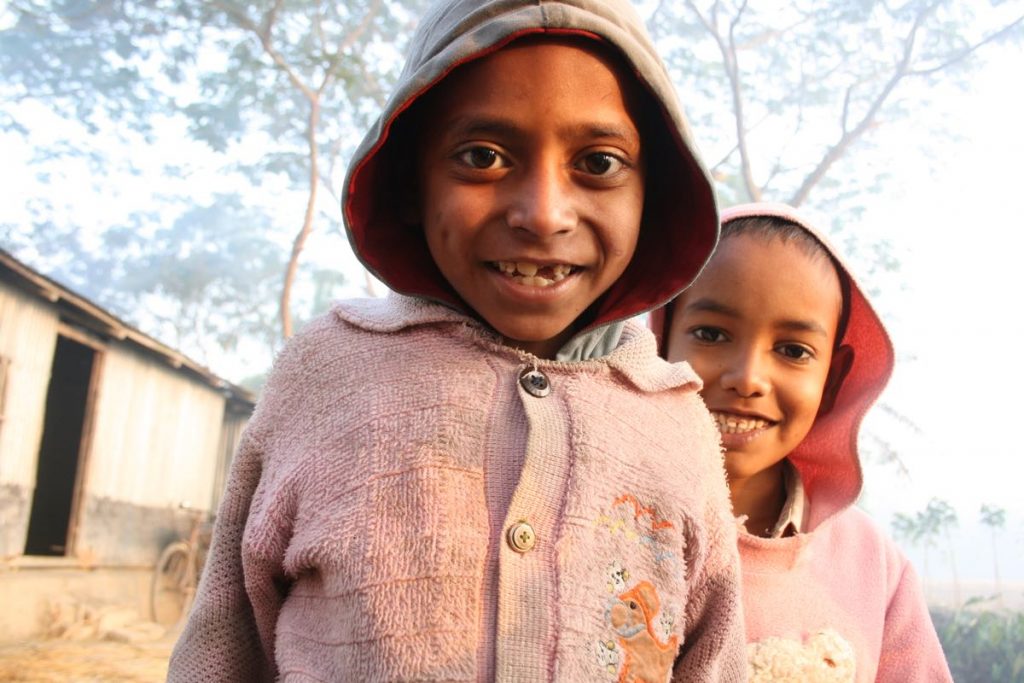 When out walking in the countryside, sooner or later (sooner, not later!) there will be a curious following right behind you. These habibis were our companions one early morning in Charfasson.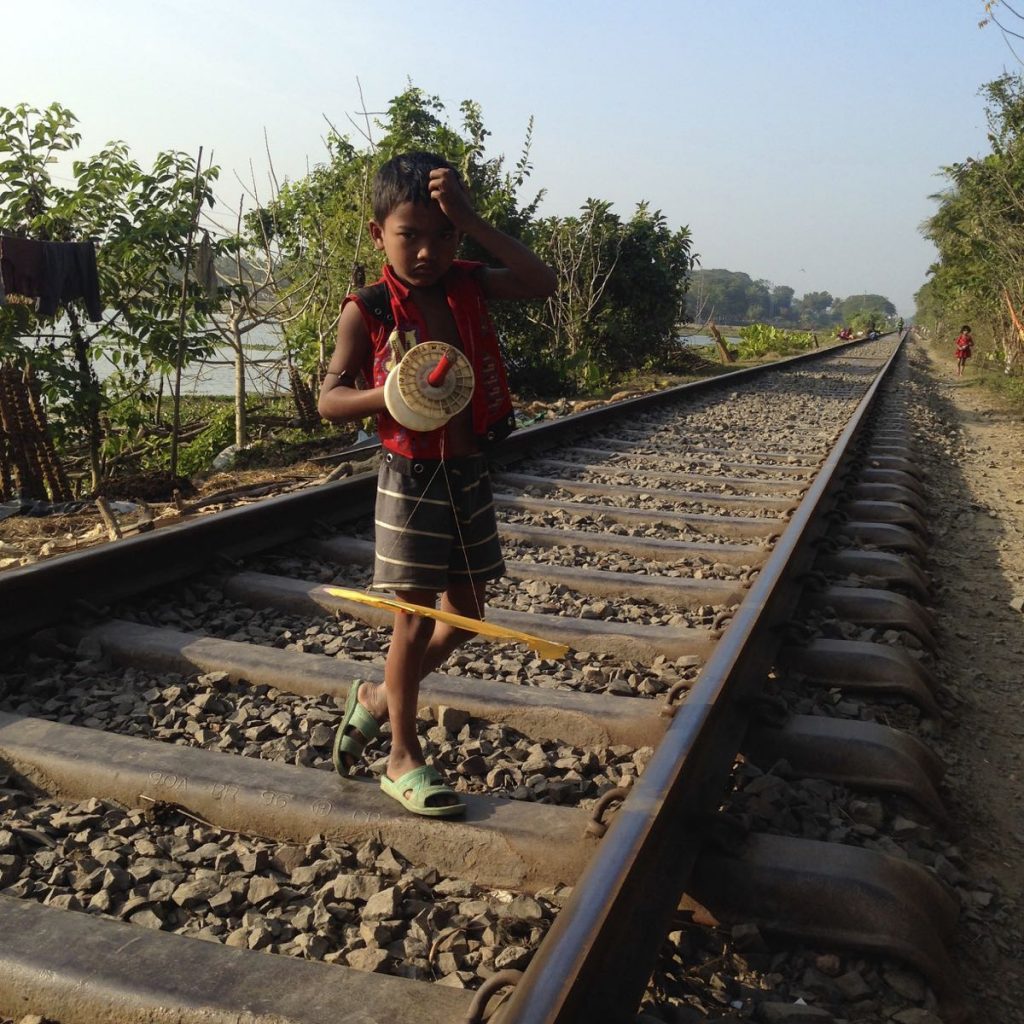 Speaking of walking. Whenever I see on the map in my phone that there's a railroad nearby, I head there. The tracks are the best places to walk: there are always small houses built next to them, and often small markets that appear and disappear whenever a train passes by. In the afternoons on these tracks, women bring their embroidery, kids their toys and grandparents their babies.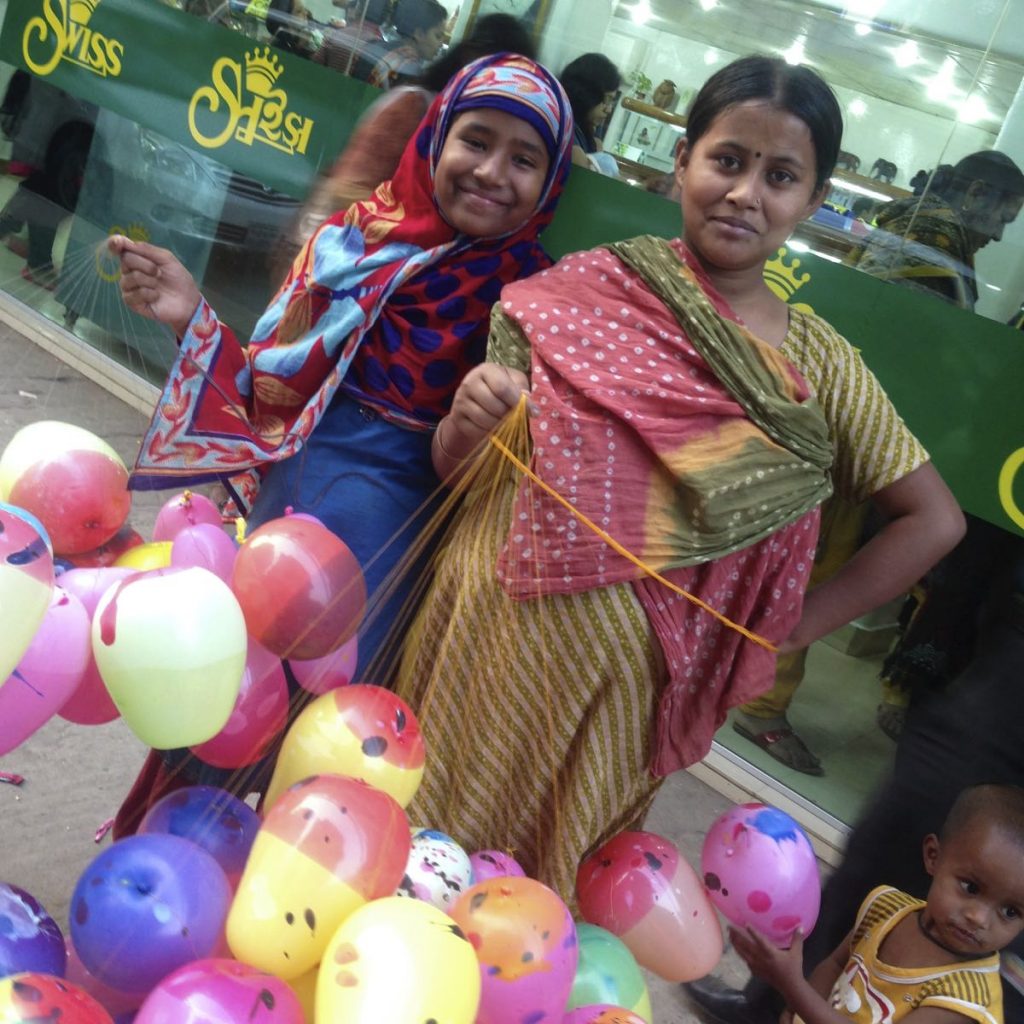 Back to Dhaka. We met these two friends a few days ago, on a street known for its exclusive sari shops and many eateries. Shonali, to the left, and Shila, to the right, are trying to get passersby to buy their colourful balloons. I first asked Shila if the young kid they had with them was her baby brother. No, she said. It's my son. One of them. She smiled and laid her hand on her belly.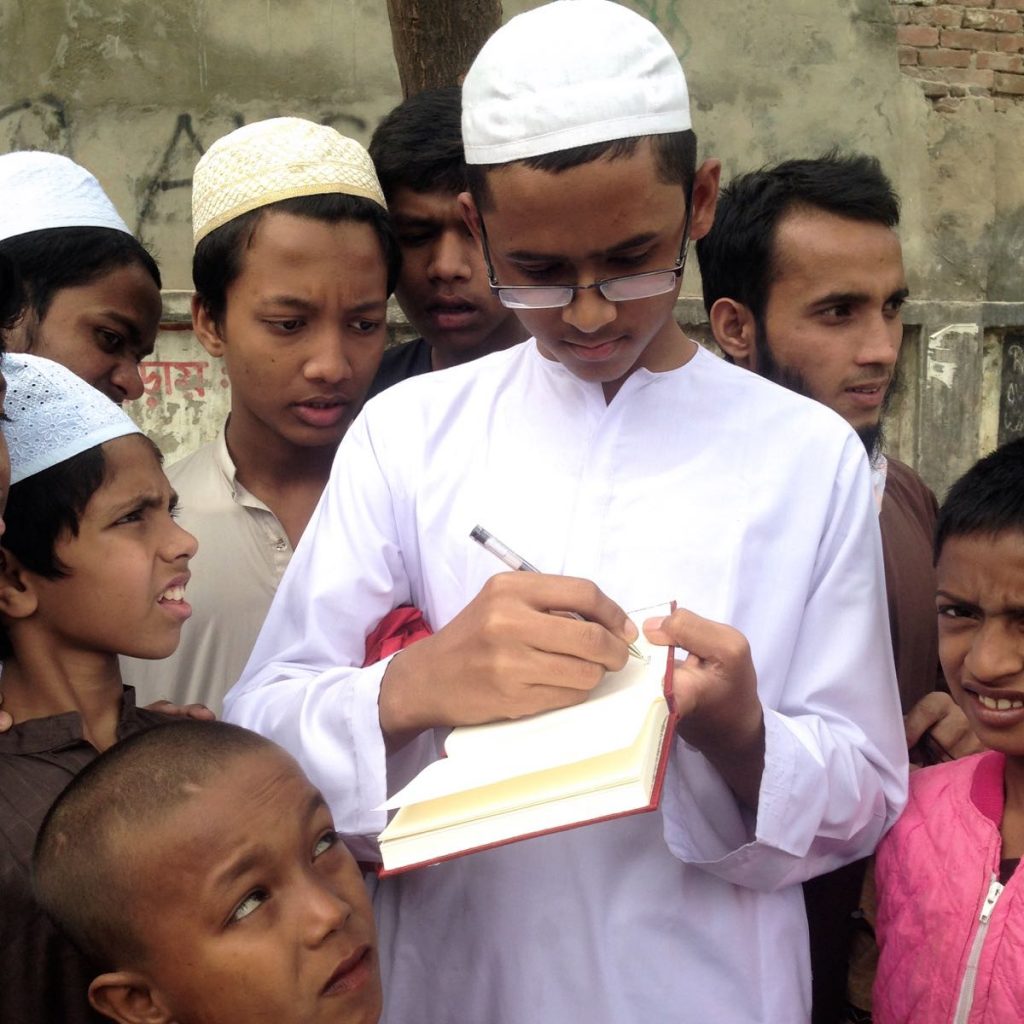 See the boy in middle of the picture, with the white punjabi and the book? What he's writing down is something in Arabic: turns out this 13-year-old, Abdulqader, is nothing but an absolute master of Standard Arabic. I've spoken Arabic to quite a few people in Bangladesh. Shaky colloquial Gulf Arabic with young men who has worked in Dubai or Saudi Arabia, shaky Quranic Arabic with teachers or students who have learned it at madrasas. But not Abdulqader. "Ha2olai el-atfal tayyiboun jiddan," he told me about the kids gathered around us ("these children are very sweet"), and "Hal turideena an ta3arifi shayan 3an baladi?" ("is there anything you'd like to know about my country?") – all in perfect, but very un-streety, Arabic. He even corrected me when I said "computer" instead of hasoub, the Arabic term that no one would ever use. Except this teenager, who's never been outside Bangladesh but speaks Arabic like someone on Al Jazeera!
Kids.