B13
"Do you live here?" we ask.
"Yes, my house is right there."
She points to the other side of the road, where small two and three-floored houses stand close to one another. Typical suburban Beiruti houses, made of grey cement with square windows and bright textile shutters that offer shelter from the sun. Street vendors occupy every centimetre of the pavement in front of the house. Each displays wooden furniture, plastic chairs, and red, blue and bright green kitchen utensils. The vendors smile at us as we pass by, asking us to stop for a minute and take a look. Surely there must be something we need. A stool? Maybe a Persian rug?
We ask a vendor with a particularly impressive collection of records if he has anything with Remi Bendali, the Lebanese child singer who was popular in the 1980s. It's Ismaël who's looking for it: he grew up on her music. But the vendor shakes his head. No, nothing at all from the eighties. He has other records, though. New stuff, like Elissa or Myriam Fares. He turns up the volume. The tunes spill out into the street, where they mix with announcements that the apples are baladi, local, and the pants are three for the price of two.
The air is still warm, although the worst midday heat has passed. Right after the wall with the drawings, there's a sharp corner, marked by a few strategically placed chairs. An elderly lady and two men are seated, talking to each other in short sentences. Every time I pass this spot, I wonder about the chairs and the seniors, and how they like to spend their days on that corner.
Five minutes later, we're almost out on Tareeq al-Matar, Airport Road. Adorned with a worn-out banner in one of Lebanon's many political colours (put up by one of its many political parties), we walk towards the entrance, passing small shops and businesses – places where you can top up your mobile credit or buy cigarettes and sodas, or shop for cheap tomatoes and cauliflower.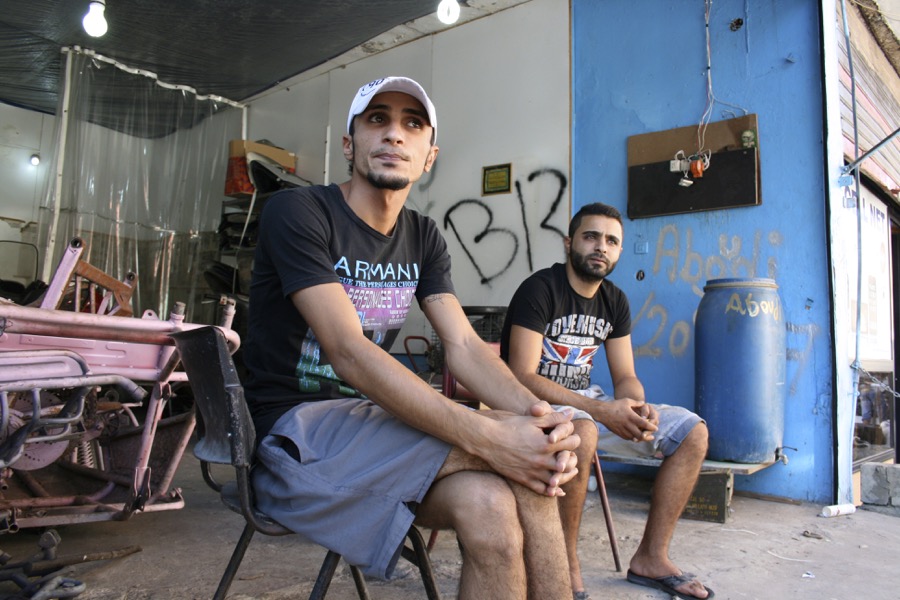 Outside an auto-repair shop are two chairs, this time with young men, not seniors, seated on them. Someone among us starts the conversation. Their names are Alaa and Abdo, both in their early twenties. Alaa wears a t-shirt that says "Armani." Abdo has one with the Union Jack. Both are in flip-flops and sit with their gaze resting on the horizon. They're friends and colleagues.
"But this is not where we want to be. We want to get out of here. Leave the camp, go somewhere else. Work with something meaningful."
A scribble on a small house facing the workshop catches our attention. On the turquoise metal shutters, someone has written "B13" in large letters.
"It's because this area is like B13. You know that film? About gangsters in Paris. Guns, drugs, no law. No future. It's like that here. It's like living in B13. So we drew it all over the neighbourhood."
Abdo points to other, similar, graffiti. One on another wall outside, and another inside the workshop: "B13," sprayed in silver letters.
This is part of the introduction I wrote for a book that just came out: Beirut Re-Collected, which gathers 20 untold stories from Beirut on the themes of Loss, Flashback and Fate. It's collaboration between Mashallah and the graphic design studio AMI, and can be ordered online here.