Thread by thread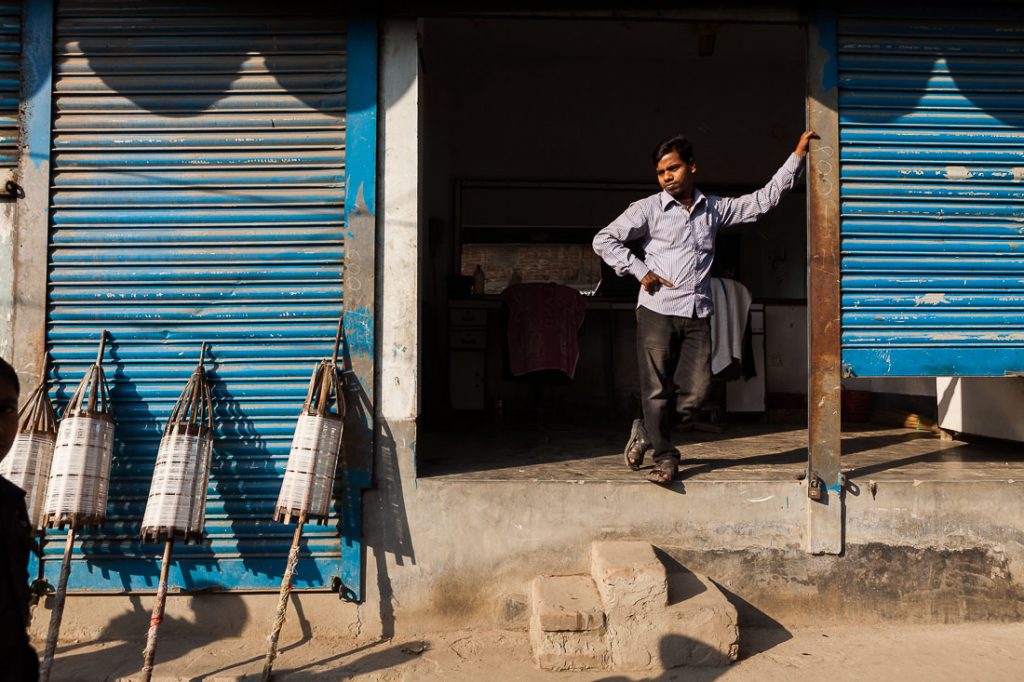 Earlier this year, Karim and I spent time in a village on the outskirts of Dhaka: South Rupshie, where almost everyone lives from producing beautiful, handmade sari fabrics. The story was published in the Swedish magazine Hemslöjd, a publication on social and creative crafting and artistry. The editors always do a great job at seeking out and curating interesting content from across Sweden and elsewhere, and continues to challenge the notion of what "slöjd", or crafts, is. Much deserved, they just won two awards: for specialised magazine of the year, and cultural magazine of the year. In the upcoming issue, you can find a story we just did from Guatemala about the huipil, the colorful and culturally rich handwoven blouse. Meanwhile, if you want to sign up and read the feature from Bangladesh in Swedish it's here (or here), or in a shortened English version below. The photos are all © Karim.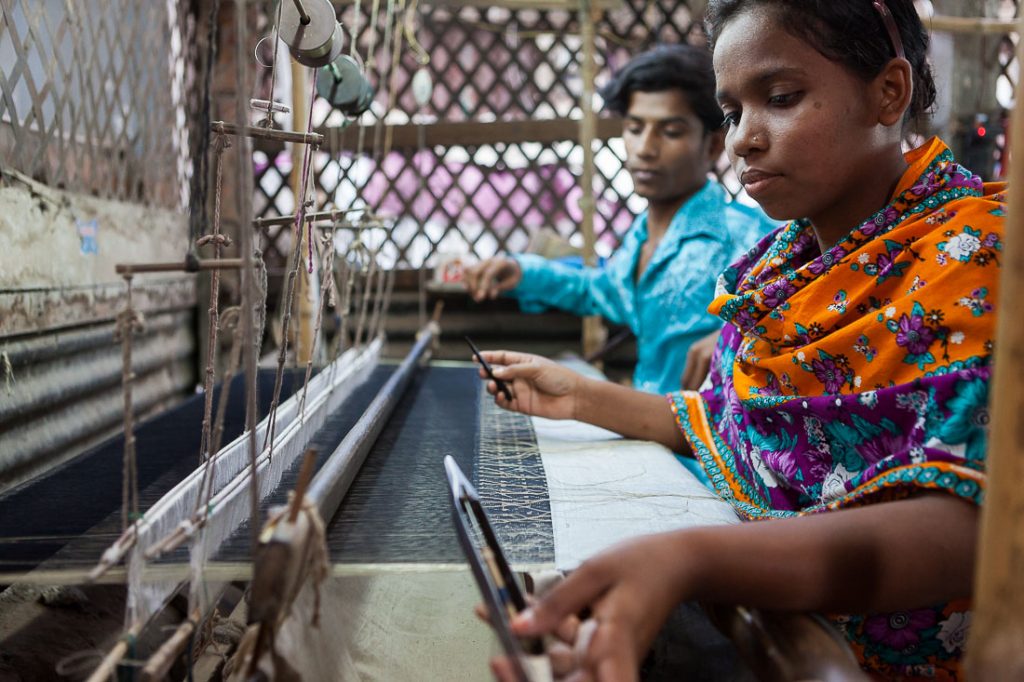 Not long ago, one of Bangladesh's richest cultural traditions was on the verge of disappearing entirely. Jamdani, the once-flourishing art of hand-woven saris and scarves, had been in decay for hundreds of years. Until one woman came along and changed it all.
At first glance, South Rupshi looks like any other village in the Bangladeshi countryside. Tea stalls line the roads, kids play in the mid-day heat, rickshaw-drivers pedal their decorated bikes. But this place is different. Bundles of yarn in bright colours hang to dry in the sun. People sit on their porches, spinning threads onto spindles. Inside almost every home, a traditional loom is set up. South Rupshi is a village of weavers – the ancestral home of a proud, age-old craft.
The main road in the village is lined with small tin houses. Inside one of them, side by side behind a wooden loom, sit Parbin and Abdul Salam. They're a married couple – but also lifetime colleagues.
"We spend each day here, morning to evening, weaving together. It's a good job now that jamdani has become more sought-after. It's clean and safe, which many other jobs are not. And we can work together at home," says Abdul Salam.
They couple is halfway through weaving a sari, the popular garment worn by women all over the Indian subcontinent. This sari, like all jamdanis, is thin and delicate, made entirely by hand. With a light touch, Parbin and Abdul Salam weave small, colourful decorations into the white fabric.
"We've worked on this piece for two weeks now, and we need another two to finish it. That's a short time for a jamdani, since this pattern is fairly simple. Most saris take months to finish, and the exclusive ones take up to a year," says Parbin.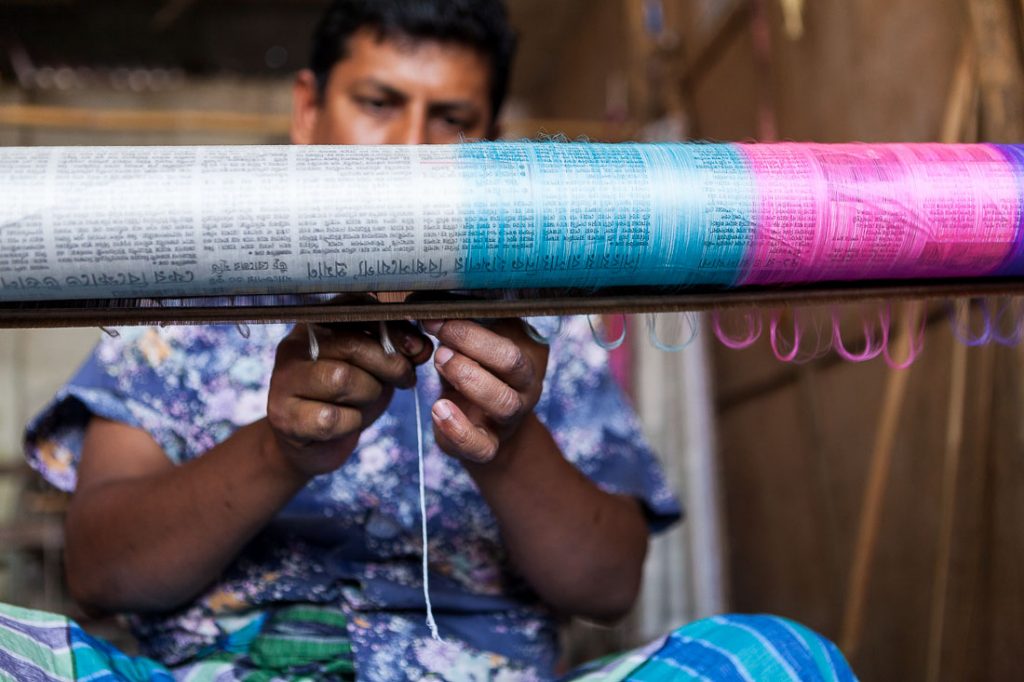 These days, South Rupshi's weavers are busy. There's a high demand for saris, and enough work for people to support their families. But this was not always the case. Only a few decades ago, traditional weaving was a forgotten heritage. Until sari entrepreneur Monira Emdad brought it back to memory.
"In the early 1980s, when I was traveling in rural Bangladesh, I came across these hand-woven saris, more beautiful than I had seen anywhere else. Back then, they were only worn in the villages. It was impossible to find fabric of that quality in the cities," says Monira Emdad.
The situation for weavers was certainly more difficult. Buyers were few and paid less. Jamdani was mainly kept alive through a government-run project in the South Rupshi area.
Historically, hand-woven textiles flourished in Bangladesh. The golden era was during the Mughal period. The imperial rulers were great admirers of the craft, and kept a steady flow of jamdani to their courts. Textiles worth millions of rupees were exported to China and India, even as far away as Turkey and Italy.
"But things changed when the British came along. Suddenly, there were no royalties who wanted to wear jamdani anymore. So a long and steady decline began," explains Tanjina Quazi, who works together with Monira Emdad.
When she discovered the hand-woven textiles, Monira Emdad immediately sensed their potential. She started bringing saris from the villages to Dhaka, where she introduced them to her friends.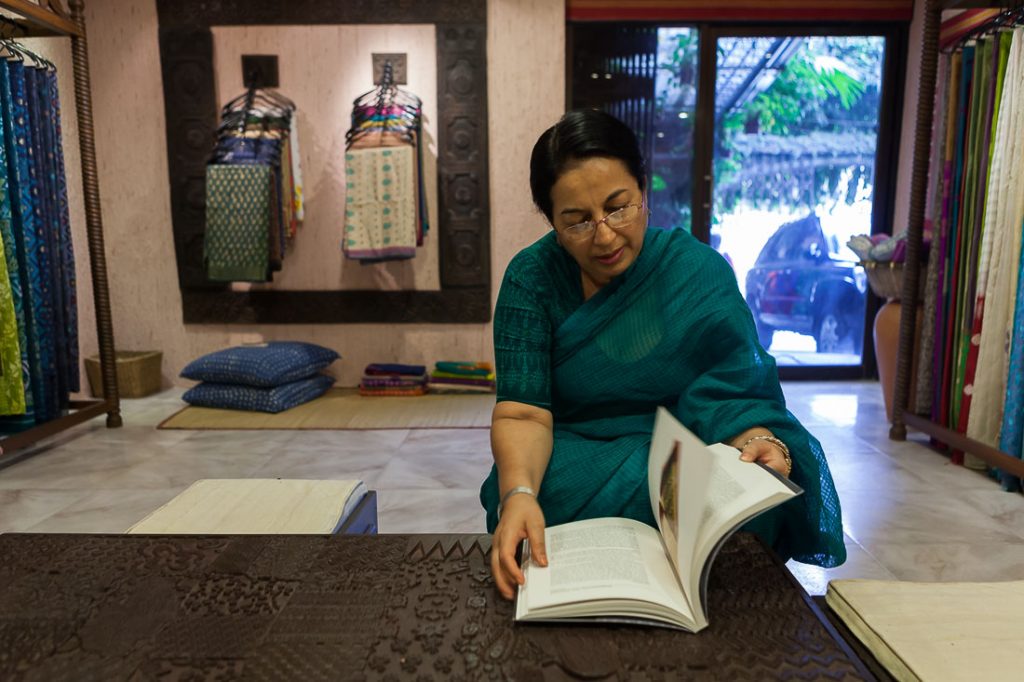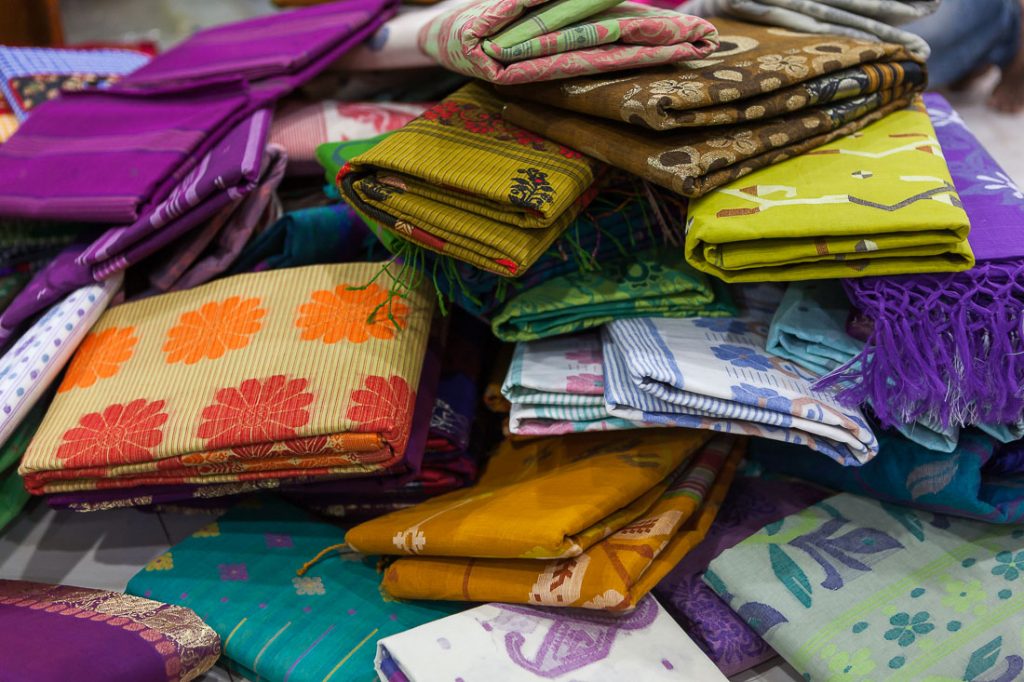 "Soon, I operated a small sari shop out of a tin shed in central Dhaka. I brought new designs and colour combinations to the weavers, based on what the urban customers wanted," she says.
Aside from those small adjustments, jamdani is still made the same way it has always been done. Techniques are passed down through the generations. There are no instructions noted down, no books with patterns. Jamdanis are woven entirely from memory – and imagination.
"It's challenging work but it ends up beautiful in the end. The most creative part is coming up with new designs, to see the craft emanate from my own hands," says Shahinul, a weaver in South Rupshi.
Shahinul works in a low building with bamboo walls and earthen floor, right behind Parbin and Abdul Salam's house. Inside are looms in two rows, set up with silk and cotton threads in bright colours. This is a workshop for weavers who don't have their own equipment.
Jamdanis are always made in tandem, with a senior weaver, ustad, to the right and an apprentice, shagred, to the left. Learning the craft takes years – or an entire lifetime.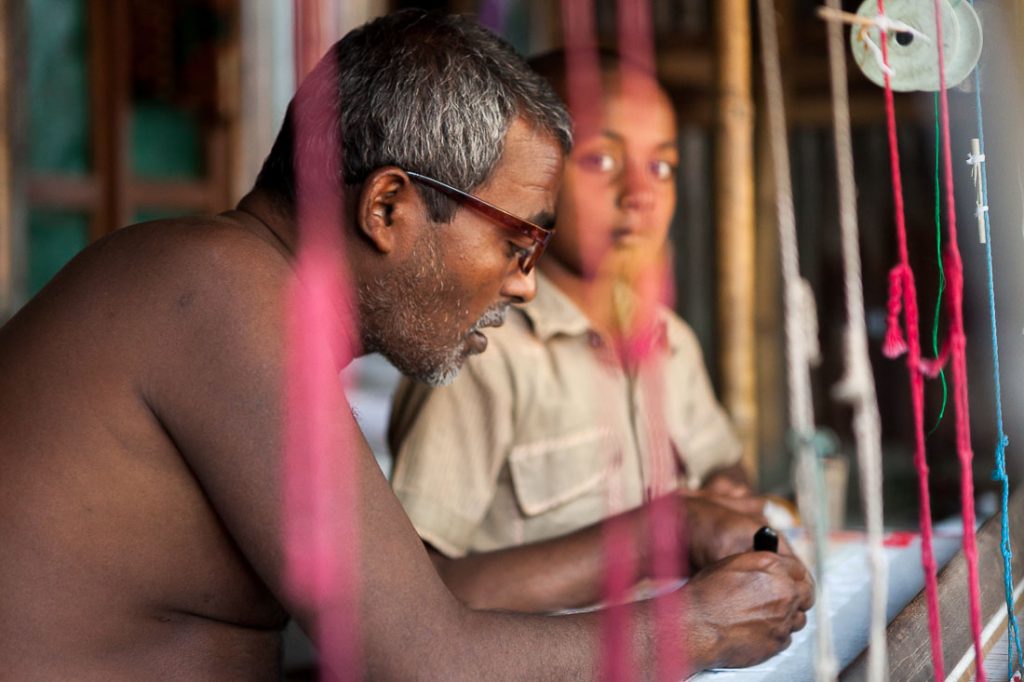 Most weavers start their training as kids. Nowadays, with improved economical conditions, most parents send their children to school first. After that, when they come home in the afternoon, they may weave. Earlier, schooling was uncommon.
"I was only eight when I started learning from my mother. I never went to school, even though my parents tried. They even hired a private teacher for us kids. But reading was never my thing. Weaving was," says Muhammad Jahangir, the owner of the workshop. He's a senior weaver, and appointed Bangladesh's "weaver of the year" in 2013.
"Thing is, to be a skilled weaver you have to start early. It's like sports, you need to devote your life to it. But nowadays, I think education must come first," he says.
With the growing popularity for jamdani, opportunities for the producers are changing. Mohammad Jahangir and his weavers now deliver jamdanis to major retailers across Bangladesh, and receive customers at the workshop in South Rupshi. Last year, UNESCO declared jamdani an intangible cultural heritage, stating its importance as "a symbol of identity, dignity and self-recognition".
In Dhaka too, jamdani has come to stay. Monira Emdad's tin shed is long gone – in its place is a three-storey flagship store with saris from her network of 15 000 weavers. The road, which was overgrown and green when she started, is now lined with jamdani shops – and goes under the name "Sari Street".
"Jamdani is such a proud heritage, and our weavers have maintained it through the centuries. They only lost contact with the market during all those years. That's been my part in it, to bring them back in touch with the people," says Monira Emdad.