New old ways of baking in Tripoli
On Monday, we got up super early (which at this time of the year, when darkness reigns, means before sunrise) to make our way north along the coast. Lebanon is a really tiny country, but still has 4.5 million people (plus an additional 1.5 million or so now, with the largest community of Syrian refugees residing on its soil). It's really hard find a place here that's not been built – even in the mountains and rural areas, houses are everywhere you look. When leaving Beirut to go north or south, it seems that the city never ends – you drive and drive and drive but the urban fabric never ends, only extends into suburbs and neighboring towns.
Our destination that morning was Tripoli, far up on the coastal highway. When you drive up there, there's actually a very short stretch of land towards the end of the trip that lets you breathe – the road takes you slightly upwards, surrounds itself with trees and a small hill, before it lets you back in sight of the Mediterranean again – and Tripoli, Lebanon's second largest city, hugging its shores.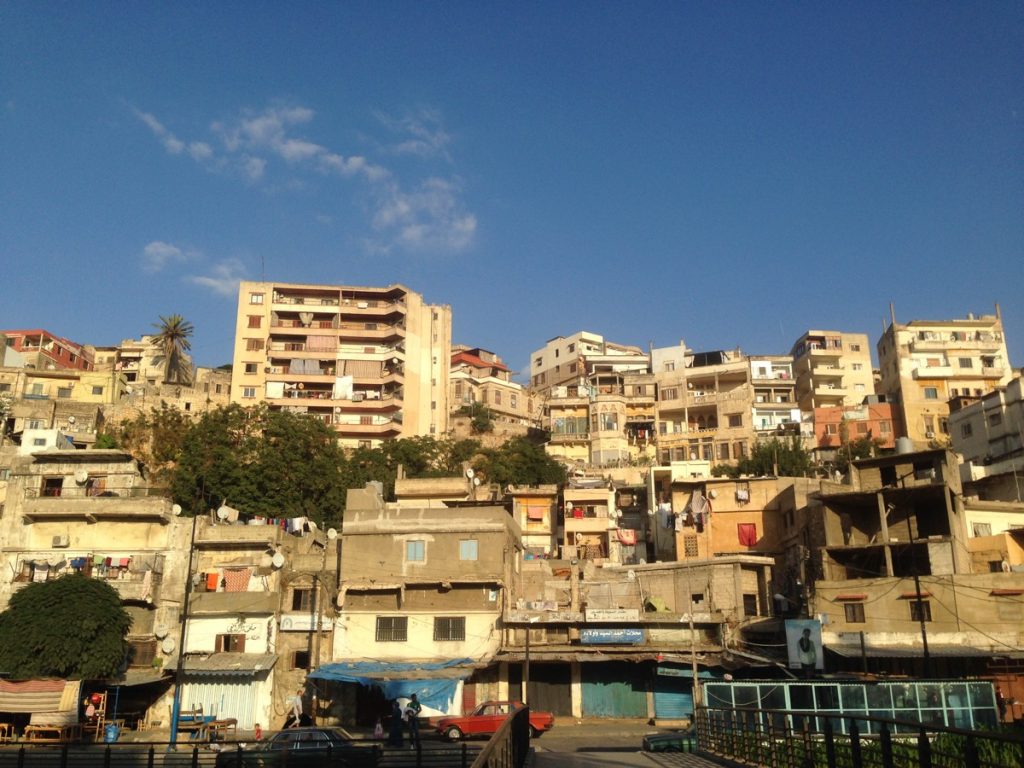 These days, Tripoli is in the news for one and only one reason, but that was not always the case. The headlines of today speak only with bold letters and explosive words like "clashes" and "gunmen", but the Tripoli of yesteryears was a much wealthier and rather peaceful city. Before borders separated today's Syria and Lebanon and Turkey, it was an important port and a centre for trade and commerce. Tripoli's open-air market is still there (as opposed to Beirut's, which was destroyed during the war and then replaced by "Beirut Souks" – an outdoors shopping complex that only takes its name, absolutely nothing else, from the markets that were once there), as are many old houses, albeit nowadays only bleak memories of their former glorious selves.
The city also has a reputation for being a cultured place, home to many literary and intellectual families, and for connecting Lebanon's coast to Syria. In fact, many families up in the north have relatives on both sides of the border; before the conflict, trips were made all the time to visit families and friends, or to shop for things that were cheaper or more available in one country or the other.
Today, many refugees (like these young football players I met with last summer) have made temporary homes in the city and its surroundings. With an insufficient response by the government, and even more so the international community and the UN (who keep facing promises of funds that never materialise as donors fail to live up to what they promise), there is a real sense of absolute overwhelmement. Not least among the refugees themselves, and the often poor families who are providing help and sharing what resources they have with them.
Adding to that (or rather, playing into that) is the fact that northern Lebanon is the most impoverished part of the country. Numbers from a few years back, when the book Profiles of poverty: the human face of poverty in Lebanon came out, say that 57 percent of people in Tripoli live in poverty; the region also has higher unemployment rates, more school dropouts and a weaker social security system than the rest of the country.
The increased insecurity since the conflict in Syria started is also making it clear to anyone who was previously in doubt just how much Lebanon's politics is actually Syria's, and vice versa.
The Lebanese blogger and tweeter Mustapha, who navigates social media under the name Beirut Spring, comes from Tripoli and has written many posts about it, including on the current security situation, for those who are interested. Habib Battah, a journalist who writes about urban and social change in his Beirut Report, recently posted (and translated) a brilliant excerpt from Lebanese TV where two Tripoli residents put the finger on what's causing instability in the city ("It's poverty, stupid").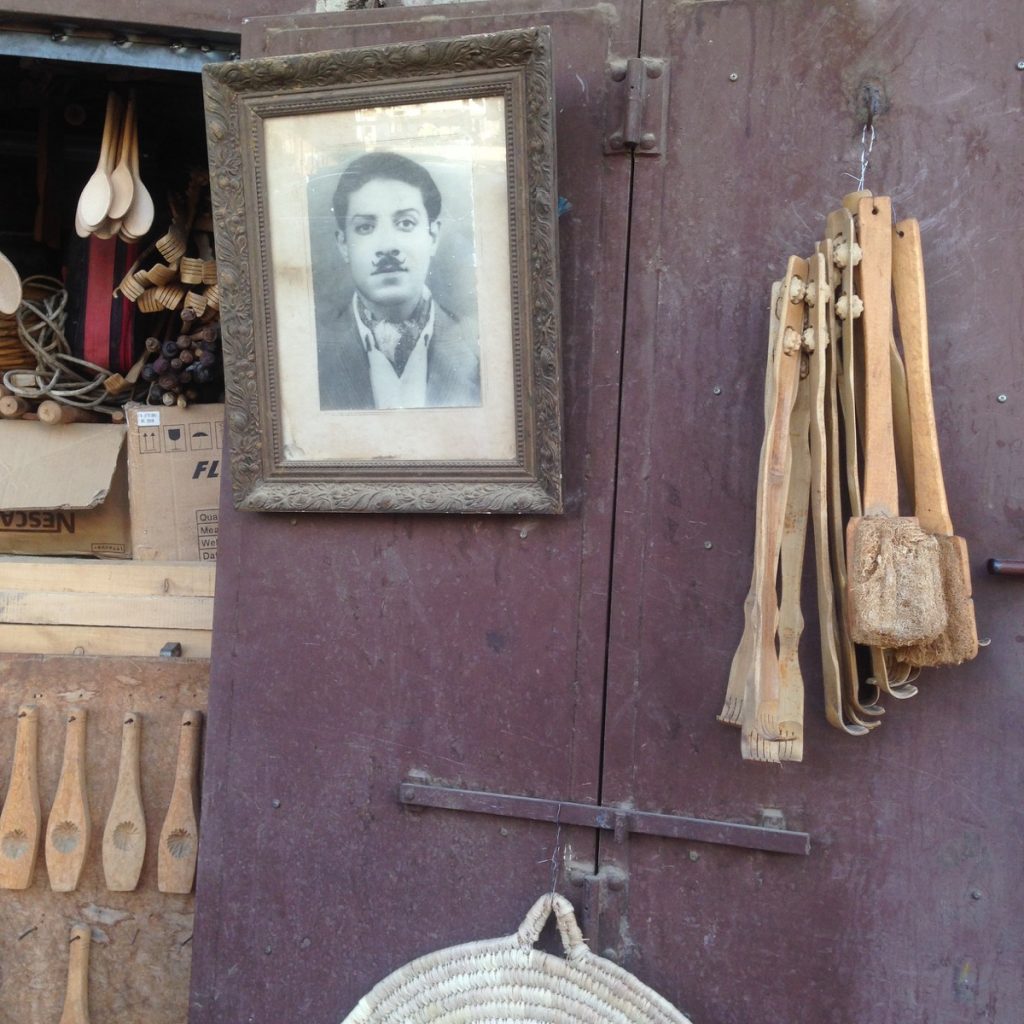 But our Monday trip up there was to meet Soumaya, who hails from a village nearby the city and now runs a small enterprise there. I got to know her at Beirut's farmers market, Souk el Tayeb, which each Saturday morning brings small-scale food entrepreneurs, farmers and producers from all over Lebanon to the the capital. People sell honey and apples, all kinds of mouneh (preserved foods), and rustic versions of Lebanese favourites: Umm Ali makes whole-weat manaeesh – the best in Lebanon? – packed with fresh herbs and leaves and spicy cheese; Georgina sells vegetarian kebbeh and stews with greens and beans and aubergine; Sona keeps a full-on Armenian table, flavored with parsley, garlic and the subtle chili paste harr.
Since last summer there's also a table run by foodmakers from Syria, refugee women residing in Lebanon who sell dishes the way they are made in Aleppo and Damascus. Kebab with cherries, salads, small pastries with black sesame seeds and tomato paste.
Among all these tables, there's also that of Bread Basket. You can spot it from afar because Soumaya will be there, big smile and sparkling energy, engaged in conversation with someone about the benefits of traditional grains and deliciousness of non-sugar sweeteners like dates and apricots. The baked goods she sells are similar to those found in most Lebanese pantries, only made differently. Instead of wheat she uses grains like oats, barley and spelt, and her sweets and cookies are stuffed with nuts and fruits and rose or orange water – bass! No sugar, no additives.
I've been wanting to go and visit her bakery since it started – I'm always curious to know more about people who do entrepreneurial projects in environments like Lebanon's, not least when going through particularly rough times like Tripoli at the moment. There's something special about this country, a consequence I suppose of being a tumultous place where politics change from day to day and you're never able to rely on either the established leadership or the system (because there is no system – all things infrastructure and public are really bad and non-functioning, to a degree that's astonishing when you think of the resources and amount of smart people – and money – that do exist in the country).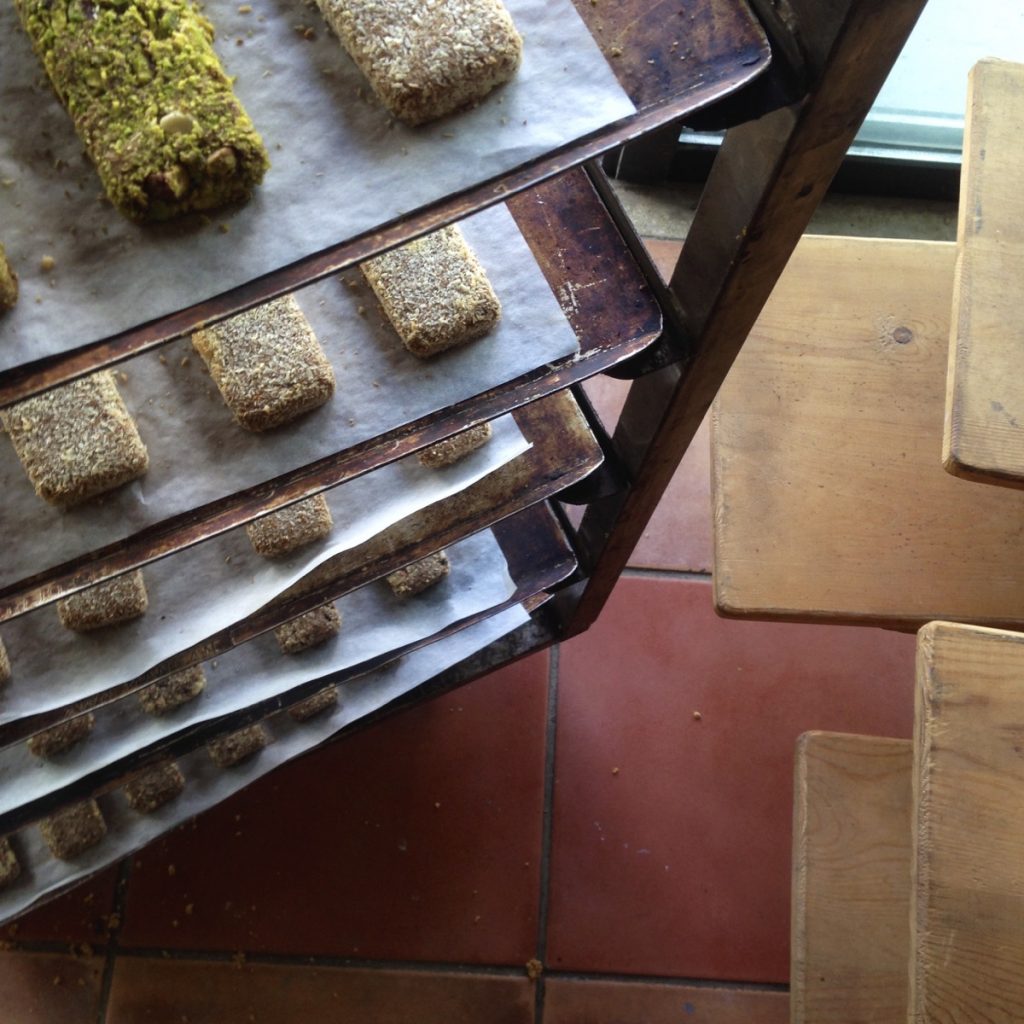 On the one hand side, you have an environment where people treat Lebanon as a playground (it's been said before), living like there's no tomorrow (another cliché) and leaving decision-making for mañana (decision-makers and the elite in particular favor this approach). But then there's also this wealth of initiatives: people start things despite having to face crazily expensive mobile phone bills and slower than slow internet speeds (should edit that sentence actually, because it would be incorrect to even write the words "internet" and "speed" after each other), people asking you for money to get things done, or not done, bombs that may drop on your house or snipers camping up on your roof, international companies blocking your transactions because they're sent from an address in the Middle East – and then of course knowing that all these things will probably not change any time soon.
So I went to see Soumaya and her bakery with such things in mind. She's raised in Lebanon but has, like so many Lebanese, a family history that cuts across borders: her mum is German and her dad from Tripoli, they both met in Canada and have raised kids who belong one bit here, one bit there. The bakery is on the top floor of a small mall, right at the entrance to Tripoli from the south; it was built in the nineties and has probably not a had single thing altered since then, definitely a place for those who get nostalgic from pink and plastic. There's a great view of the city from inside: its urban mix of self-made, worn-down dwellings and anonymous, new and shiny residential towers; the quiet and somber Tripoli stadium in the midst of it all; and the Mediterranean in the background.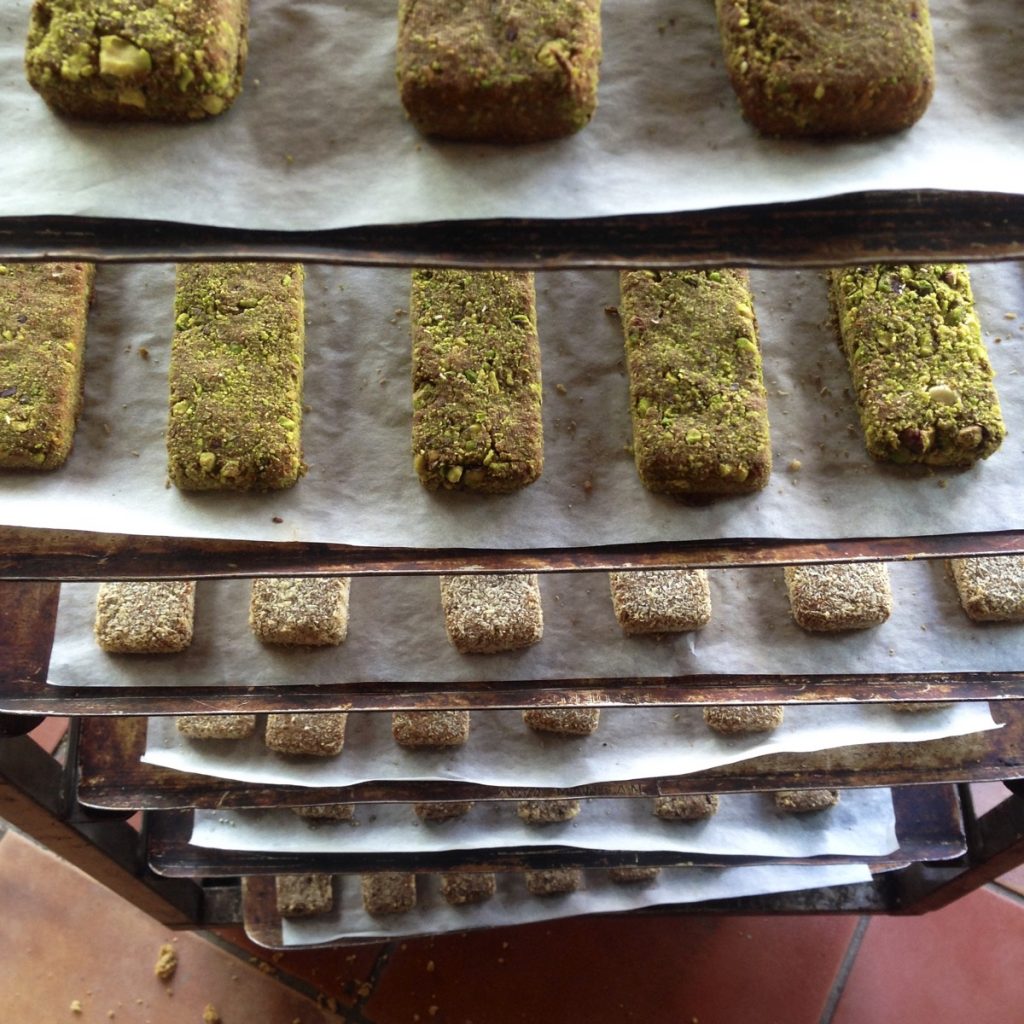 Five bakers and pastry chefs work with Soumaya: Abu Muhammed, Suleiman and Aamer bake the bread – prepare the dough, feed it into the large-scale baking machine, and take care of the hot pitas that come out at the other end. In a room at the back (and without a view), among boxes with green pistachios and sweet almonds, and shelves filled with spices and interesting flours, work Rabih and Bilal, the sweets and pastry makers.
The thing with buying not only sweets but also things like herbs and roasted nuts in this part of the world is that people eat a lot and most always keep them in their homes on a daily/weekly basis, so you can always be sure that what you buy is really fresh. A few weeks ago, in Mexico City, I went in to a Lebanese bakery – yep, there they were, the large golden plates filled with all sorts of baklava (green pistachio, finely crushed almonds, chewy dates, all of it), but when I tasted (of course, in any Arabic outlet, tasting, endless tasting, is not only invited but mandatory), they were not fresh at all. Had me long for Beirut, where top top quality cashews, almonds, dates, olives and fantastic sweets are never farther away than around the corner.
Abu Muhammad, the baker, has worked with bread since he was a little boy, Rabih has been making pastries in Abu Dhabi, Dubai, Saudi Arabia and of course Tripoli, a city with huge pride of its sweets. The others are newer, with only a few years of making cookies and bread. Soumaya too is a beginner – it was her father who first planted the seed for the bakery, since then, she's stepped in and gradually taken over things. The concept, to bake with traditional grains and locally grounded flavors, is hers.
"Spelt, barley, freekeh – this kind of farmer's food, very little is known about it today. It's disappearing from what we eat daily. In Lebanon, as in many other countries, white wheat is subsidised. You buy it for nothing, most of it is imported. And you know, Lebanon and Syria used to be among the main traders of good quality wheat."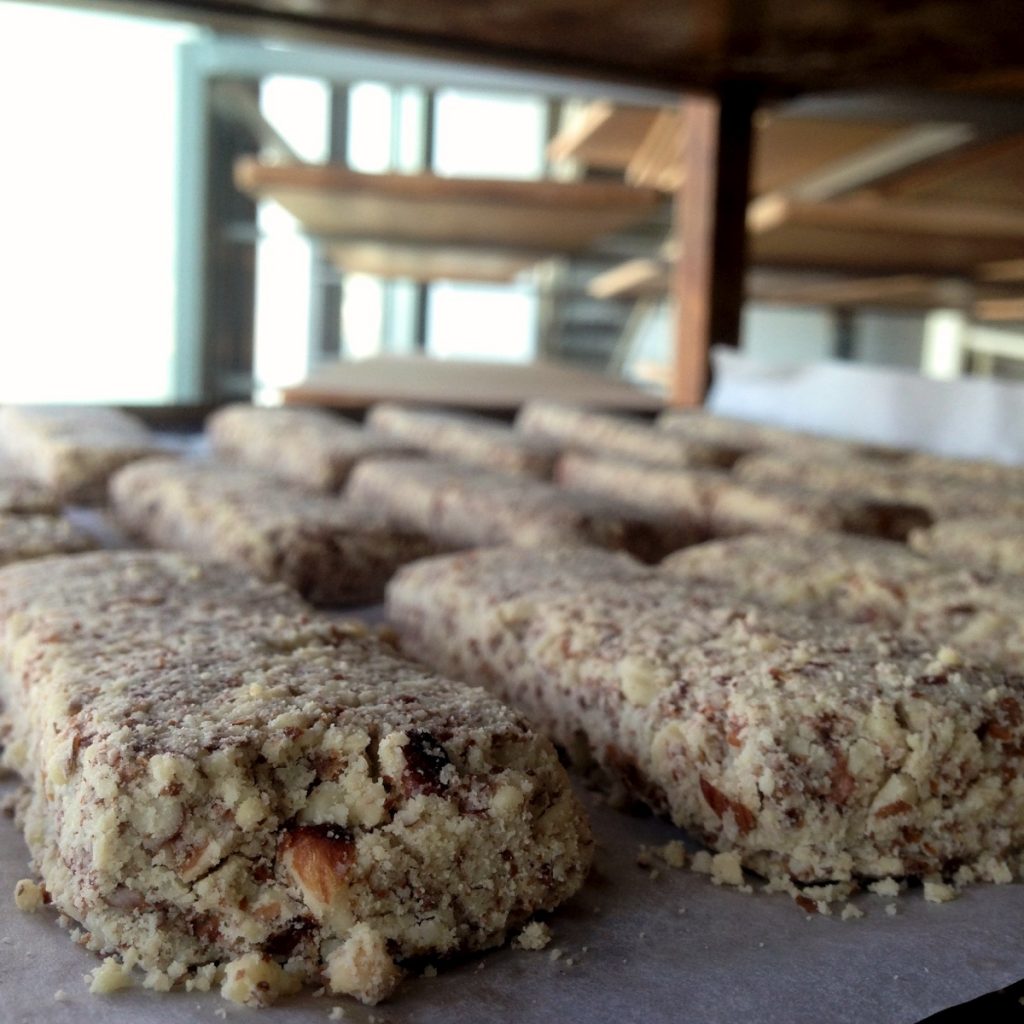 Running an enterprise and trying to do something different is challenging – Soumaya says the bakery is nowhere near full capacity, baking bread only in the morning three times a week. Logistics is a challenge – being based in Tripoli might mean cheaper production costs, but you have to deal with inevitably getting stuck – sometimes for hours – somewhere on the highway each time driving down to customers in Beirut.
It's a quiet day in Tripoli when we're there: sunny but chilly, even for November. The ocean is calm in the horizon, as are Bab al-Tabbaneh and Jabal Mohsen, the two neighborhoods where much of the recent fighting has taken place. A new project, organised by Souk el Tayeb and Ruwwad al Tanmiya in Tripoli, has women from both sides of Syria Street, the dividing line between the two areas, meet and cook food together. Am curious to go back to Tripoli soon and meet with them.
I ask Soumaya about the Tripoli of her childhood, and how it's different from the city of today. That was during the Lebanese civil war, so there was a lot of instilled fear, she says. Syrian troops were stationed all across Lebanon, especially in the north, and that gave way to a sense of resentment towards the often ill-behaving soldiers.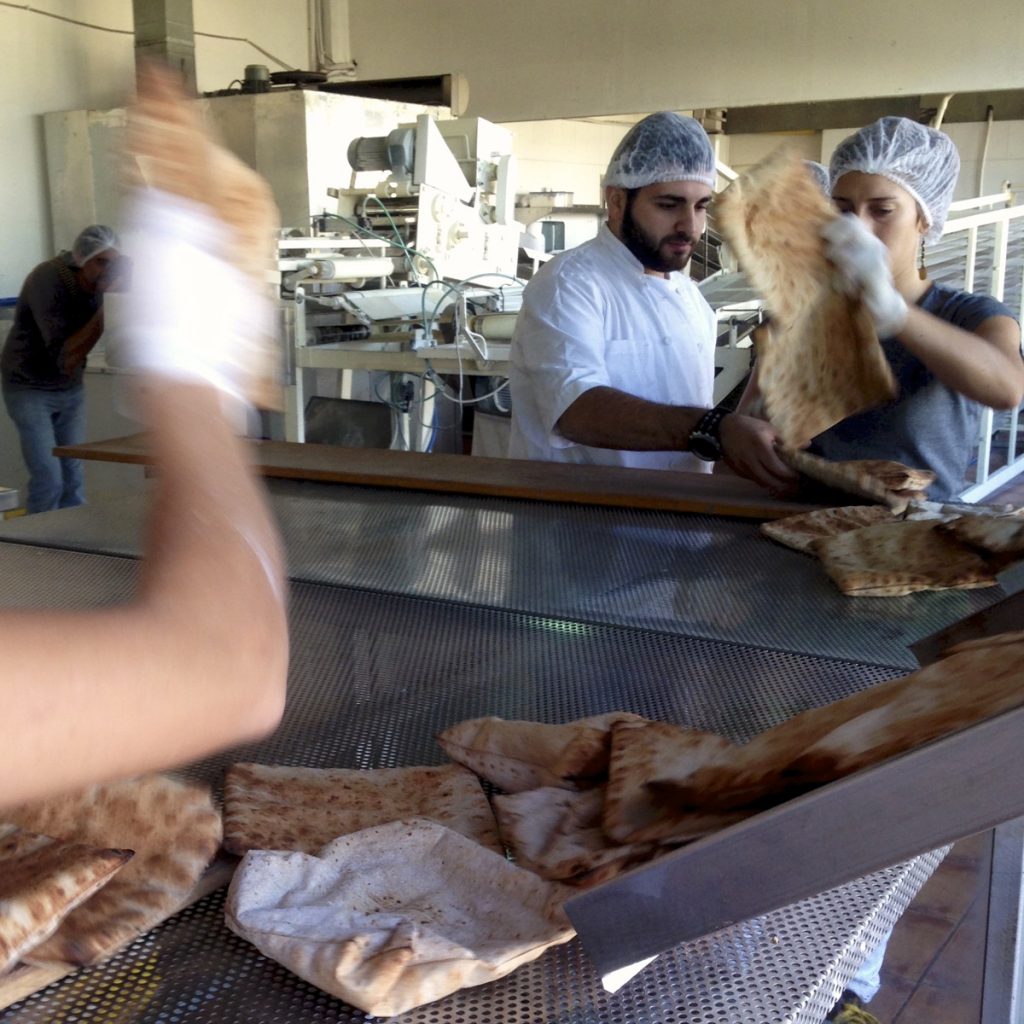 "But I remember Tripoli as a very innocent place. I remember we used to go and have cigarettes sitting on a cement wall. That was the coolest thing in town, haha!"
Rabih, pressing a mixture of blended cashews and dates into wooden moulds – making taqabars, Soumaya's Arabic version of energy bars – is sceptical about the state of affairs in Tripoli to say the least.
"Kazzab. Liars. That goes for all the politicians. They get millions in aid from European or other donors – then slurp, they drink it all. Maybe 100 dollars end up in Tripoli's schools and hospitals."
Soumaya keeps another focus, busy steering her bakery forward. She's doing something in her city – building something, creating something. In times when way too many are focused on tearing Tripoli down, that's worth a lot.