On the bike, on a roof
A few weeks ago, Karim and I got on our bikes in the morning. We left Beirut with the sun on our right, still casting long shadows on our left. The first 45 minutes or so of getting out of the city and past Kaslik, Dbayeh and Zouk – before reaching the road that leads down through Jounieh – is not what one would describe as biker bliss. There's just one main road leading out from Beirut to the north, and although the old sea road takes you the same way, it runs just next to the highway and is only one direction (which changes from mornings to evenings, according to where the traffic is heading – you can take it in to Beirut in the morning and out in the evening; weekends, when more people want to leave the city, is the opposite). Also, that stretch of Beirut and its suburbs is very urban and dense, and always extremely busy with traffic, so for someone on a bike, it's mostly about getting past it as quick and painless as possible.
After Jounieh though, the road gets nicer. Almost immediately actually – there's a nice view over the Jounieh bay just as you approach the hill where Casino du Liban is (that hill, by the way, is the only killing uphill before Chekka), and once you've climbed it, the road takes you through villages and coastal towns; past banana plantations, abandoned bridges and old-school towering seaside hotels. You'll reach Jbeil after a while; after that an even nicer ride up to Batroun awaits. Getting to Batroun takes about three hours (more of course if you stop for a swim or a chat or a cup of tea, which you must). That day when Karim and I left in the morning, we definitely spent more than three hours getting there. We first stopped when we saw a narrow road leading down through a garden of banana palms, and got shown down to the sea by Abdelaziz, the Egyptian man who takes care of the plantation and lives in a small house just inside. The next break came just before Batroun, after the village Kfar Abida, where there is a place where you can dive from cliffs and swim inside a cave, and have delicious artichoke, beetroot salad and smokey mutabbal in a small restaurant on the rocks.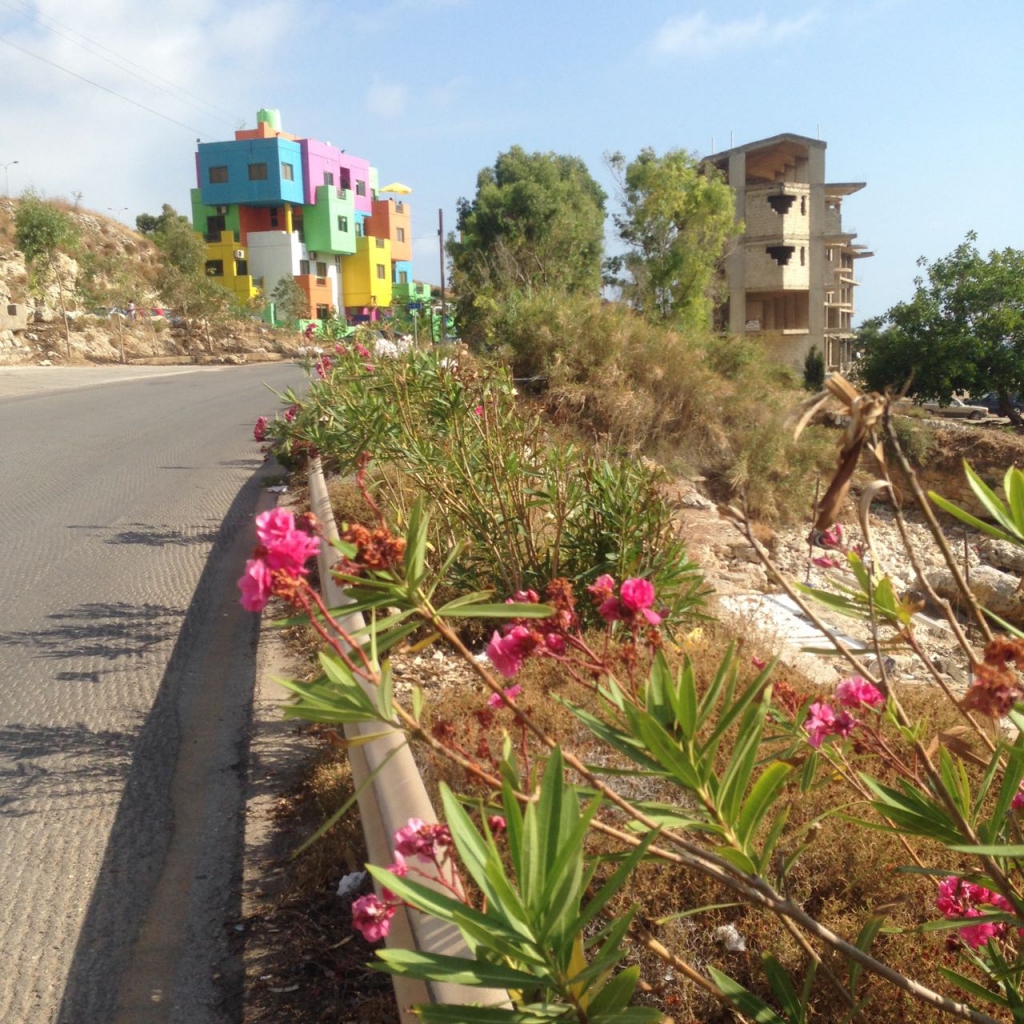 A brightly coloured hotel next to a half-built (or half-abandoned) house, on the road between Jbeil and Batroun.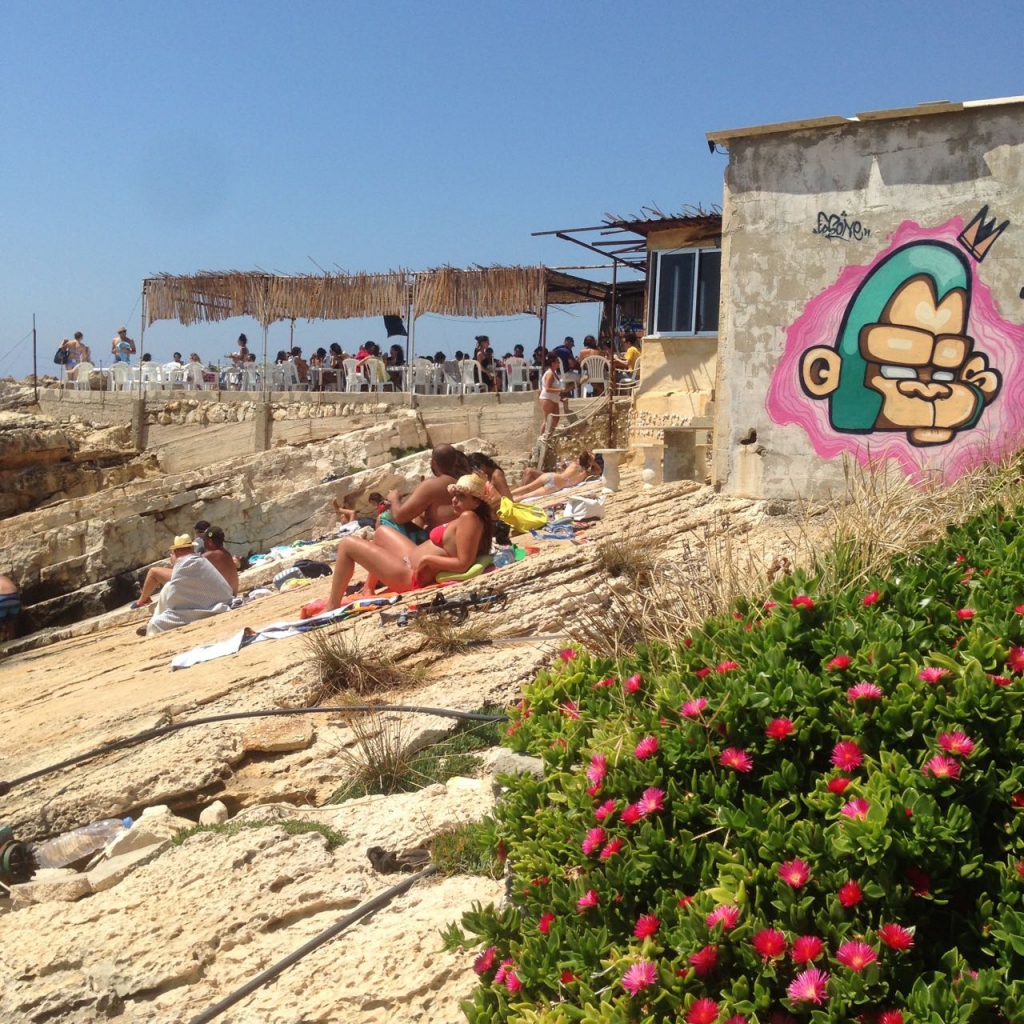 Joining Beach, a favourite swimming spot on the northern coast.
When the light started to get softer and more yellow, and when our cheeks and arms had white sparkles from the salt water, we packed our stuff and got back on the bikes. We quickly passed Batroun, staying on the sea road which runs along the water, not inland like the highway. This part of the road, the 30 minutes or so from Batroun to Chekka, is among the most beautiful stretches in Lebanon – it first takes you up maybe 100 meters or so (I'm so bad at numbers and estimates, but let's say 100 meters), and then lets you bike northward, with amazing views over the sea and coastline on your left and trees and greenery climbing the mountain slopes on your right. And! The best part is yet to come: the ride through an old, unlit tunnel which surrounds you with darkness on all sides, but lets you see the end of it further ahead, with a crystal blue horizon where the sky meets the Mediterranean sea. You get out of the tunnel – downhill, more great views, steep downhill, then you're down on sea level again. You continue through Chekka, beautiful darling Enfeh (stop for another swim here, the place is like no other), more empty roads and quiet landscapes. Factories, abandoned salt marches, half-built houses and even more greenery.
Almost there! I think when we biked that day, it was already seven o'clock when we had come this far. Maybe even past seven, because we didn't arrive in Tripoli – the next stop, quietly resting out there on a small tip reaching out into the sea – until it was nearing eight. It was Ramadan, the last week of Ramadan I think, and the break of fast was a few minutes before eight. So when we biked into the city around that time, Tripoli was abandoned. Everything was empty, shops were closed, the streets were free for us to use. Which was great, except that we needed to ask someone for directions! Eventually, we found someone, and our way as well.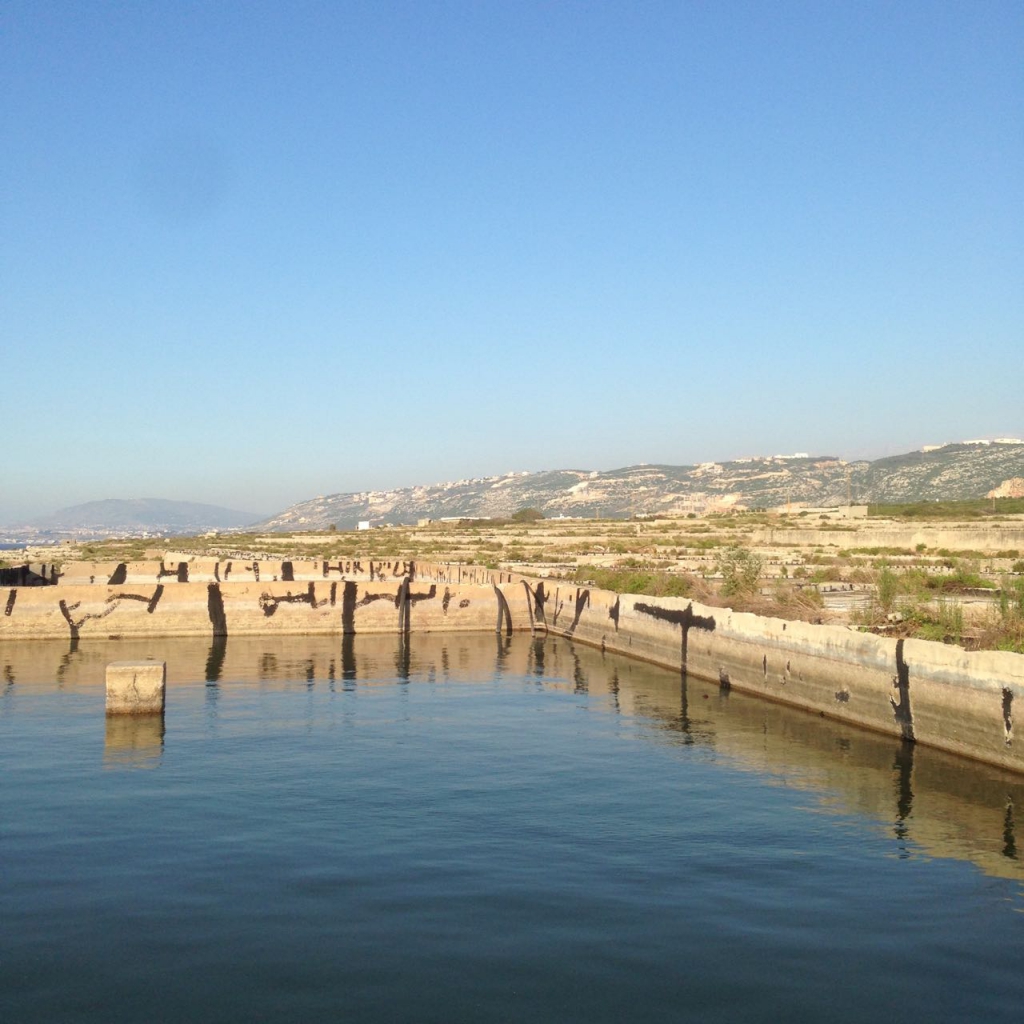 The disused salt marches north of Enfeh.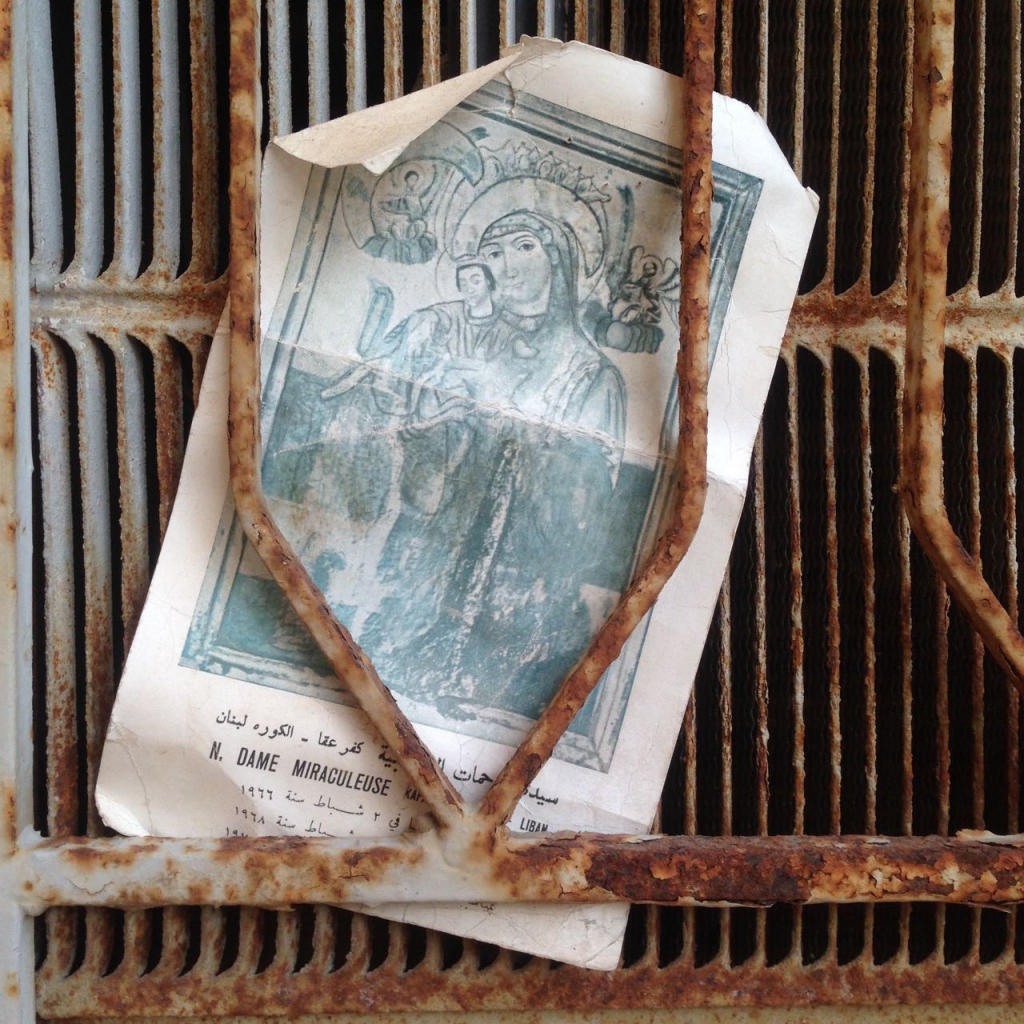 That was a very long intro, a way to say in many words something rather quick: Karim and I went to Tripoli the other day, to interview people and take pictures. That's what we did in the evening, after having washed off our salty bodies and rested our tired legs. We walked to Bab al-Tabbaneh, a neighbourhood just north of the city center, where we met the people in this story (published here on Mashallah News):
Making peace on the roof
As the play ends, the actors get back on stage and line up close to each other. They are all young, dressed in jeans, t-shirts and sneakers. Khodor Mokhaiber, in the middle, puts his arm around the shoulders of Ali Amoun, standing on his right. The spotlight illuminates their faces and t-shirts, paints the black around them darker.
"This guy," says Khodor Mokhaiber, "I would've never met before. Now he's my brother."
The applauds continue as the microphone is handed over to Lucien Bourjeily, one of Lebanon's well-known theatre directors. He spent five months working with the ensemble of 16 first-time actors, directing the show that just ended: Love and War on the Rooftops – A Tripolitan Tale.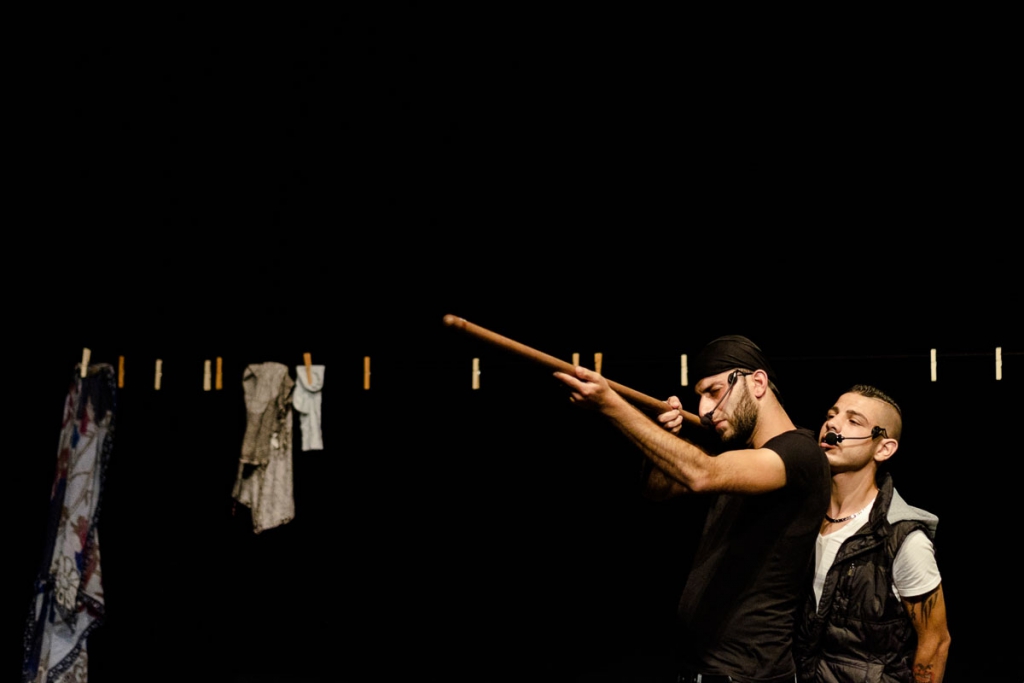 "I have learned about a sort of life that's present all over Lebanon. Where people help and support each other."
It doesn't sound like it, but Lucien Bourjeily is talking about Bab al-Tabbaneh and Jabal Mohsen, two neighbourhoods in the northern Lebanese city of Tripoli. They are next-door neighbours, but also long-time adversaries. After the Lebanese Civil War ended in 1990, hostilities between them lingered, and on-and-off fighting has continued until today. Since the war in Syria began, divisions between Bab al-Tabbaneh and Jabal Mohsen – the latter which, according to the logic of identity politics, stands with the Assad regime; the former against – have grown deeper, and many have been killed.
That animosity is also what brought the actors together on stage. Last year, March, a Lebanese NGO working with peace-building and civil rights, approached local organisations working in Bab al-Tabbaneh and Jabal Mohsen.
"We asked them to help us recruit actors to put up a play. It was difficult at times when here were tensions and some didn't show up. But things started to change quickly when they saw that the play was inspired by their lives," says Lea Baroudi, co-founder of March.
Working on the play was part of a larger project that March has been doing in Bab al-Tabbaneh and Jabal Mohsen. They started from the beginning, working with conflict resolution, leadership and communication exercises.
"It's not possible otherwise to get people who used to hate each other to do things togehter. We went through a lot of ups and downs. And interestingly, once the ice broke there were no longer sectarian tensions – when they fought it was like brothers," says Lea Baroudi.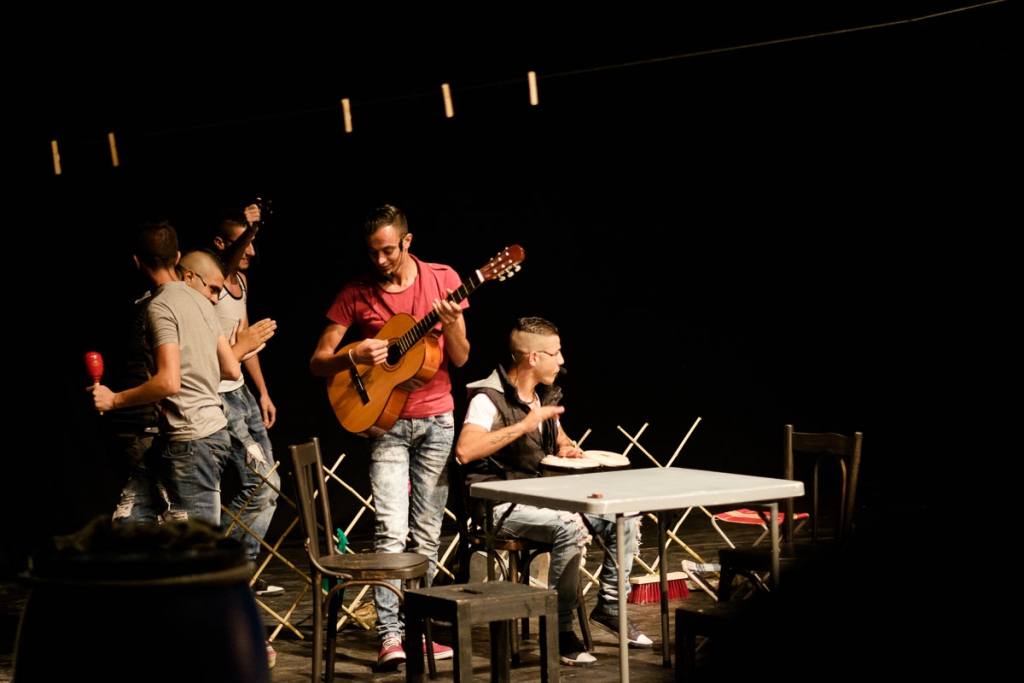 The actors come from different backgrounds, but share on thing in common: they have all, in one way or another, taken part in the local fighting. Many have lost friends, used violence themselves. Ali Amoun has been shot four times. "First in 2008, then in 2010. Then, two more times recently."
The bullets that hit him came from Bab al-Tabbaneh, down the hill from Jabal Mohsen, where Ali Amoun has lived all his life. That's also where about half the acting team comes from; the other half is from Bab al-Tabbaneh. Two actors come from Kobbeh, another area in Tripoli, and one is from the Palestinian camp Beddawi.
"I didn't know anyone from Jabal before, and I never imagined that I would. I never went up there. Since I was a kid I only knew that we were fighting them," says Khodor Mokhaiber.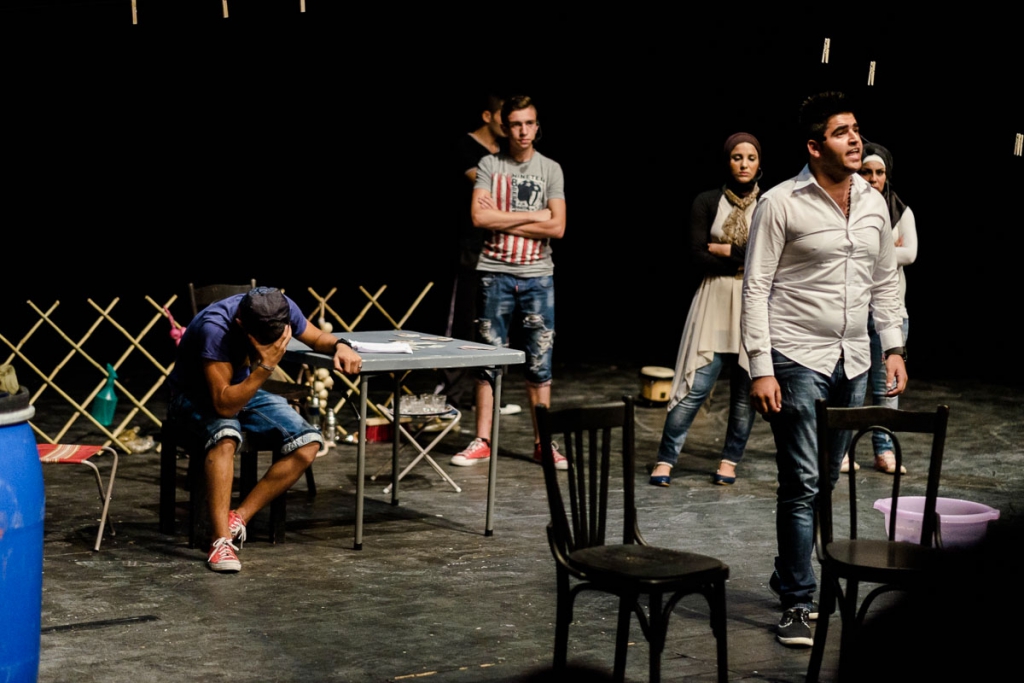 A few weeks earlier, he is seated at an outdoors event in Bab al-Tabbaneh during one of the last evenings of Ramadan. It's nearing midnight and the sky is dark. The air is soft, not yet weighed down by the summer heat. A small stage has been set up, with plastic chairs lined up in front. A comedian gets up and starts talking, members of a youth organisation walk around giving out dates and rice puddings. A small kid with sandals and worn pants keeps following them around – he finds short cuts and sneaks quickly in and out between the chairs, to always stay within reach of the trays with candy.
In front, on the same row as Khodor Mukhaiber, sits Ali Amoun. Any previous Ramadan, finding him with friends in Bab al-Tabbaneh would have never happened.
"I used to think that all of Tabbaneh was Fatah el-Islam and terrorists. This is what they told us. But all of that has changed now. When we started doing the play together, we saw that we're actually the same. They have the same issues down here. No jobs, politicians just using people."
Ali Amoun is right: the two neighbourhoods share a lot in common. Unemployment, a lack of social services and shared spaces. High levels of poverty. In recent decades, northern Lebanon has grown more and more impoverished, and is now home to more poor households than any other part of the country. Tripoli – a city with beautiful old architecture, a long intellectual history and a strong youth movement – is today a place where 57 per cent live in poverty. The numbers for Bab al-Tabbaneh and Jabal Mohsen are even higher: 87 and 69 per cent respectively.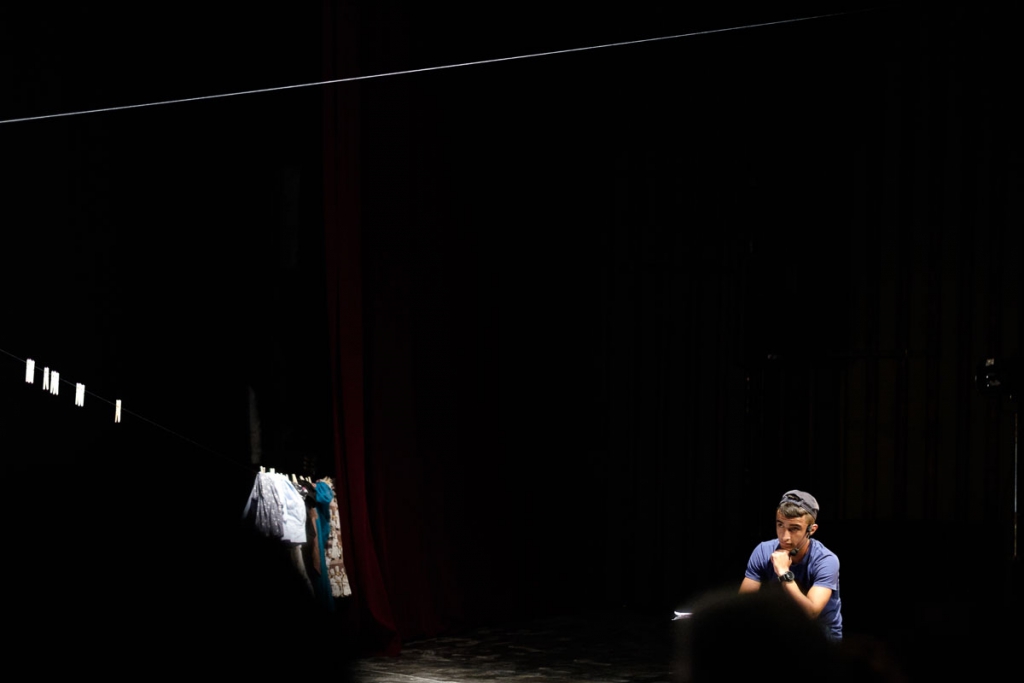 This reality is what set the direction of the play, which incorporates off-stage stories and experiences from the actors. It revolves around a love story – the most famous one in literary history, but with Romeo and Juliet replaced by Ali and Aisha.
"[Bab al-Tabbaneh and Jabal Mohsen] are dealing with the same kind of problems that Shakespeare wrote about. But we are telling the stories of the people, not the sectarianism," says Lea Baroudi from March.
From start to finish, the play is set on a rooftop, overlooking Tripoli's urban landscape. The roof becomes the scene for daily events – small talk between friends, laundry drying, narguileh smoking. A card game and a discussion about not getting a job, even when pretending to be from places like Batroun or Antelias – something taken straight from the lives of the participants.
"Let me tell you about trying to get a job. You go to a company – Yaatek el aafieh, tfaddal [All the best please, be my guest], drink a cup of coffee. Please, let me see your resume. Ah, so you're from Jabal Mohsen? The door opens immediately. This happens all the time," says Ali Amoun.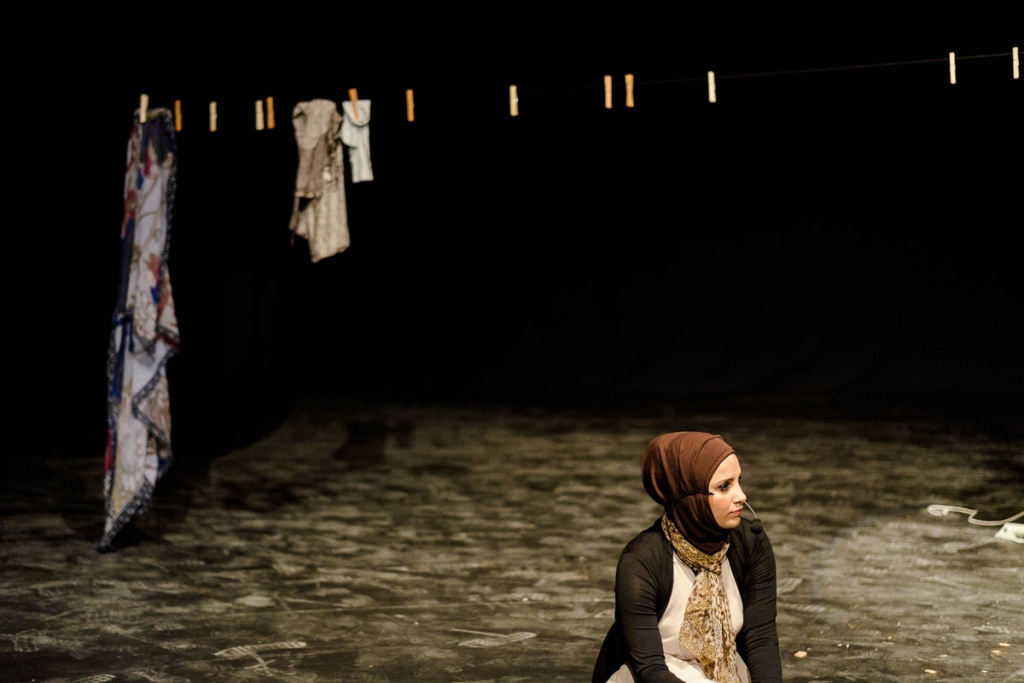 Khodor Mokhaiber fills in, shares a similar story, where he pretended to be from Kaslik, a neighbourhood just north of Beirut.
Both of them know that changing perceptions about their neighbourhoods is not done easily. The team will continue to work together; March is setting up a shared cultural café and will continue training them in acting. The idea is to create a small events team with a repertoire of stand-up, sketches and music, which can perform at kids' birthdays and other events. There are a lot of children in these areas of Tripoli, says Lea Baroudi, but not much entertainment. For the actors, that would be a continuation of a kind of personal change that has already begun.
"The most important thing I learned is to not get provoked any more. I used to be provoked easily, now I don't. That's what can make change," says Khodor Mokhaiber.
Another thing has changed as well – there is one point during the play when they say that people from Bab al-Tabbaneh and Jabal Mohsen never meet, only in prison. There are other occasions now.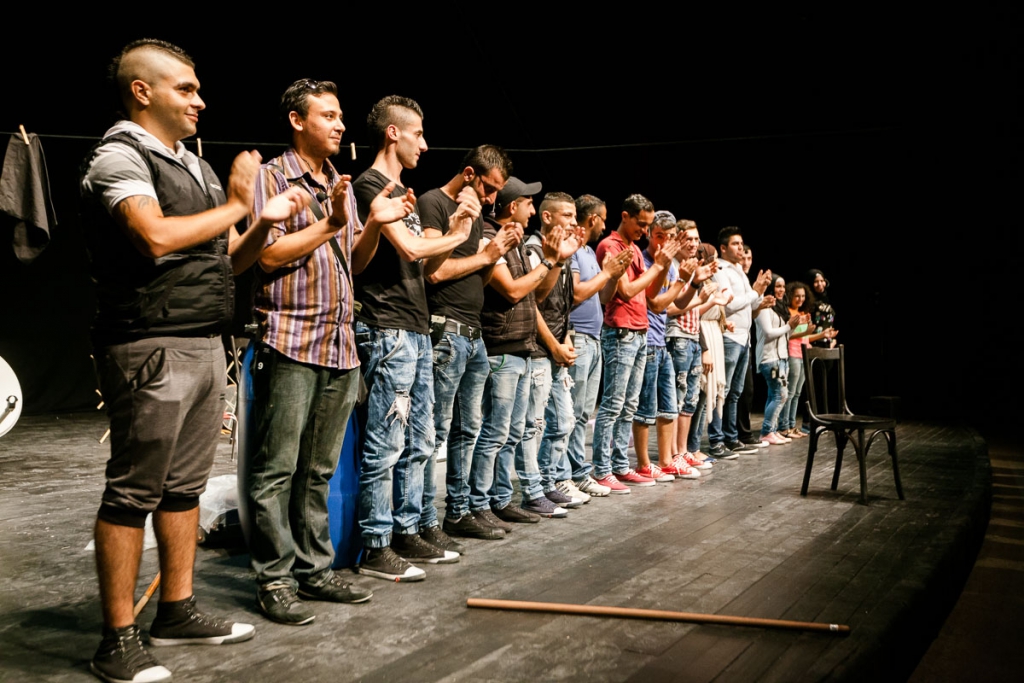 All photos from the play are taken by Karim Mostafa.