Other media
Anyone on social media in Sweden lately has for sure seen at least a number of videos or articles with Hans Rosling, a professor in global health and the person behind Gapminder, a website visualising statistics about the world and global development. It all started one month ago, when he did a short interview with the Danish evening talk show Deadline. Usually, even though our languages are so close (more like dialects, I think a linguist would say), we don't really watch TV from other Scandinavian countries. And it's quite rare that a media debate in one country gets picked up immediately in another. But this time it didn't take long. The interview was soon shared all over, and everyone seemed to be talking about (and listening to) Hans Rosling.
The reason is twofold I think: what he says and how he says it. He does something rare: invents people to see the world in new and different light, and he does it in a very straightforward way. When the Danish journalist on Deadline says that the world today is characterised by "war, conflicts and chaos", Hans Rosling looks him in the eyes and say, "You're absolutely wrong!". In reality, he says, we're seeing a slowing down of the population growth, girls going to school like never before, children being vaccinated and people across the world getting more and better infrastructure. But this "happens so slowly that it never makes the news".
Then he says something that I think everyone working with journalism knows is true: "You cannot use media if you want to understand the world". Media is certainly useful to understand part of what's happening in the world, but no, not a very useful tool for seeing the bigger perspective and how people actually live.
Because news is what it sounds like, nothing more. It's news, things that are not everyday, not ordinary, and not representative of a place or country in general. It is actually the opposite: the exception and uncommon, that which breaks the pattern. The lived realities of people on most days (getting kids to school, drinking coffee in the morning, worrying about the bills or maybe the health of someone in the family) will never make the news, be it in Nigeria, Ecuador, USA or Turkey or Iran. Neither will, for the most time, larger shifts and complex, hard-to-explain, socio-economic developments – these are changes that happen over time and not according to linear models, which makes them trickier to fit into any narrative in the media. The evening news, if this is all we see, will not put us in tune with the world. They will rather distort our understanding of it; fill those tiny spaces in our brains that are devoted to each of the 200 or so countries in the world with ideas that are exceptional, strange and rare.
So, then what? Where do we go from here?
That's the easy part actually: elsewhere! We search for other voices, and once we start doing that, there's so much to find. The Internet is a universe – it's big and vast and can take you anywhere. Here, for example:
1
Motherland Magazine is an Indian indie publication, both in print and online. Each issue is focused on a different theme – skin, performance, ghost stories, military – and brings together rare and cross-continental stories of contemporary culture.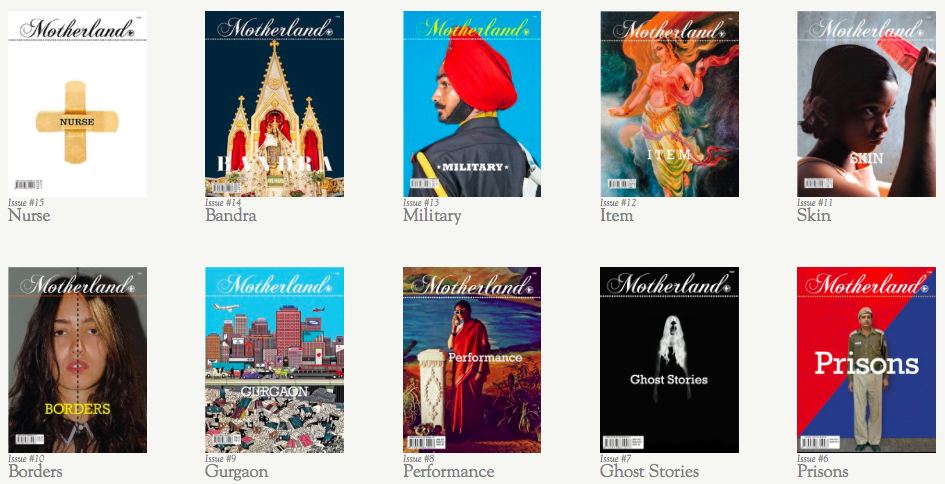 2
Another Indian media to follow is Scroll, which was launched last year and definitely does what it can to keep you busy. Try and click even just 1/10 of what they share! Scroll is more mainstream than indie, and a nice alternative to the likes of CNN or BBC.
3
Podcasts are not yet huge in India, but will hopefully be soon; it's such a big and diverse country, and very accessible for those outside because of its journalistic tradition in English. So am looking forward to seeing (hearing) more Indian podcasts in the coming future. For now there's Audiomatic and their Ask Aakar, a fun weekly Q&A about absolutely anything, and The Intersection, which mixes science, history and popular culture.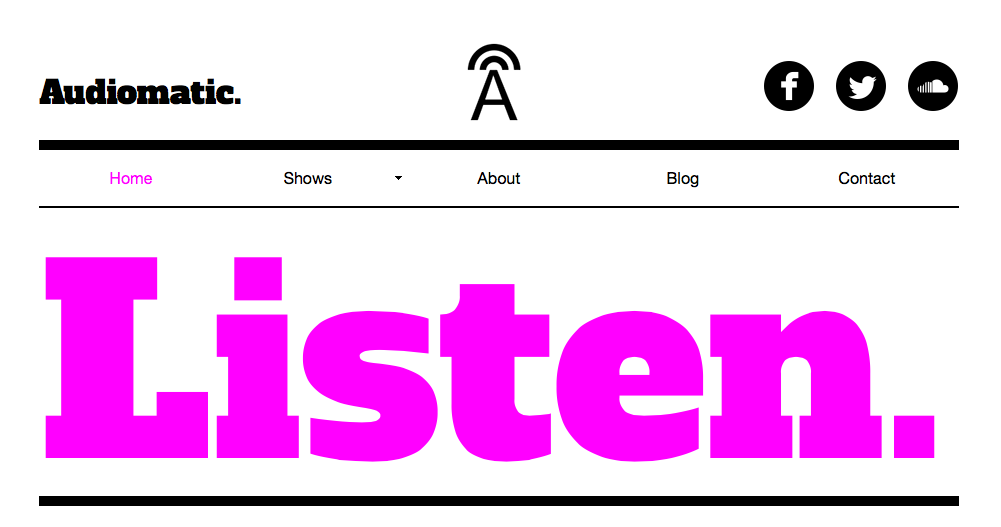 4
Ajam Media Collective is a blog/magazine about Iran and other parts of Central Asia. The team behind it is tireless, always traversing the cultural, political and academical, and the site is already a rich online archive of critical and sharp stories and commentary.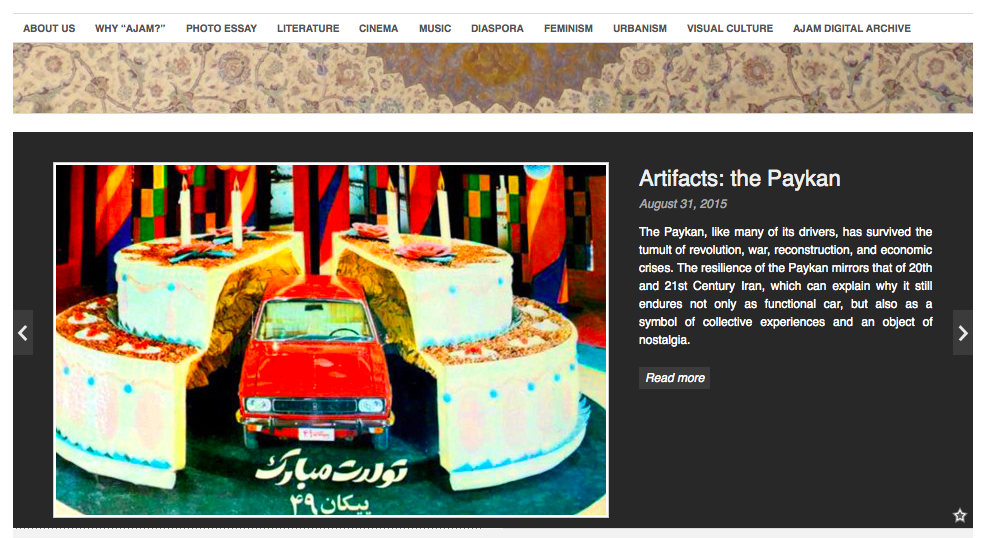 5
I guess now is as good a time as ever to seek out smart and non-hysterical commentary from the Middle East. A great place to start is Qantara, which takes its name from an Arabic word for "bridge". The writing is smart, knowledgable and non-pretentious, always looking beyond.

6
Another favorite is Cairobserver, run by Mohamed Elshahed. It's a website and a bilingual publication, printed from time to time in classic newspaper format with soft design and illustrations. The devotion is entirely to Cairo as a city – its buildings, inhabitants, architecture and cultural heritage.

7
Another urban voice – from Beirut, a bit further up along the Mediterranean shores – is The Outpost, launched in print in 2012. Happily, the magazine has gotten a lot of attention and good press abroad, which only shows how big of an interest there is in different and non-stereotypical reporting from the Middle East.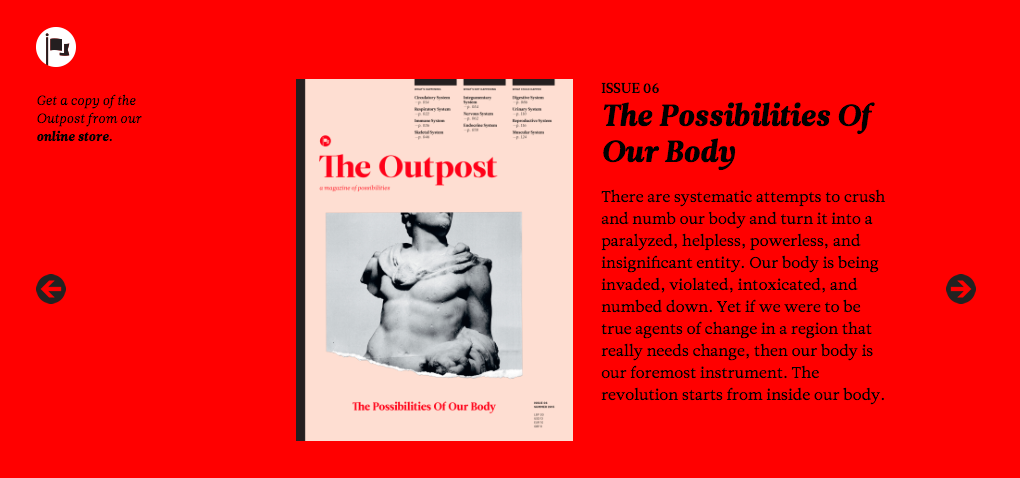 8
For news and stories from even further north and east, Niqash is an online publication with writings and photo essays from Iraq. The great thing with Niqash is that you get stories from people who are fromn Iraq, not through non-Iraqi channels which is often the case.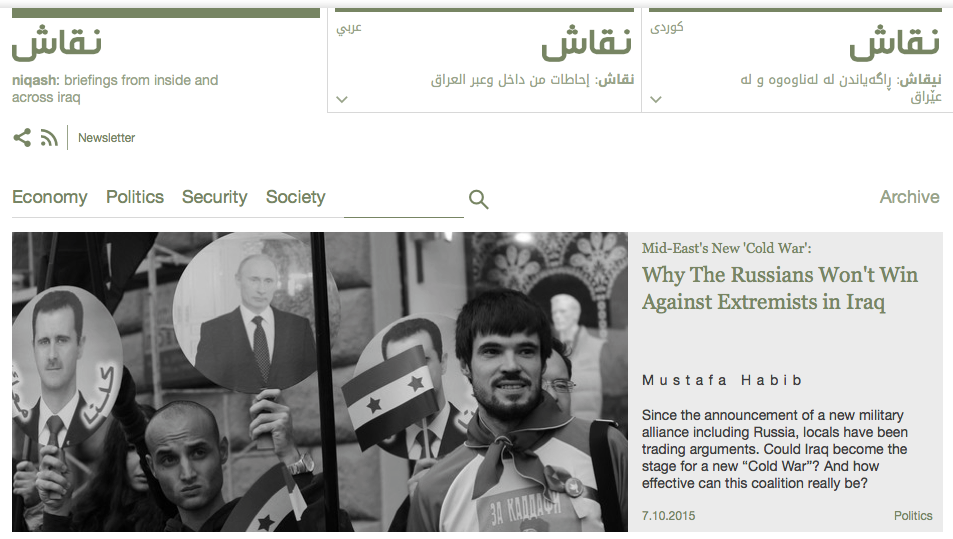 9
There's a bunch of other independent media voices from the region as well, some new and others more established. Brownbook is one of the older non-mainstream publications from the region, and publish monthly on culture, art and design. Kalimat is more recent, printed but can be read for free online. There's of course +972 Magazine and Electronic Intifada, both reporting on human rights in Israel and Palestine; Inkyfada, a new and smart initiative from Tunisia (in French and Arabic); the brave and important Mada Masr in Egypt; and Moroccan Lioumness, run by two journalists in Casablanca. Finally (for dessert?), the minimalist-looking and nice food publication The Carton.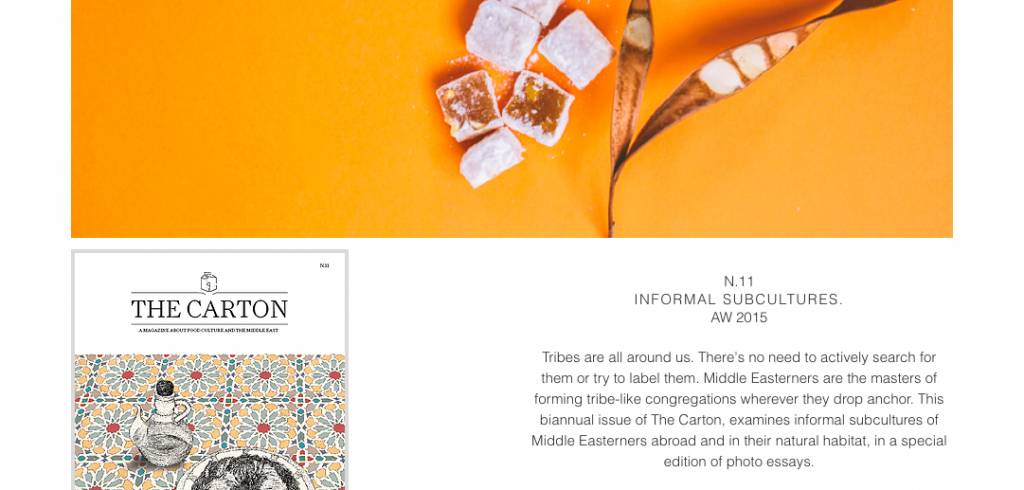 10
Africa is a Country picked their name with a bit of irony, they say – they want to "construct a state of mind" where (national) borders are challenged and traversed, and publish both celebrations and critique of art and cultural expressions across the continent. They're very much a voice to follow on social media, too.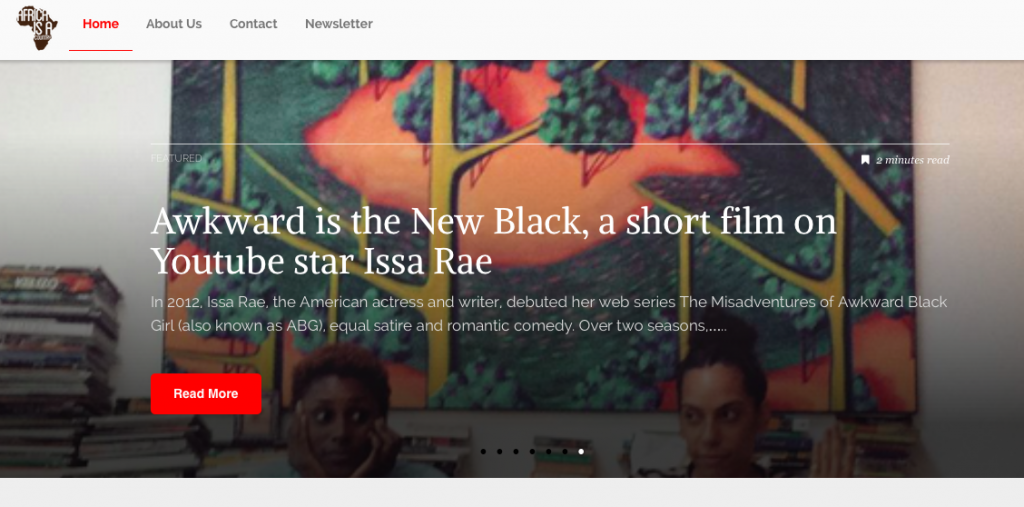 11
It's the 8th most populous country in the world, with more inhabitants than both Russia and Mexico; still, we hear very little from Bangladesh. The blog portal Alal o Dulal, which took its name from a poem about two mischevious siblings, features commentary in English about recent events in and around the country.

12
This is an interesting blog, not least for those among us who are journalists writing frequently about development and aid. AidSpeak (and its predecessor Tales from the Hood) is run by a humanitarian worker who writes sharp and honest commentary on everything related to aid work and reporting (a side note which says it all: some of the most used tags are "it's not about us" and "aid workers taking themselves too seriously").

13
Another publication with a global outlook is Makeshift, which looks at individuals and collectives who inhabit the world of "hidden creativity": they tell stories from metropolitan streets, slum areas, rural villages and small towns about people who invent, create and inspire.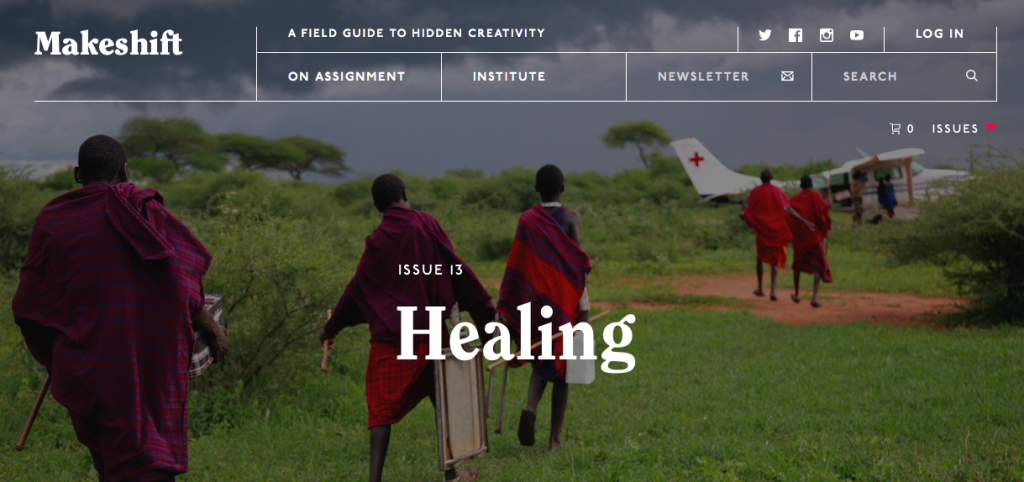 14
One more! Still journalism, but not in writing. Photos. Images, portraits, visual representations. Burn Magazine is a collaborative publication; the team behind always selects great work.