New Mid East media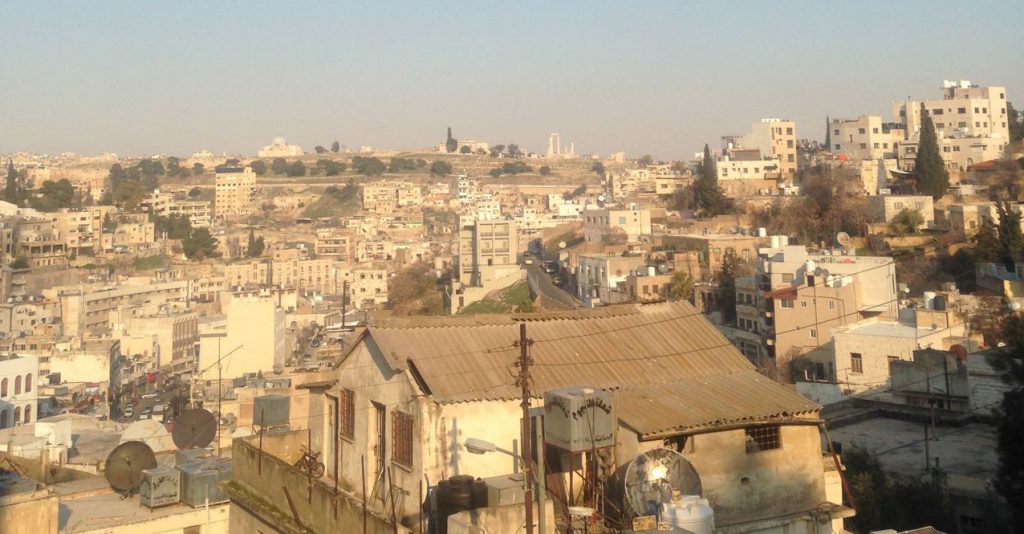 A few weeks ago, I stepped out of a plane into a dark and windy evening. It was in Amman, where a winter storm had left the city covered in a wet moist. Typical for January in this corner of the Mediterranean region: nights are cold, evenings dark, and storms – when they arrive – leave people freezing and trying to salvage themselves with layers of whatever thick and knitted clothes they have.
Still, all of us who came to meet in Amman were happy: the place we spent our time was unexpectedly warm inside and had the best little coffee bar next door, with teas from Morocco, Yemen and Iran (and a happy cat, lots of regulars plus seating in the sun – when it finally, after two days or so, arrived).
We were a bunch of people, all of us representing different independent media platforms, who had traveled to the Jordanian capital. Most had met before: we have been part of the same project for over one year now. Ebticar, which means "invention" in Arabic, is an attempt to support independent digital media in the Middle East, and Mashallah, which I'm one of the co-founders and editors of, are among the lucky recepients.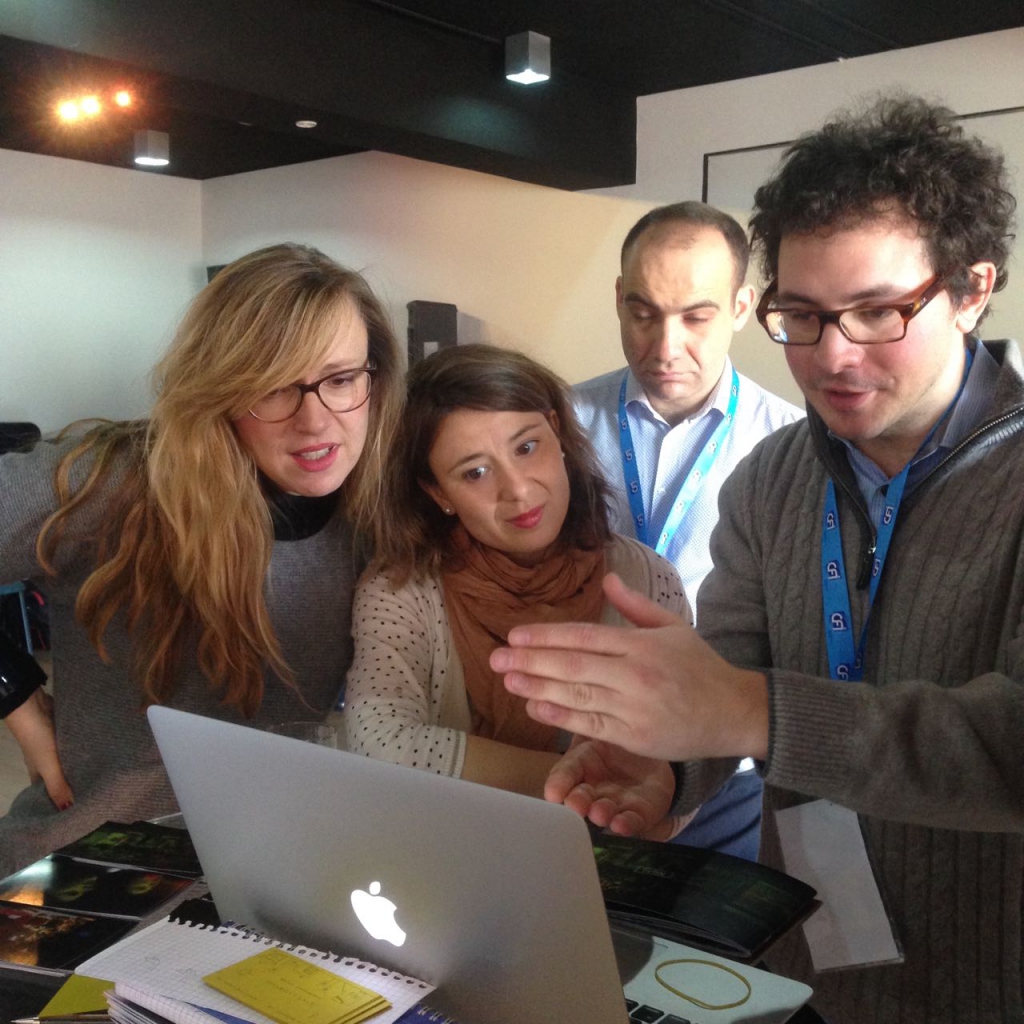 Elsa, Nejma, Dimitrios and Clément, looking at one of the visual storytelling series Mashallah produced during 2015.
This Amman get-together was to check in how everyone was doing, because we've arrived at the end of the grant period. For me it was great, because I hadn't had a chance to meet most of the participants before, and it was an occasion to spend time with Micha and Clément, the two other Mashallah editors. While Micha and I both live in Beirut, Clem has lived in Istanbul, Tbilisi and northeastern France during the six years that have passed since Mashallah was born, and we quite rarely get to work together in person.
Less great were the news that some of those invited were not able to come. It wasn't unexpected: on the contrary, whenever you try to organise something bringing people from all corners of this region, people are bound to get stuck at home, without having been granted a visa. None of the Syrian and Libyan projects had people to represent them, simply because their passports these days are worth less than what it costs to produce and print them.
Those who did make it – people from Lebanon, Tunisia, Algeria, Morocco, Jordan, Egypt and France, since it is a French media organisation managing the grants – got to see the initially rainy Amman shift quickly to a beautiful, sunny winter city. For someone who is spending the winter months in Sweden this year, getting to run on snow free streets and under a happy sun was beautiful – as was sharing plates of hot and cold mezze, eating breakfast falafels at Hashem (after the runs), walking up and down the hills of Amman in sneakers, shop for dates grown in Saudi (for Karim) and Tunisia (for me), and walk around outside without a jacket.
Apart from that, it was really nice to get to know everyone from the other projects. Some are established, have been for a while; others are new and exciting. Mada Masr has come a long way despite being quite young: they have quickly become the main source of independent updates from Egypt, and maintain a tireless reporting about everything that goes on in post-Mubarak land. Our friends from Inkyfada are doing a similar, equally great, job in reporting across Tunisia: unfortunately for those who don't speak Arabic or French, their site is so far in those languages only. But hey, Google translate is your friend (and Arabic and French are great languages to learn, by the way)!
Soumaya and Nejma, both from Algiers, doing audio for Radio M; Gudran, a project documenting urban change in Alexandria; Micha and Clément, 2/3 of Mashallah News.
Le Desk, from Morocco, is another new outlet: their site looks great and they're publishing a lot (same there: in French). ARIJ, the community for Arab investigative journalists, is not new at all but has been training and organising reporters from the region for quite some time.
I really like what another project is doing as well: Gudran, from the very Mediterranean city Alexandria. Egypt is going through so many changes at the moment, not least when it comes to urban life, heritage and architecture. There's already Cariobserver doing great job in talking about what's happening in Cairo, but Alex has so far been much less documented. Then, there's Ali, a friend from Beirut, and his photo project FRAME which uses the concept of street photography to document societal change and relate it to similar developments in other cities; Radio M, a podcast-radio platform covering Algeria in a new way; and Mideast Tunes, who say they do "music for social change".
Finally, there's also us! Mashallah – we're also one of those who can't claim to be young and fresh any more: we've been around since 2010 (one month before the beginning of the revolutions!) and were with this grant able to update our website; which since the start has been a simple WordPress set-up, brilliantly designed by our friends from AMI. We're still waiting for the final version to be up and running – the current one is a beta version which will replaced any day now with the new Mashallah 2.0!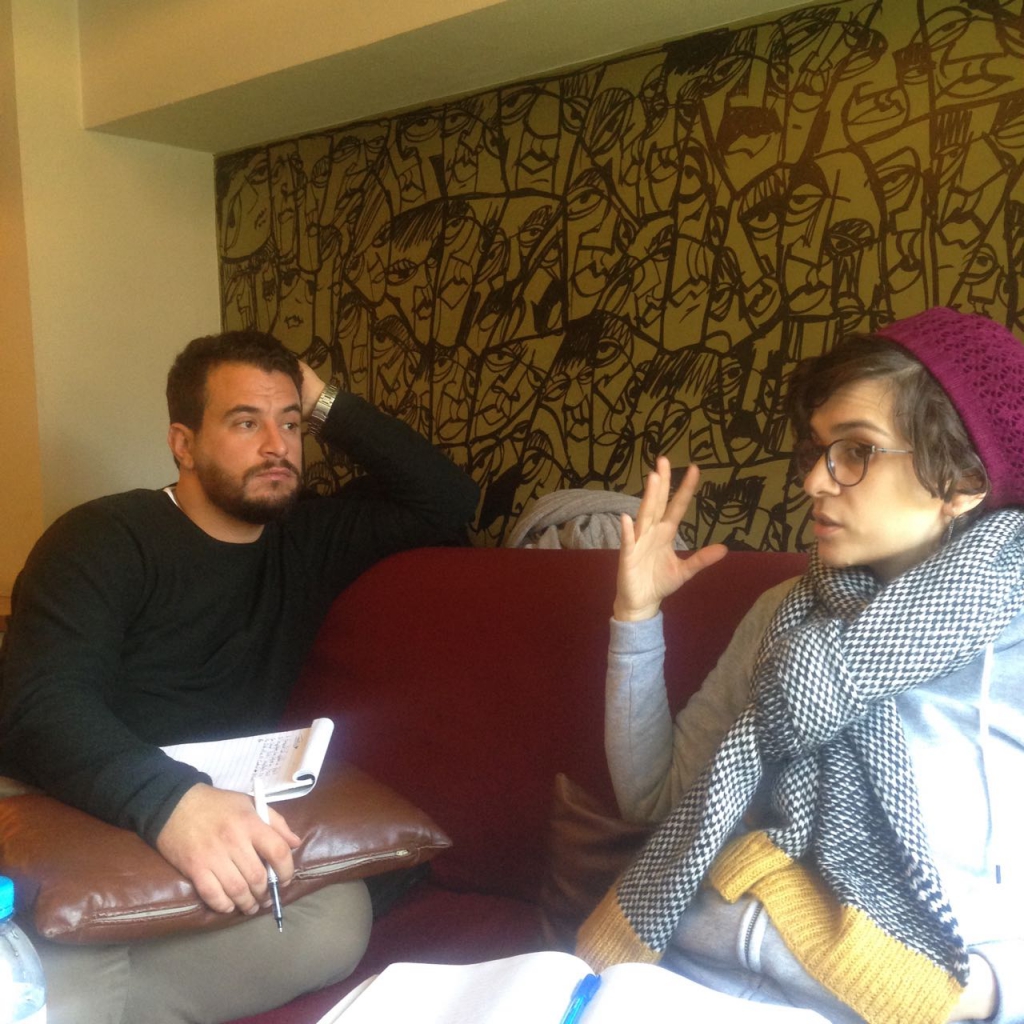 With Hamdan, our new team member from Ramallah.