Algeria, Algiers, Alger, Algérie
It was inevitable in a way, given the geography and shared history of the North African countries, to begin contrasting and comparing. When arriving in Algeria, it was my last place in the region to visit: immediately, I started thinking: Ah, the bread here, it's as important as in Morocco, but not the same. Different kinds, other varieties. It's not like the bread in Libya either: yes, they also bake with barley, but in a different way.
And the architecture. It's bright white just like in Tunisia, but of a very different kind. Algeria seems more socio-economically coherent than Morocco (almost no show-off-y cars, few posh establishments, definitely fewer brands and stores – actually, it's not even possible to pay with a credit card in Algeria). Its medinas (should be in singular probably, since Algiers' casbah is about the only old urban space that survived mostly intact) are not restored and touristified like those in Morocco, and the casbah is definitely more crumbling than the medina in Tripoli, and that in Tunis as well.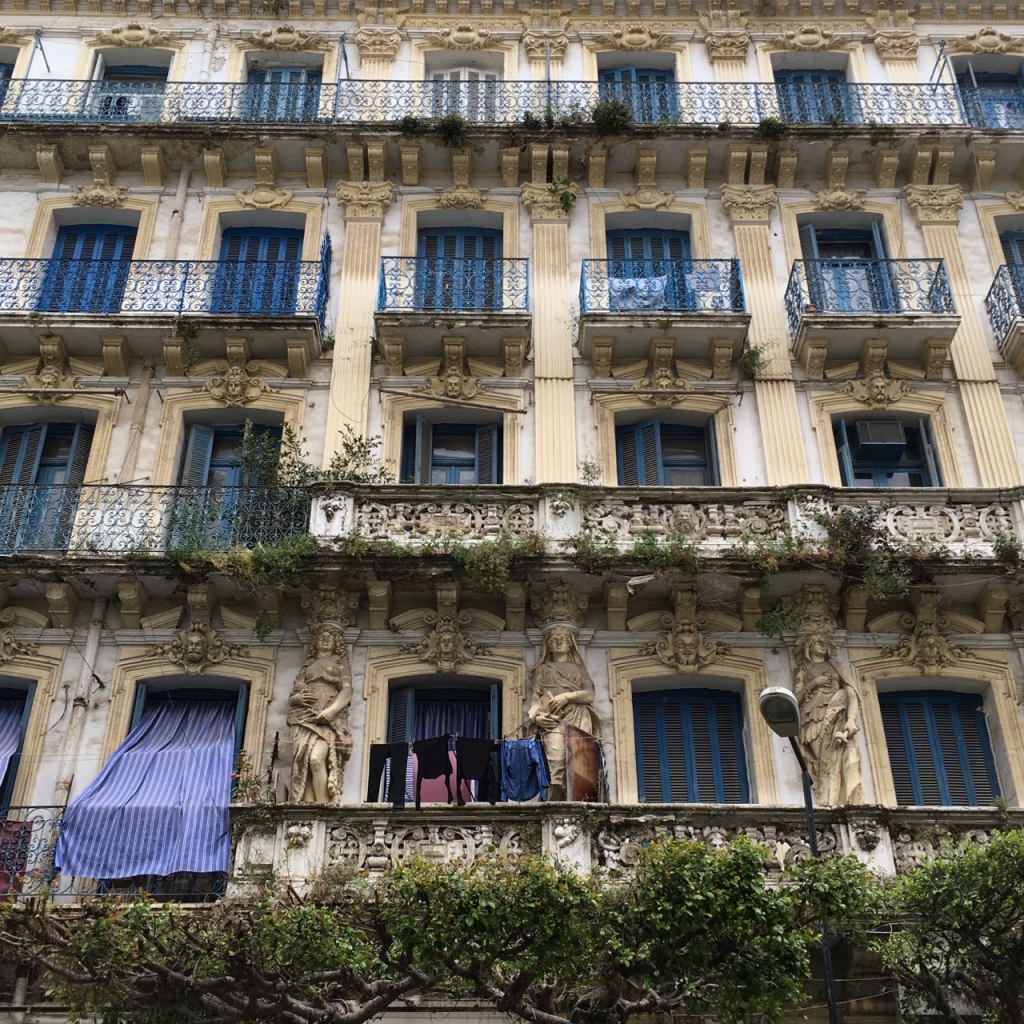 Food – less tuna than in Tunisia (maybe my experiences are not representative, but I managed to come across tuna in each and every single kind of dish in Tunisia), definitely more baguettes than in any of the other nearby countries (maybe more than in any other country over all?) but the same kind of cheap and very tasty beans and lentils, amazing fruit just like the entire Mediterranean in spring and early summer. Dates, of course. I remember the Libyan ones being particularly good, and I always buy exported Tunisian ones when I'm visiting Sweden, but I'm sure if I had a mixed plate in front of me there would be no way to separate the different nationalities from each other. The Egyptian dates I could detect – they are smaller and less chewy than the Maghrebian ones (and, there's no way around it, definitely not as good).
Speaking of Egypt, in Algeria I didn't come to think of it as often as the other countries – of course, it's far away on the other side, with many traits and characteristics of its own. But I did feel during the two months spent in Algeria that I was in this entity that we call North Africa, which says something about how much in the world that can not be placed neatly within national borders.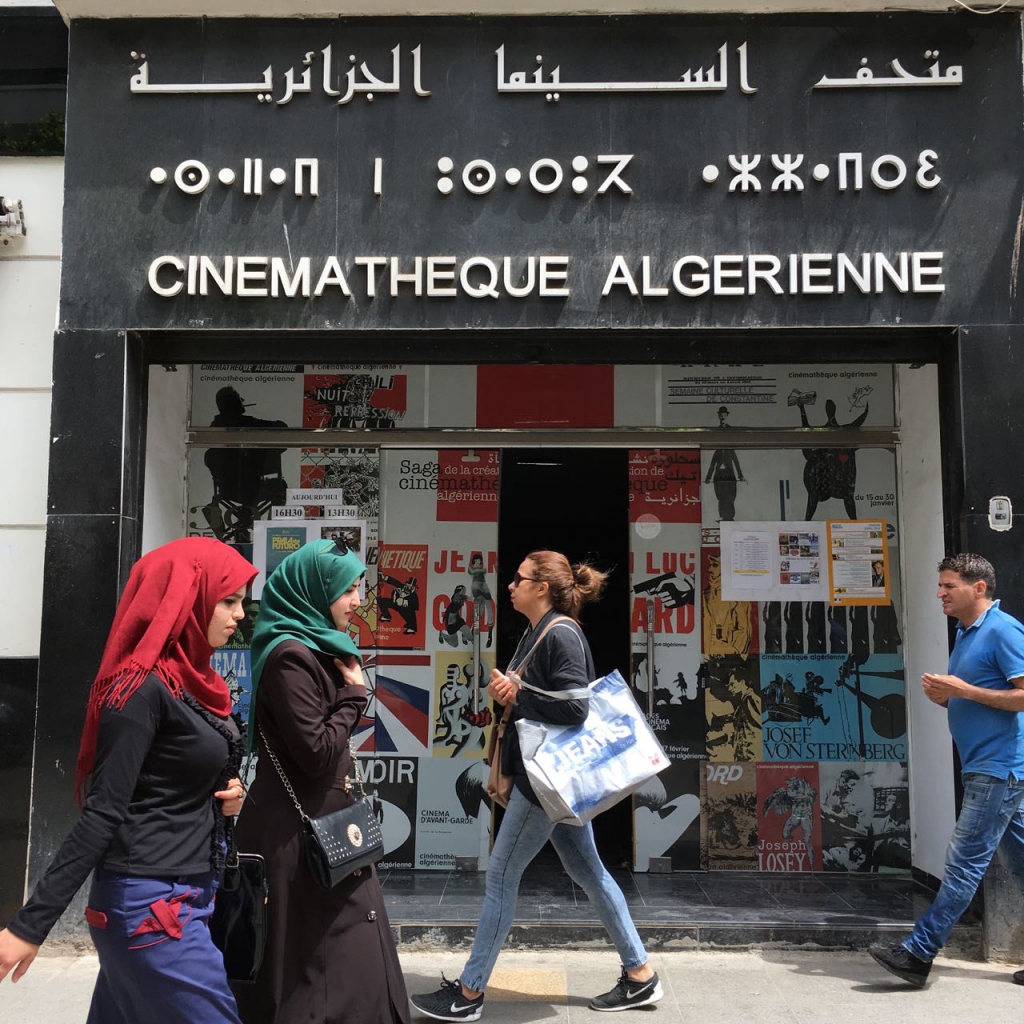 People walking past a sign in the three languages of Algeria: Arabic, Amazigh (or Tamazigh) and French.
Friends meeting on the street, just in front of a street musician's spot; a man reading the morning newspaper to the national religion of Algeria: football; people on one of Algiers' countless stairways.
Another big contrast, which shapes very much in society, is that while Morocco, Egypt and Tunisia sees a lot of tourists (at least before the turbulence of the past few years), Algeria is visited by almost none. During two months, spent mostly in Algiers but also in the western desert, the next-biggest city Oran and small places on the coast, we met very few visitors. Almost none, in fact (save a couple who came to stay for two nights with my friends who rent a room via AirBnB and a French-speaking family with shorts and cameras we passed by on the street in Oran). There were those we met at Les Glycines, a quiet and neatly organised research center run by the Catholic church: PhD students and university professors, spending time working on their Algeria-related research; there was our new Portuguese friend, who had come to work with the metro in Algiers. Many French-Algerians, actually, who had come to settle and work in the southernmost of their two home countries (including the two great journalists Nejma Chloe Rondeleux and Leïla Beratto). Otherwise, few visitors.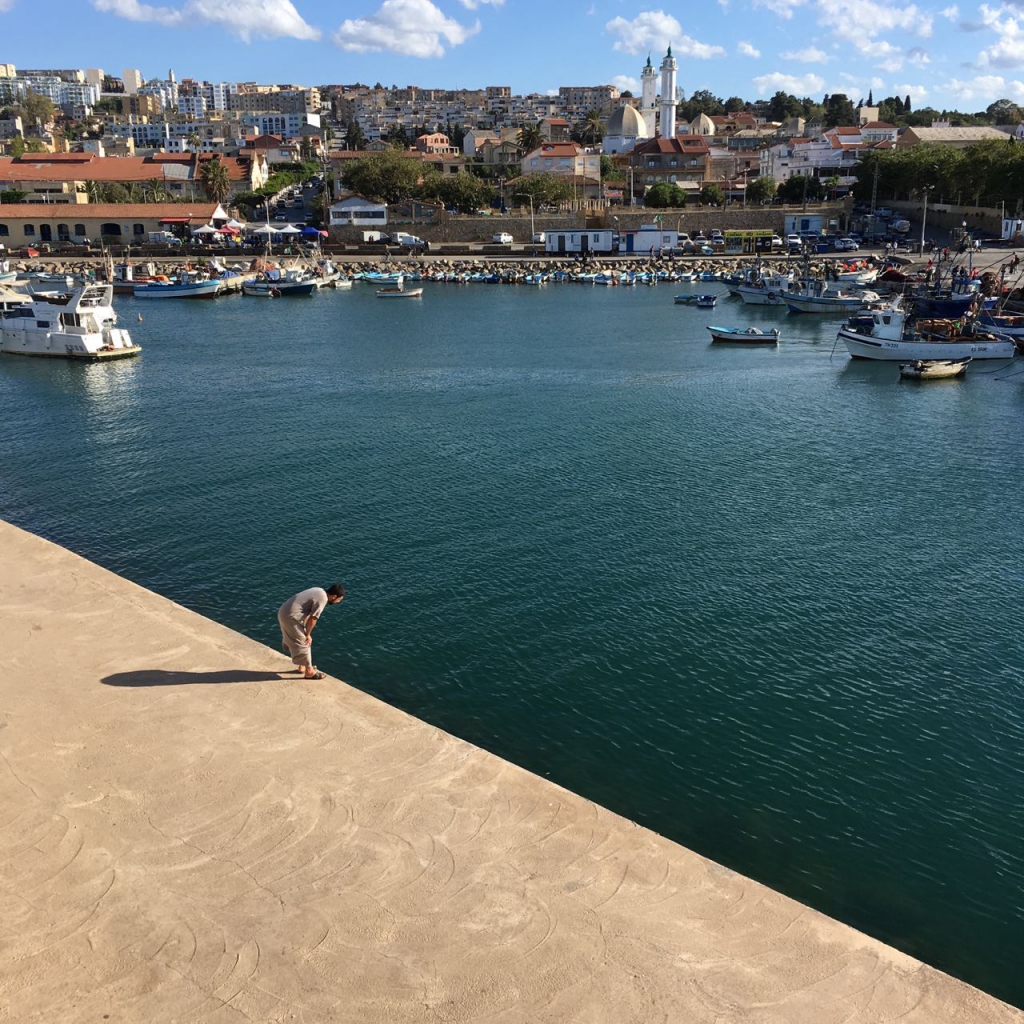 The small harbour in Tipasa, west of the Algerian capital.
And this for a big, quite impactful country. Algeria is now, after the division of Sudan, the largest country in Africa, and in the Arab world. 40 million inhabitants, mostly living on the green stretch of land that hugs the shores of the Mediterranean. Beyond that lies the vast, vast Sahara. I think to most Algerians as alien as the Midnight sun and reindeers are to a mid-southern Swede as myself (yet equally emotionally important, somehow, linked to their identity by the same kind of narratives and selected histories that link people all across the world to different pieces of heavily symbolic territories). The desert is important for another, very fundamental, reason as well: it is here that the riches of oil and gas are found.
Or, shall I say, the former riches of oil and gas: we are at a moment in time when oil prices are extremely low (and gas prices, so I've learned, connected to these levels), and few expect them to rise substantially again. For Algeria, heavily reliant on money from the export of these resources, the times they are-a-changing. Whatever the future will look like, it will have to take shape with other than oil money. And, sooner or later, under the leadership of a new president. Algeria's current leader, Abdelaziz Bouteflika, has grown very old during the last few years of his presidency – so old, most people say, that he's no longer capable of running the country. The current moment is one of waiting: for what economic policies to follow next, and for which coming leadership.
Am writing stories about all of this, together with Karim as usual. An upcoming one for Norwegian Aftenposten Innsikt chronicles the political situation and possibilities for the future, another, for ETC in Sweden, looks at an interesting fact: much fewer Algerians are joining ISIS than other nationalities (like neighbouring Moroccans or Tunisians). Worked on documenting the situation for migrants and refugees as well: we published articles in Omvärlden and Hufvudstadsbladet (Swedish outlets in Sweden and Finland) and a long feature about Syrian refugees in The UAE's The National.
– update: here's the link to the ETC story Så lyckades Algeriet motstå IS lockrop.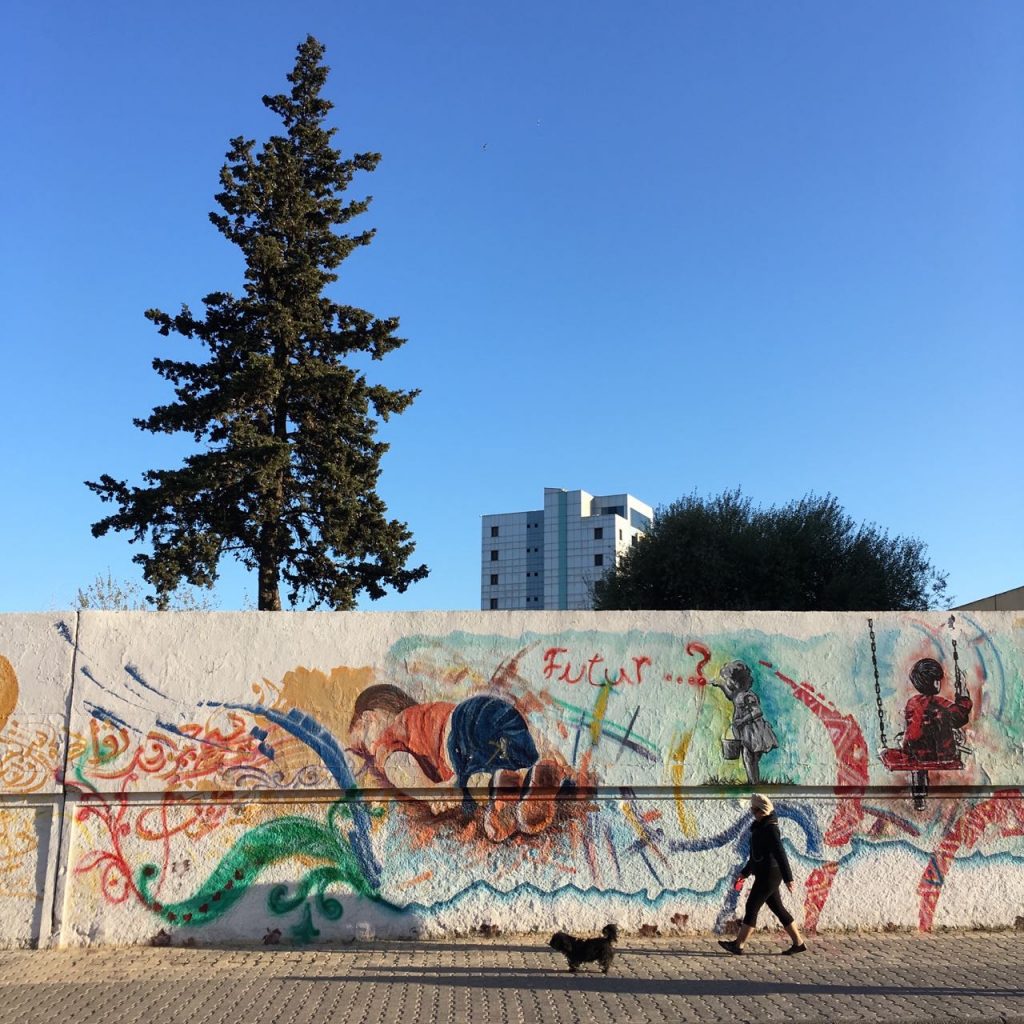 A graffiti on a wall in Algiers portrays Alan Kurdi, the small boy who died in the Mediterranean last year.
We did two stories for Mashallah News as well. The first one, New art in an old market, reviewed the third edition of Picturie Générale, a cross-Algerian art exhibit, this time showed in an abandoned market in the middle of downtown Algiers. Later on, we published From the supermarket with love about the Algerian Food Bank, a youth initiative to distribute food for families in need over the course of ten hectic days during Ramadan.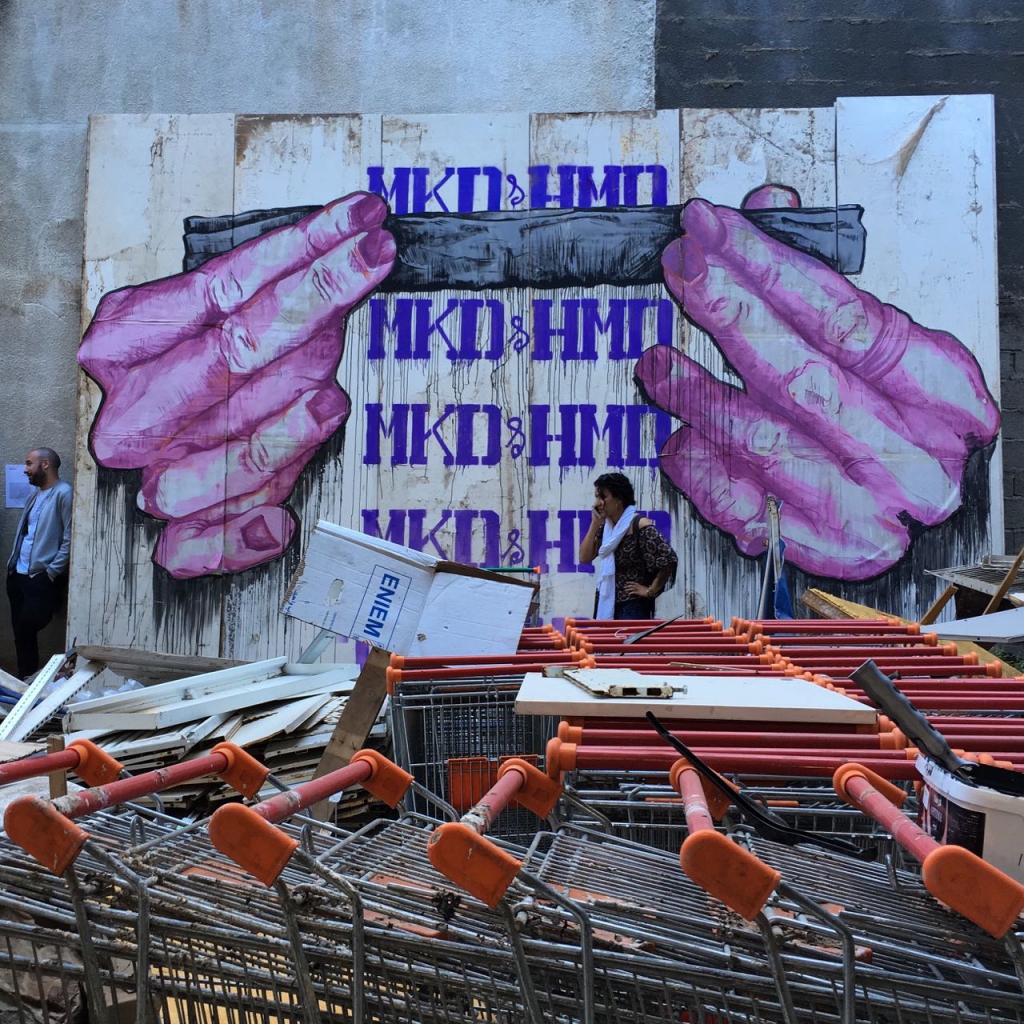 At the entrance of the exhibit, a play on the phrase MKD-HMD, 'Everything turns to shit but we still say hamdellah'.
At the opening of the third edition of Picturie Générale, showing contemporary Algerian art. Photos by Youcef Krache, painting by L'homme Jaune.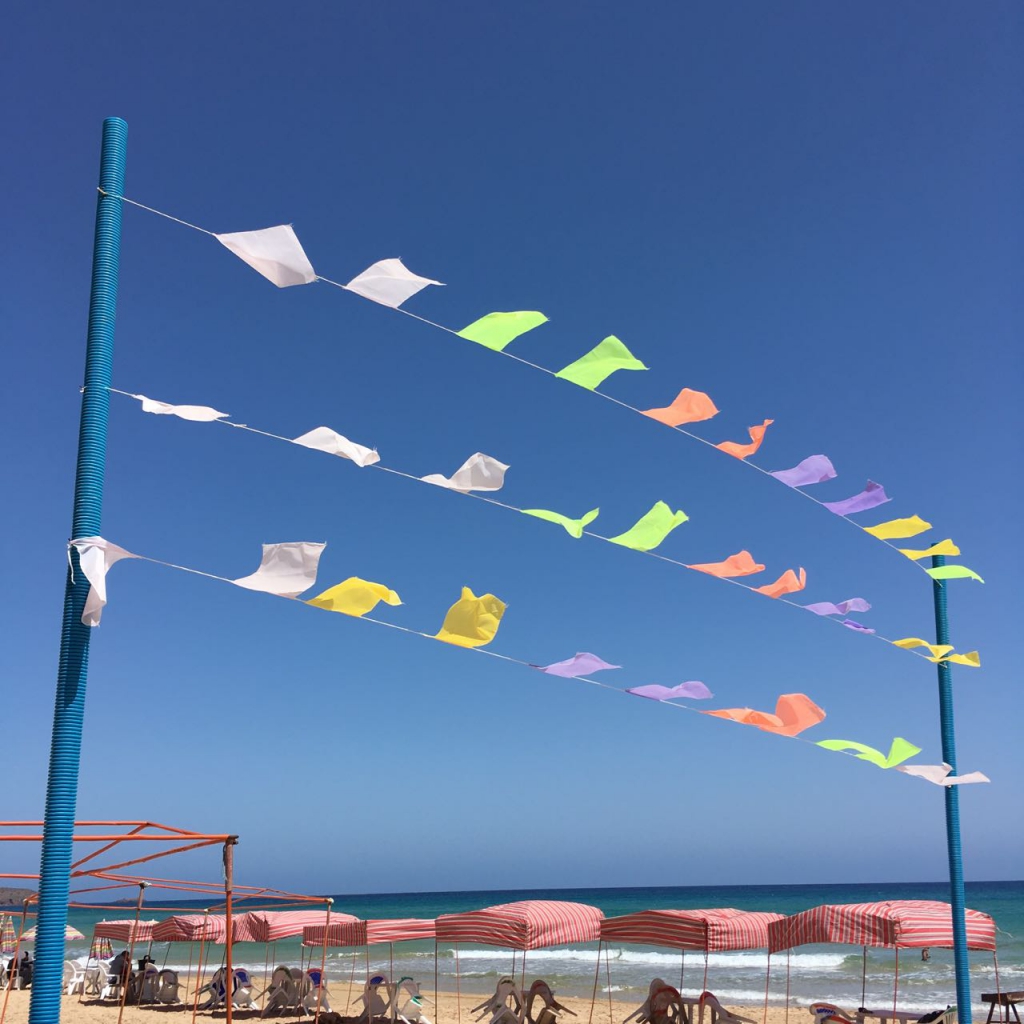 Finally, a small list of great things about Algeria (go visit!):
Algeria has the friendliest taxi drivers I've ever come across, anywhere. I think only once did someone try to overcharge (which is extremely good statistics for any country!), and several times did drivers hand back change that I intended to pay as tip. Most probably connected to the non-present tourism industry – and a very nice consequence at that.
It might also be the place where you can get the most heavenly bread of all places: kesra, a thick and dense flatbread made with oil and – this is the kind you must get, it's much better than the semolina version – barley. Each morning I went to buy it hot, straight from the bakery, then opened an avocado or a bag of olives and had breakfast watching the city come alive.
Spending time in Algiers, you will also get acquainted with one of the nicest things about the capital: the ever-present and winding stairways that lead from one street to another, or a low-lying neighbourhood to a neighbouring one, on a higher level. Algiers is a city that ascends from the sea, climbing the surrounding hills, so there's no way getting around the up-and-downs. Taking the stairways (and sitting down to pause now and then, just like the grandfathers and grandmothers of the city do) is many times better than getting stuck in traffic.
Finally, since it is a Mediterranean country, Algeria is as fabulous as any of its neighbours in offering great seasonal fruit. We spent May and June there, which meant we saw the mchimchas, apricots, green figs and small dark red cherries come and go. Nothing makes me happier.