Marseille, Marseille
It was enough with only three days. After that I knew it. I had found her: the city I would live in were I ever to move back to Europe again. Mediterranean, sunny, open to the sea and with a deep-rooted transitory identity. Marseille!
Hélène, a journalists and Marseille resident and someone I took the train with to Marseille, told me when we arrived: "When you get to the station and walk out through the main doors, the sun immediately hits you and the sky is vast and blue. Beautiful." And she was right. Arriving at Gare de Marseille was like exiting the rest of France and entering to the Mediterranean, a piece of the coastal lands where Far Away at once seems much closer. Marseille has always been a port town, a great one as such in the past, before the arrival of air travel. In those times, it served as the main gate to other parts of the Mediterranean – to Africa's northern coast, cities like Tunis and Algiers.
These days, you most likely arrive with plane or train. When you come on rail like we did, and exit into that welcoming sun, you have to walk down several sets of stairs to get to the city (and then walk up the same set of stairs, carrying your bags, when it's time to leave).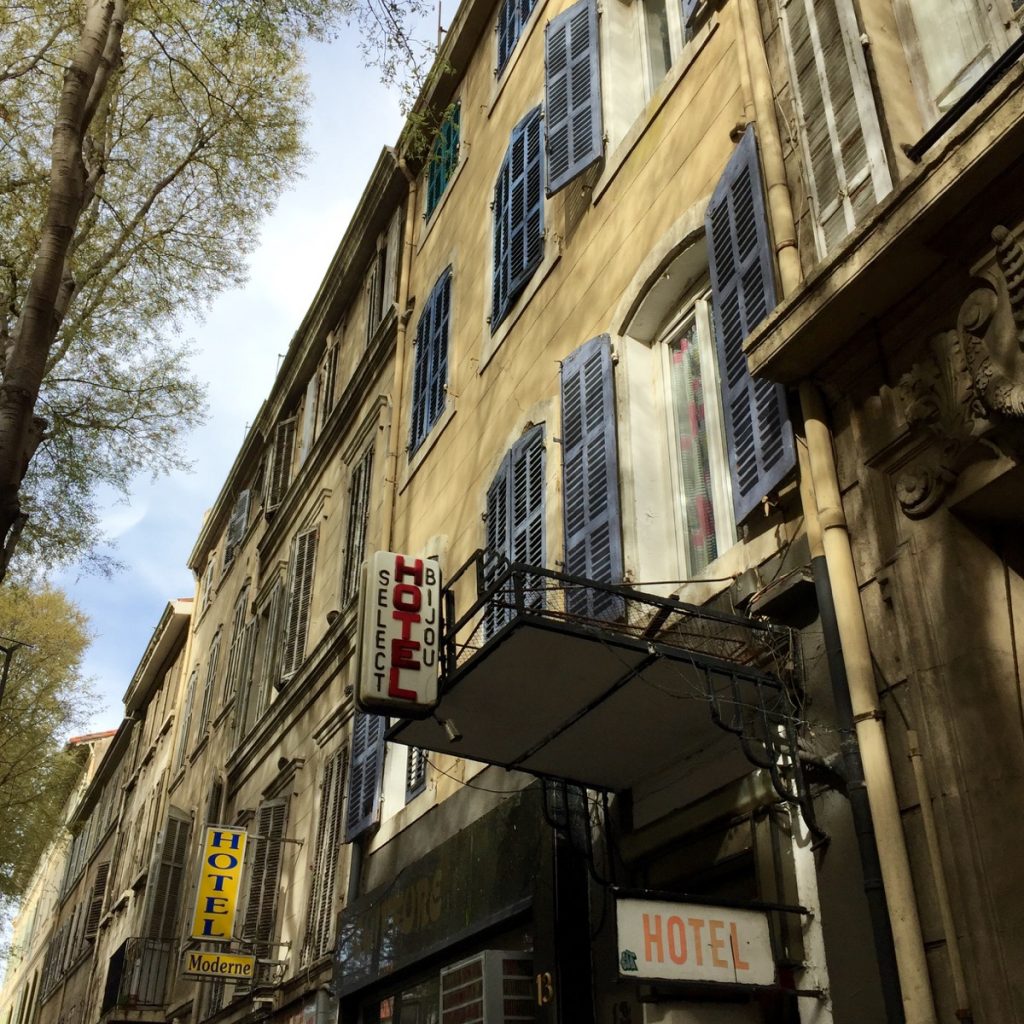 Port city hotels, still there.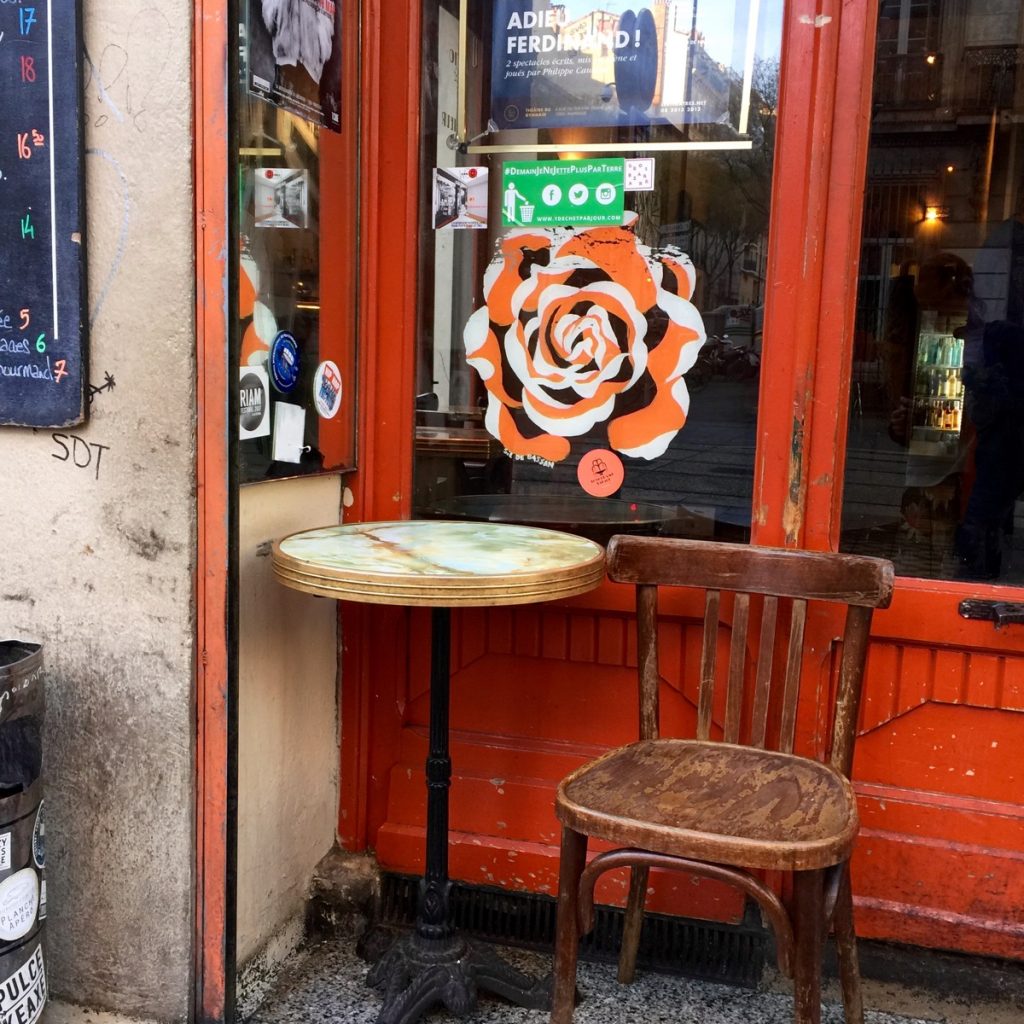 The Noailles neighborhood, right in the middle of the city near the port, is Marseille's center for Arabic and North African food, sweets and produce. You can buy fresh Algerian kesra, Tunisian and Moroccan sweets, dates from the desert and Maghrebian couscous in many different styles (the place that supposedly has the best one charges I think 25 euros for it).
The city has a great street art scene, and is full with curious street adornments like bookshelves, chairs to sit and rest and small flower arrangements.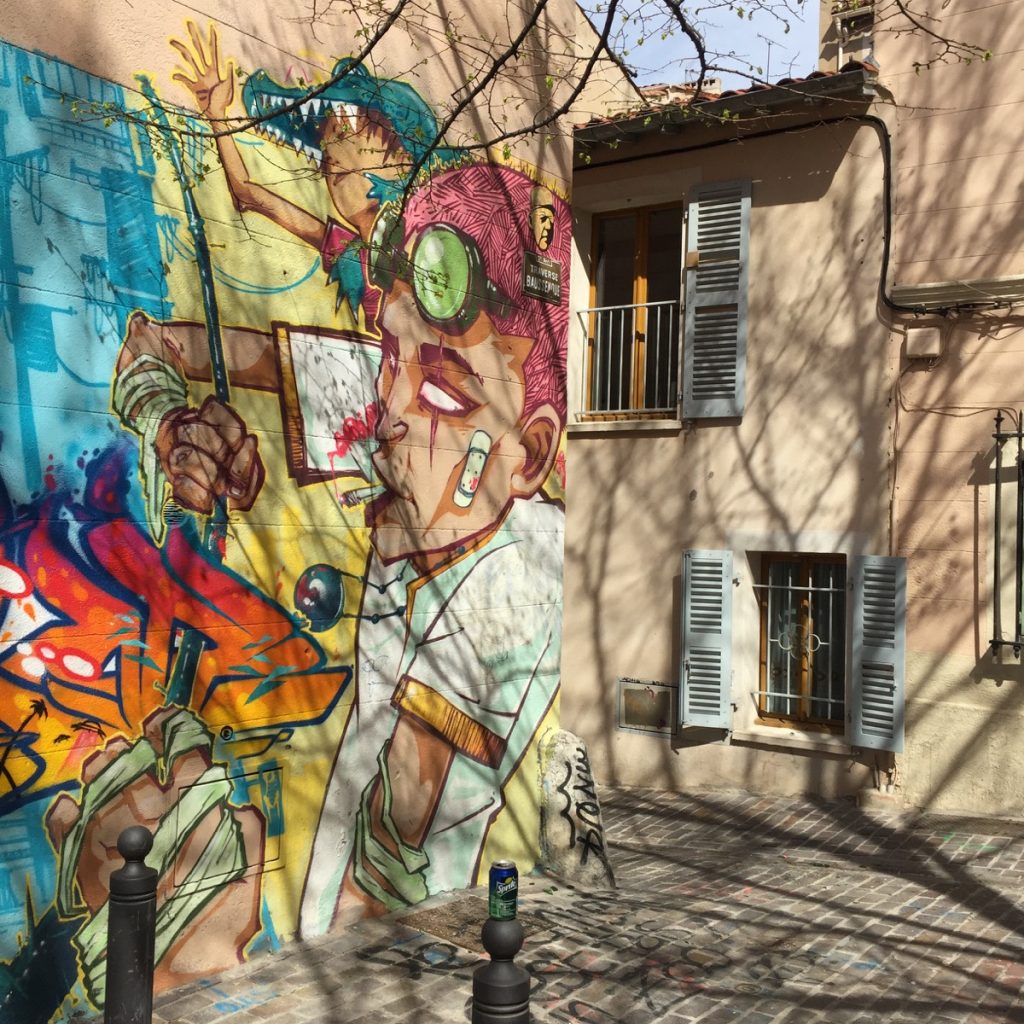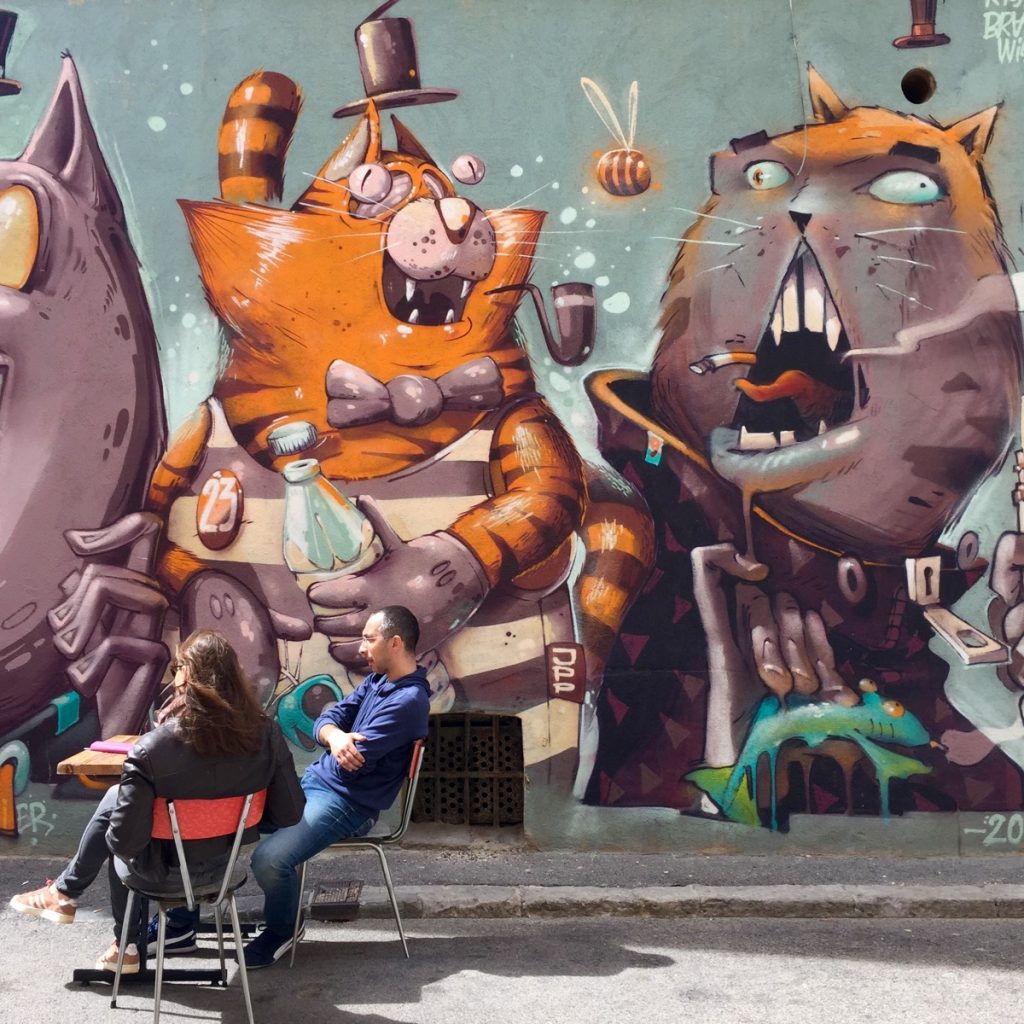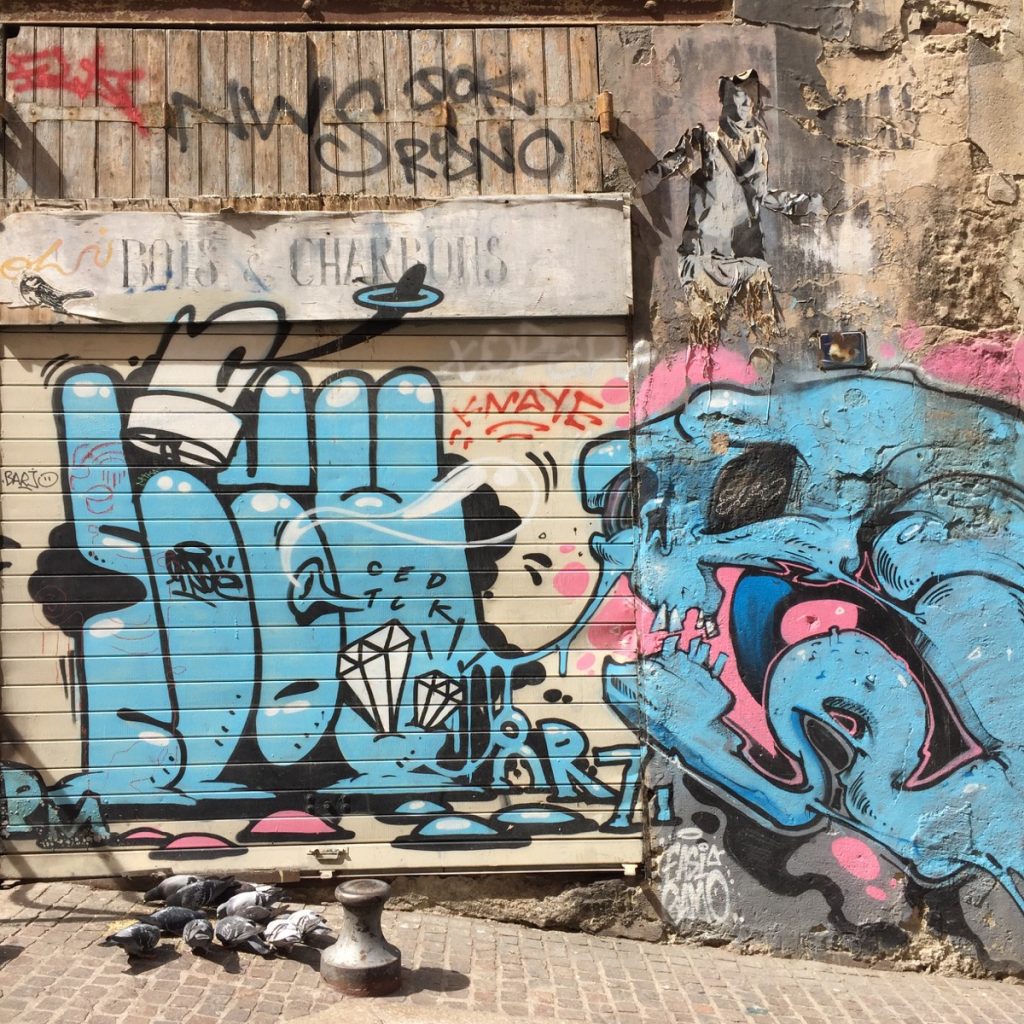 I said great street art scene.
The Brazil-born artist Nhobi lets his characters populate many of Marseille's walls and facades. I love this style expressive, figurative street art, in the same vein as the epic Osgemeos twins (also Brazilian) and Chilean Inti. Another Brazilian artist, Limpo who lives in Malmö, Sweden, since many years back, does it nicely as well.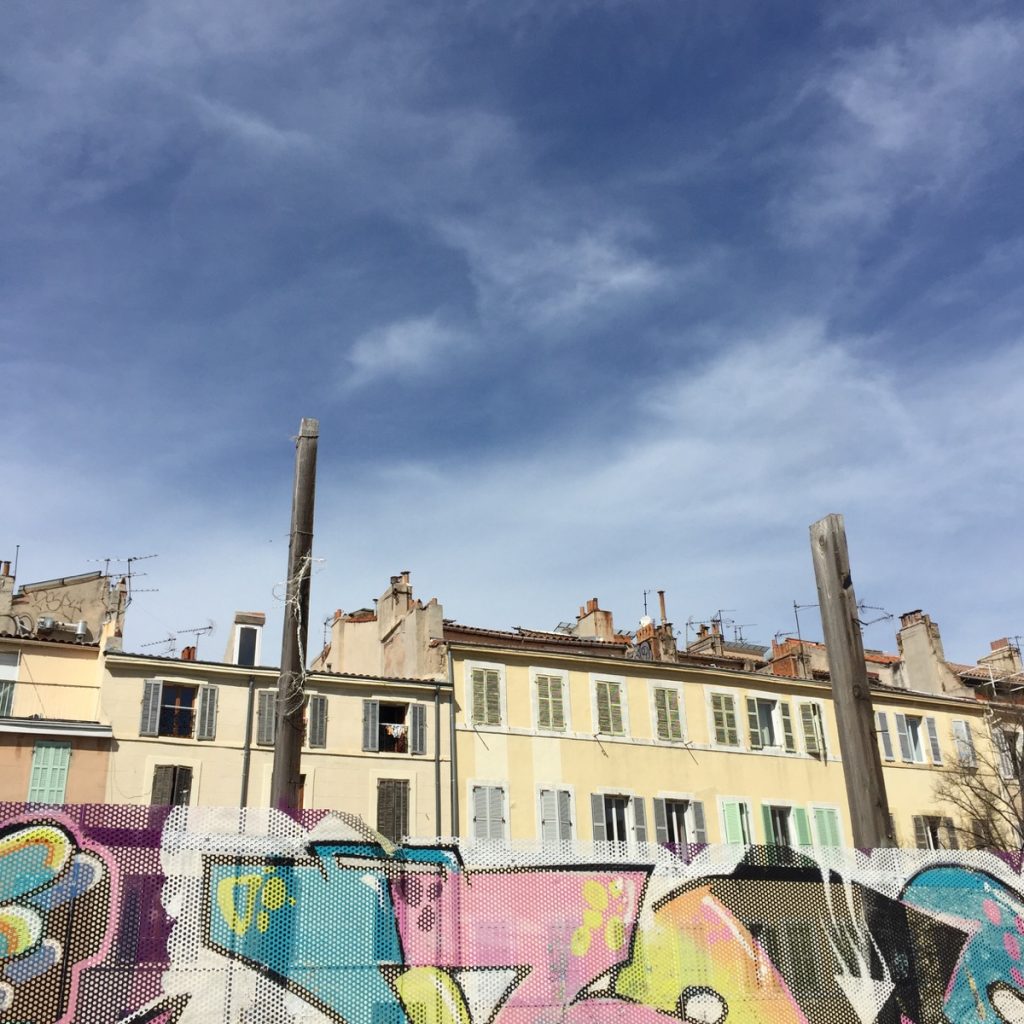 Le Panier, the old working class neighbourhood just north of the port, lined with old buildings and filled with tourists coming to explore every holiday and weekend, has been transformed into an outdoors art gallery.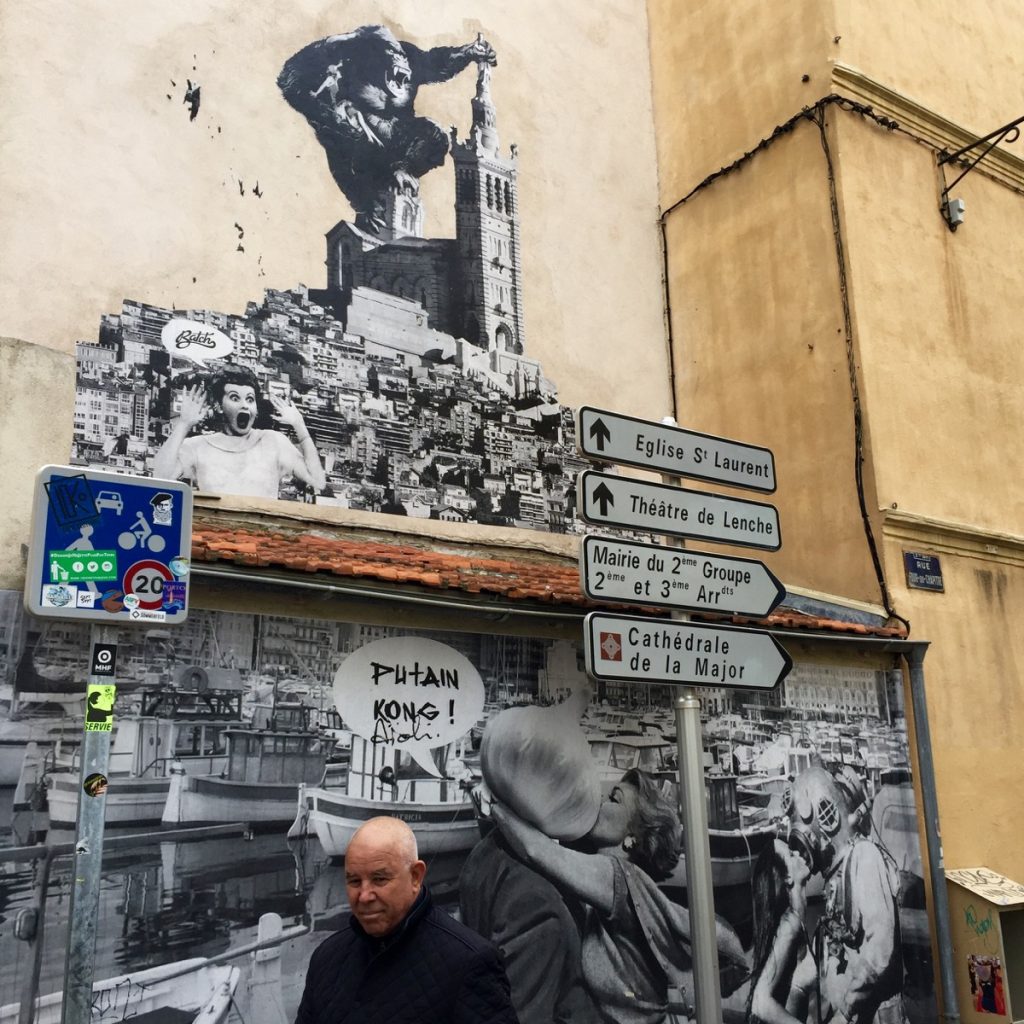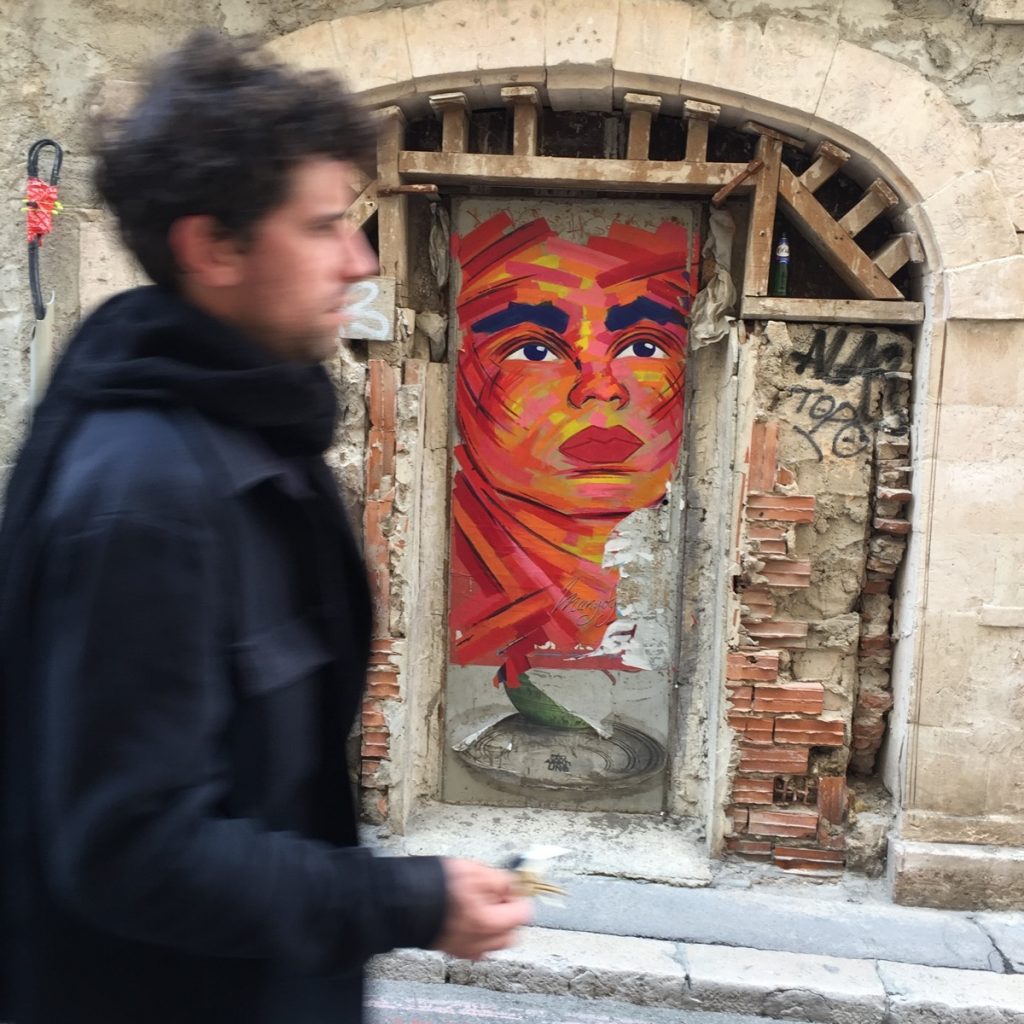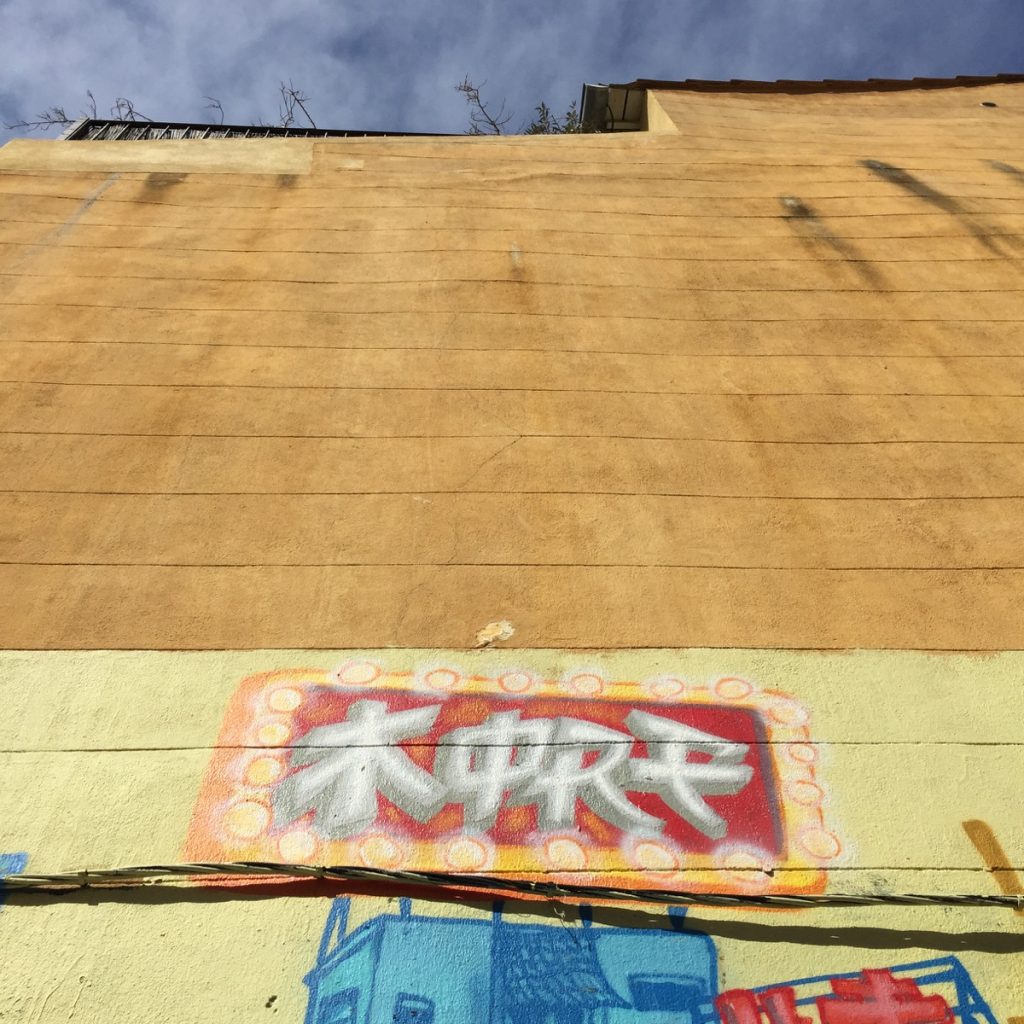 Cours Julien, a neighbourhood not far from the center of the city, crowded with small-scale hip/friendly shops and cafés, is another open-air artistic space.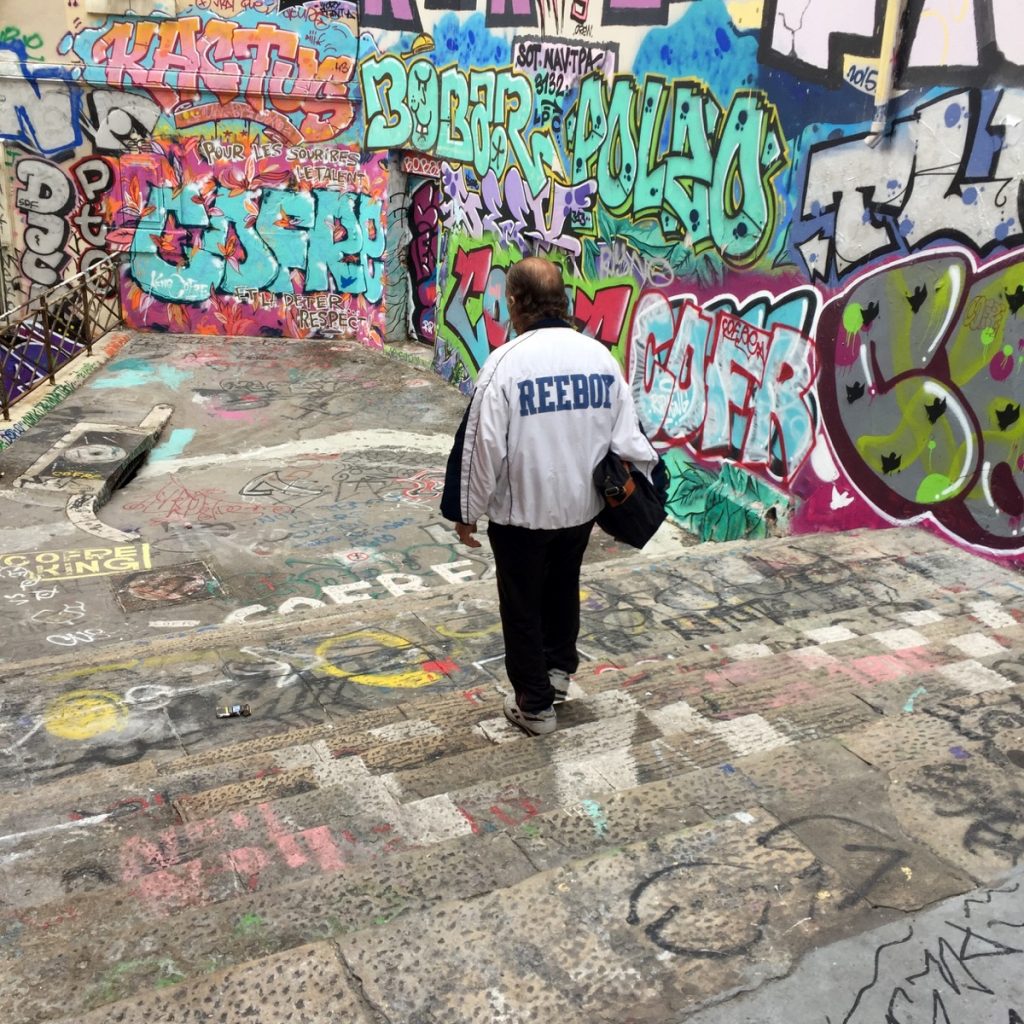 An example of matching the surroundings perfectly.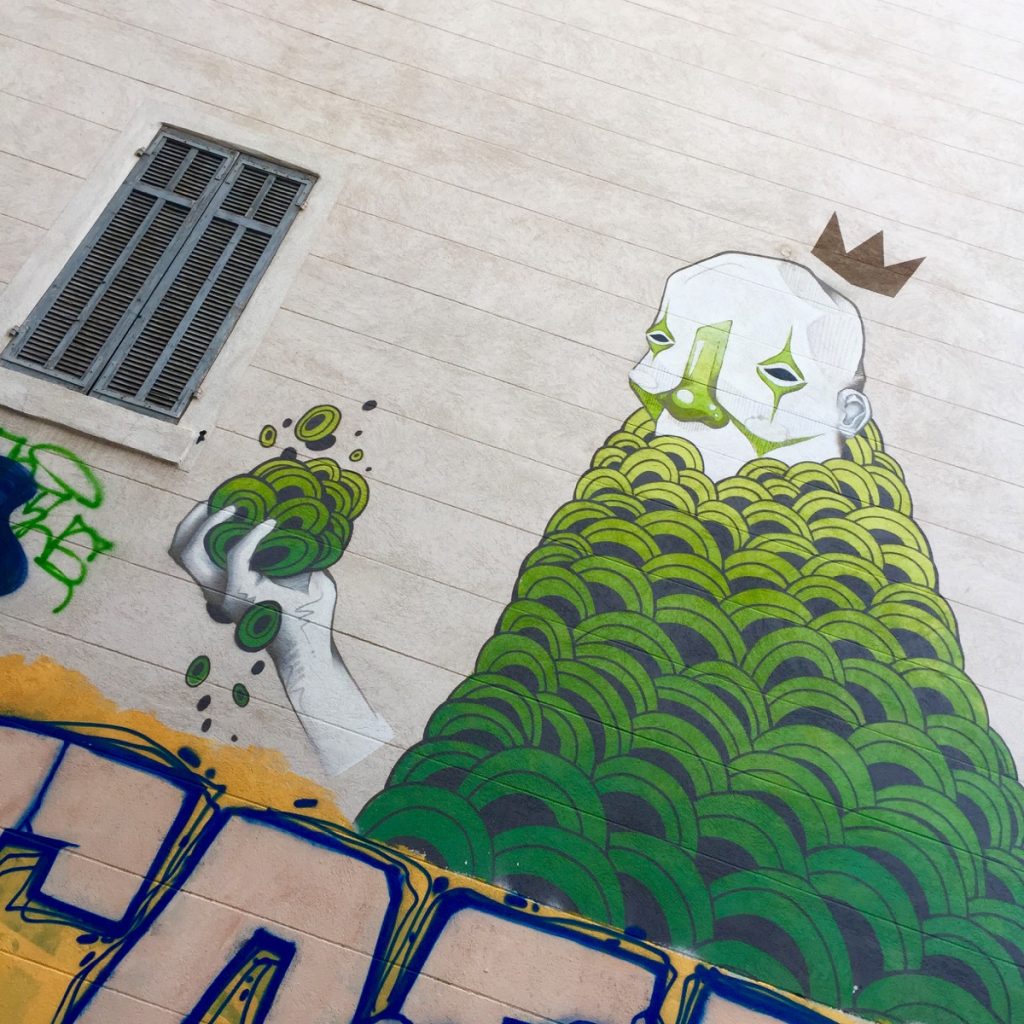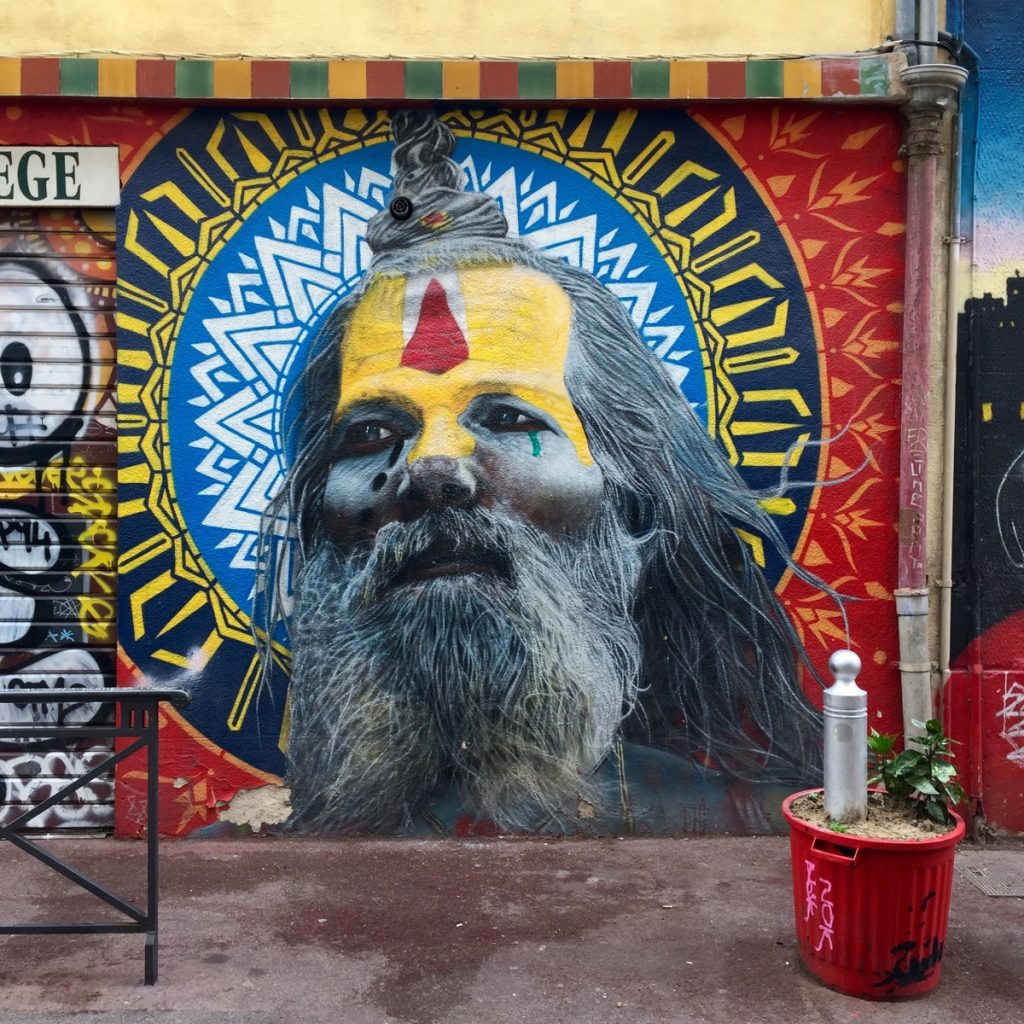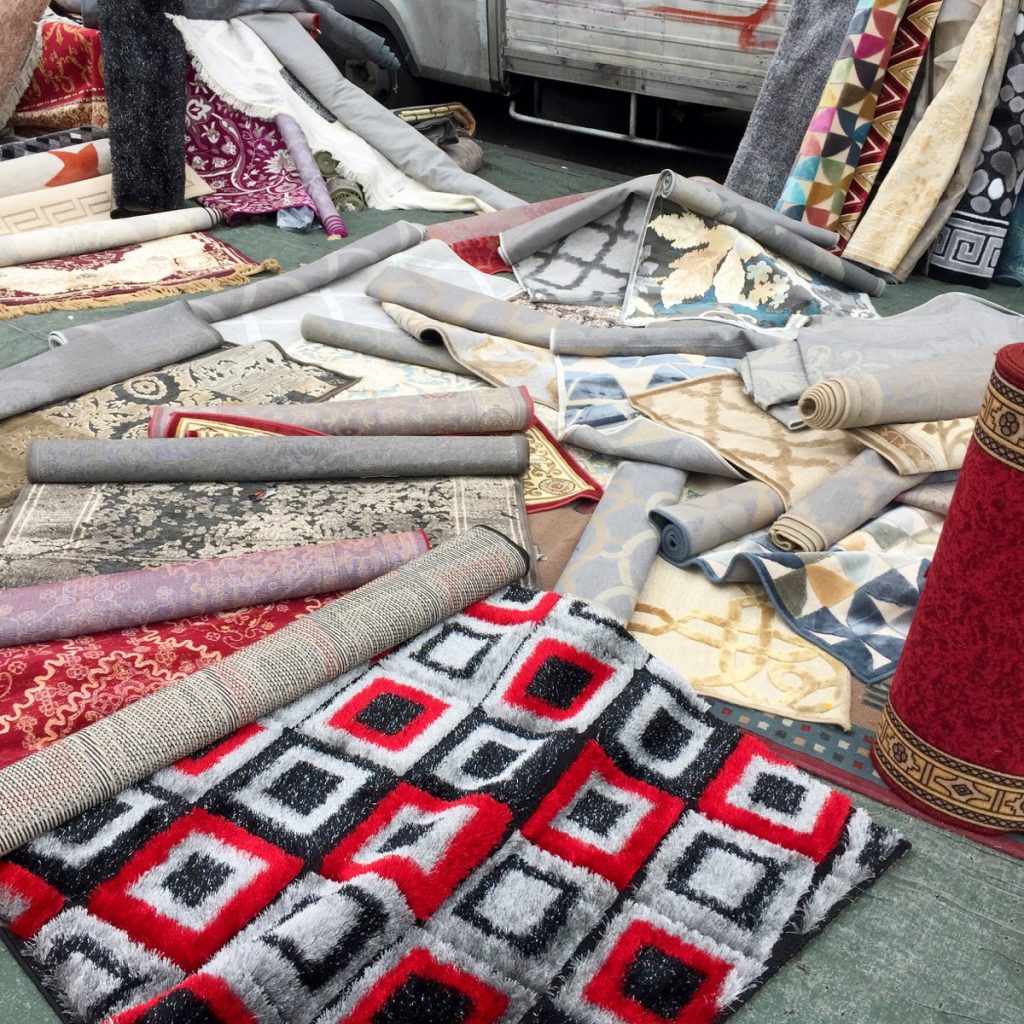 At the outdoors market in Cours Julien: apart from carpets, clothes and cheap bric-a-brac are mostly for sale.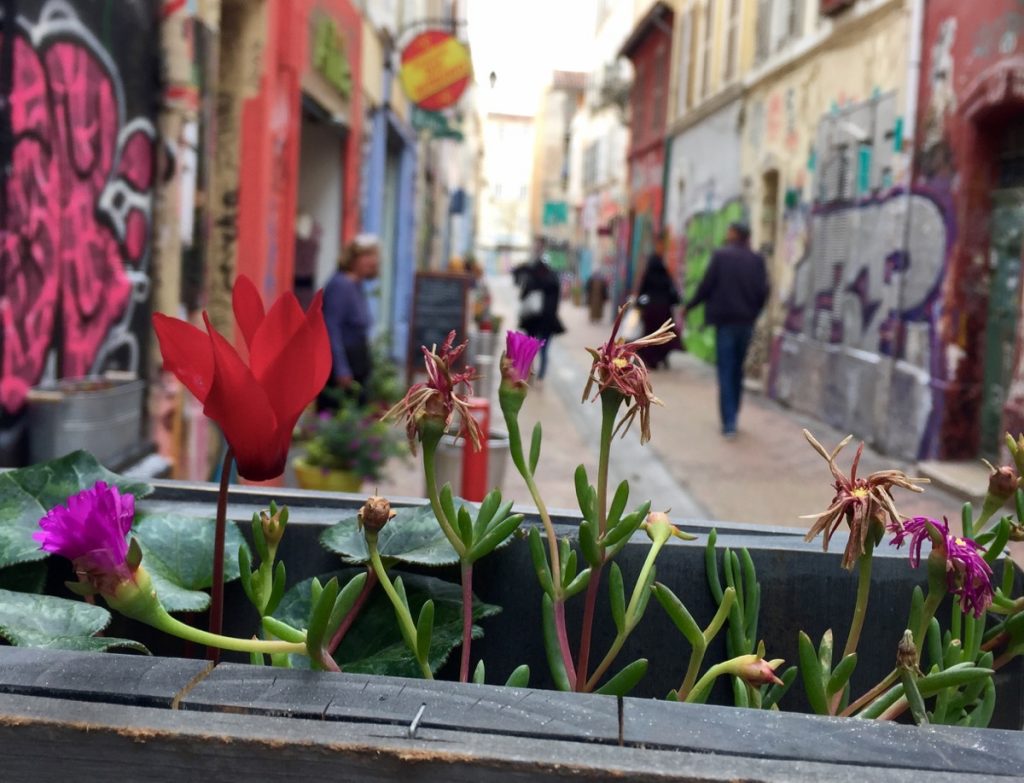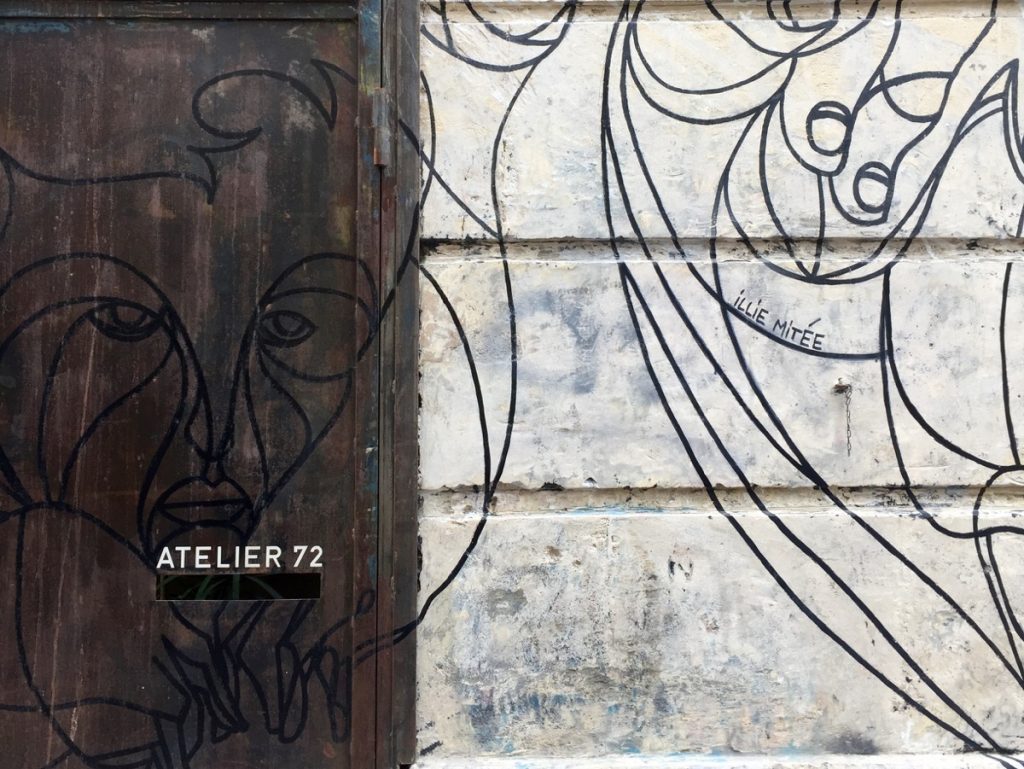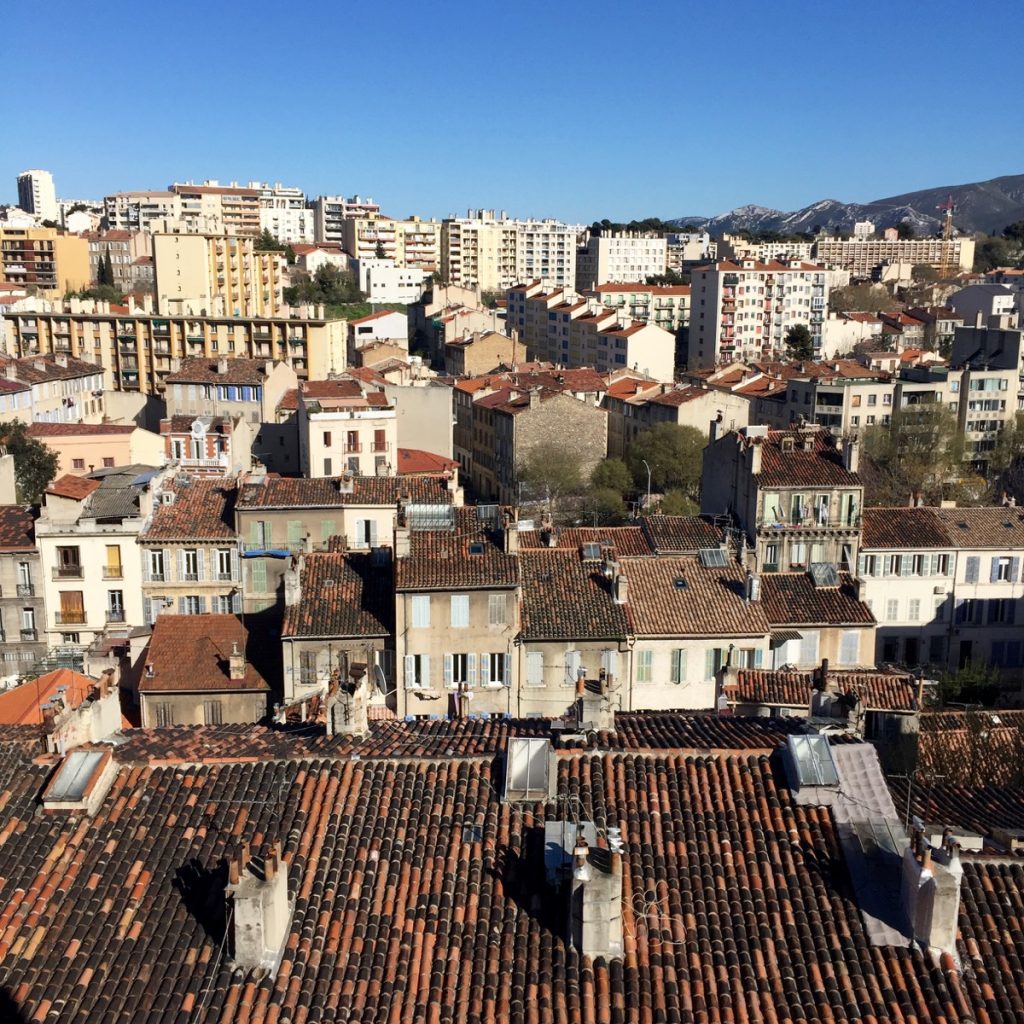 The view from my friend Nejma's mum's place near the Longchamp park. I know Nejma from Algiers, where she lives with her husband Badis. We first met through a journalism project gathering different independent media from across the Middle East: Mashallah was part, as was Nejma's Radio M. Then in 2016, when working in Algeria with Karim, we spent time together: Karim and I went with Badis to the desert in the western part of the country, Nejma and I ran a race in Algiers, watched movies and stayed up late during Ramadan.
Typical architecture, in Marseille colours.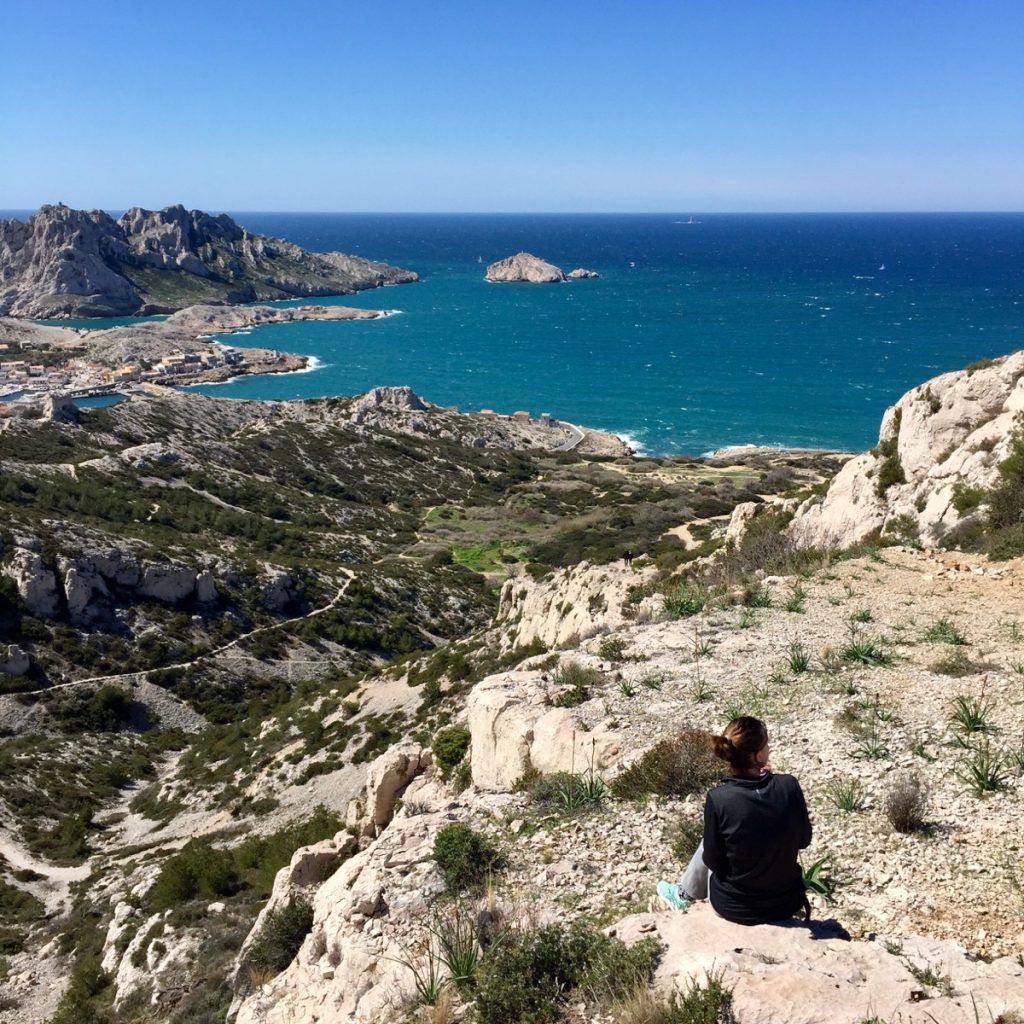 Nejma and her mum took me on a hike in Les Calanques, a piece of rocky land just south of Marseille proper. We actually took the city bus to get there – the national park starts right where the last bus stop is. Great to be in a big city and still be so close to nature. The place is amazing: we went right during Easter when people had the weekend off, but it was still serene and quiet, even though we met a lot of people out to hike. The path we took brought us up and down rocks and stones, alongside grassy parts and trees and greenery. We followed it all the way down to the water, where the mistral wind brought massive waves to the shore. We sat down with the sun in our face, the sea ahead of us and resting against a warm cement wall, to have our packed baguettes with avocado and vegetables. Nejma's mum – much to her delight – walked too close to the water and got soaked by a wave from top to toe.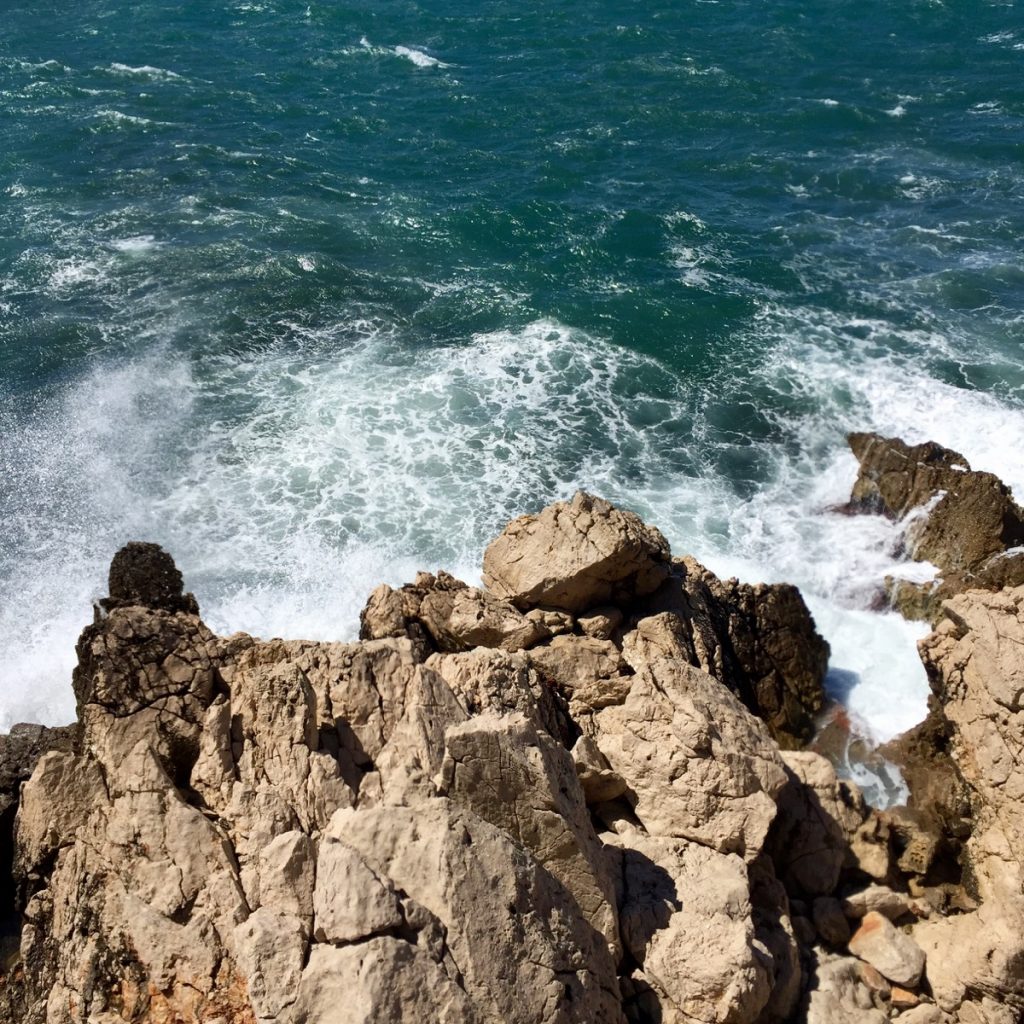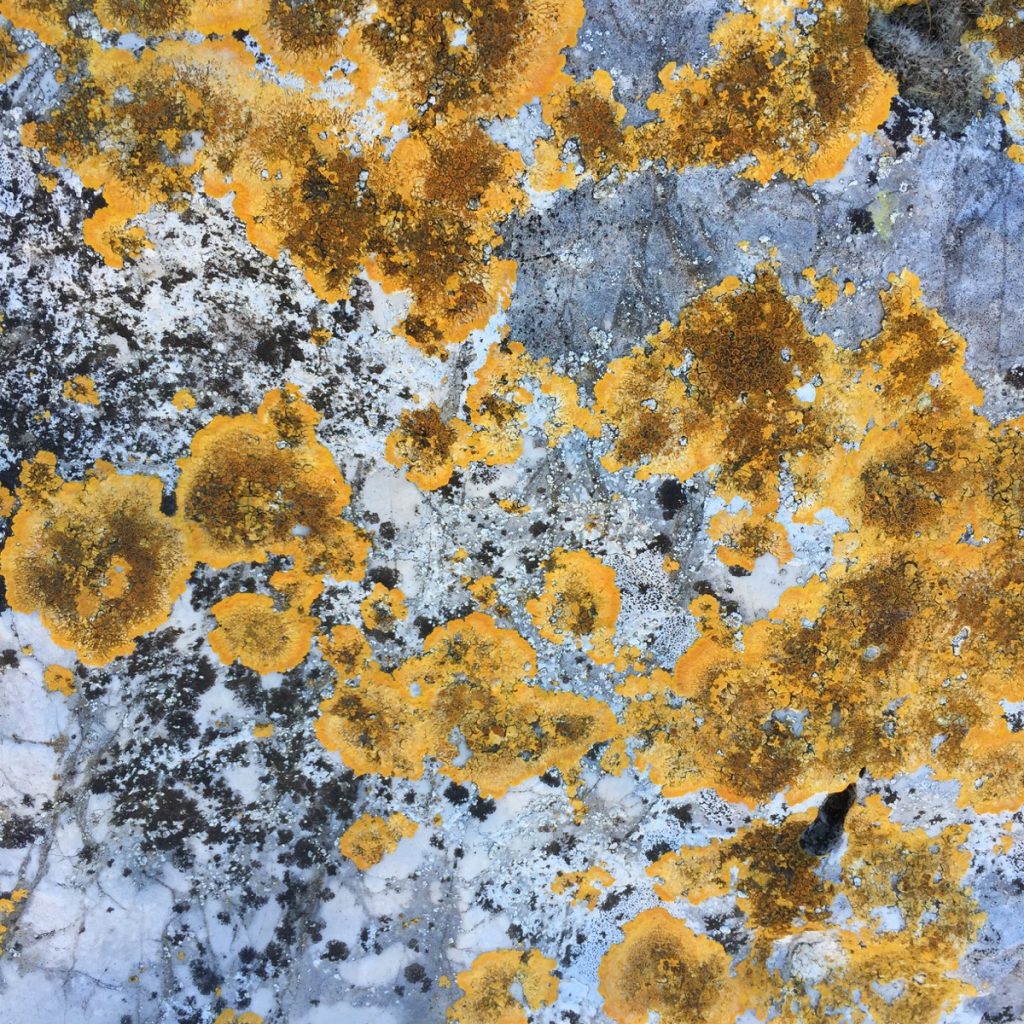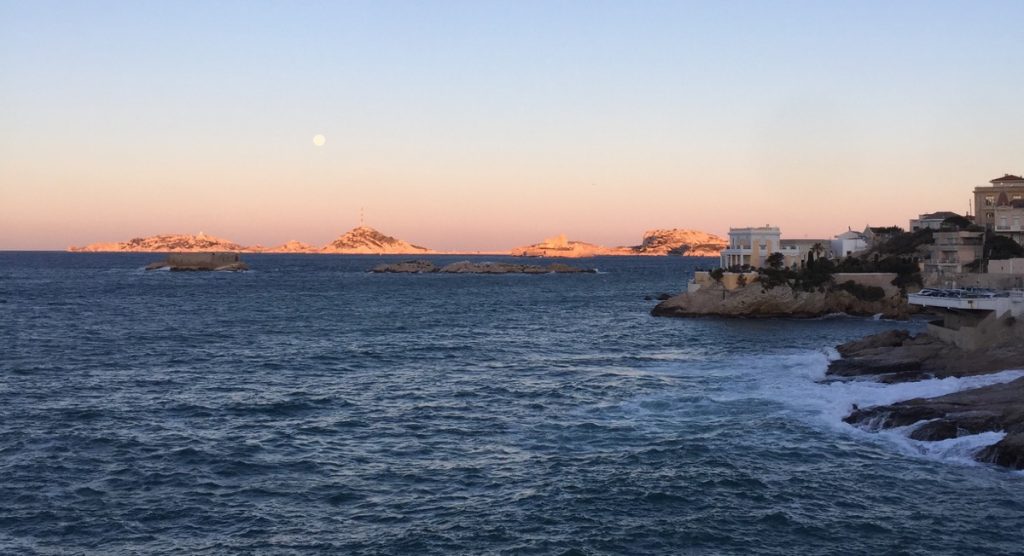 Being a Mediterranean seaside city, Marseille has a long coastal corniche which starts from just behind the old port and ends somewhere in the far south of the city. It takes you, at first, along a rocky piece of coastline where the distance down to the water is several meters; there are a few restaurants built facing the sea, and a small beach in a cove down at the bottom. This part reminded me of Algiers' corniche a lot – indeed, the two cities are kind of mirrors of each other, facing one another on either side of the Mediterranean and with populations that often have one foot in each city. When Algiers was under French colonial rule – part of France even, as decided by the colonial masters – it wasn't between Marseille and Algiers that the invisible bond was at its strongest. Then, slowly, as the corniche continues, it takes you down to sea level, and by the time you're in the southern part of the city past a number of beaches. The first one is rather undeveloped – there's a playground and a grassy area, but it is still spacious and open. The next two are lined with restaurants and cafés, and on sunny days they are all visited by lots of people. I went running along the corniche each morning: at this time, around seven or eight, it was still and quiet, and rather chilly since it was only early April.
I listened to podcasts two different podcasts about Marseille during those runs: I love this way of getting to know places. To run through the city while listening to stories about it (and reading short stories, that's the third one, but can't be done at the same time as the other two). They turned out to be two very different stories about the city – and examples of how to portray a place and how not to. The first was a BBC World Service program aired a few years ago. At first it sounded promising: the journalist set out to visit Marseille, a "model of pluralism" and home to big Muslim, Jewish and Christian groups "living in harmony". Soon though, it proved a big let-down. Yes, the journalist was after saying something about Marseille's multiculturalism. Its diverse population, its mix of religious groups, how they shape the city. But he was so stuck at thinking of people only as "Muslim" or "Jewish" that this is all he saw. Those he met were not people, they were figures to represent only the religion they happened to belong to. It certainly is not the first case of a journalist with a white, Western, perspective seeing everything else as "other", with room for nothing but whatever is assumed to characterise the "other" religion/ethnicity/culture. The people he interviewed got zero chance to be anything other than a "Muslim" or "Jew" – and to little surprise there was no French Christian figuring as a  "Christian": no, people who are white and Western always get a chance to be diverse and multiple, to appear as themselves and not representing an entire group. There was something else I really didn't like as well, when towards the end of the piece the story developed into guilt by association. The journalist was in a mosque interviewing an imam when suddenly there's a woman in the street who gets her necklace stolen. This gets integrated into the story, and the imam is quoted, saying something about how crime is not related to Islam. Well, of course. Had the same thing happened when he was in a church, or a Thai restaurant, it would not have appeared in the story as an example of Christianity or Thailand and links to crime. When the podcast ended, it left me with a disappointment: a potentially great topic was dealt with in a very shallow way.
Good thing though, I turned on the other podcast! Because what a different way of telling the story of the city. I was an episode of a series called A Tour de France, where the listener is taken on a journey across the country making cultural and culinary stops. I actually downloaded the episode about Lyon as well, since I'm spending a lot of time there right now working with our journalistic workshops: in that show, they searched for the roots of the food history of this great culinary city (the heartlands of French cooking and eating); its iconic bouchon eateries and the women who developed this way of cooking hearty and delicious food based on local produce. For the Marseille episode, which I had in my earphones when the mistral wind hit my face, they they talked about the city's diversity in a much more interesting way than the BBC journalist did: through the prism of its iconic dish, the bouillabaise. Becuase this fish soup is exactly what Marseille is: a mix of things, put together in a way that claims to be neither pretentious nor particular in a certain way – it just is. The podcast that the series is part of is called The Land of Desire, researched and produced with, it really shows, much love and devotion.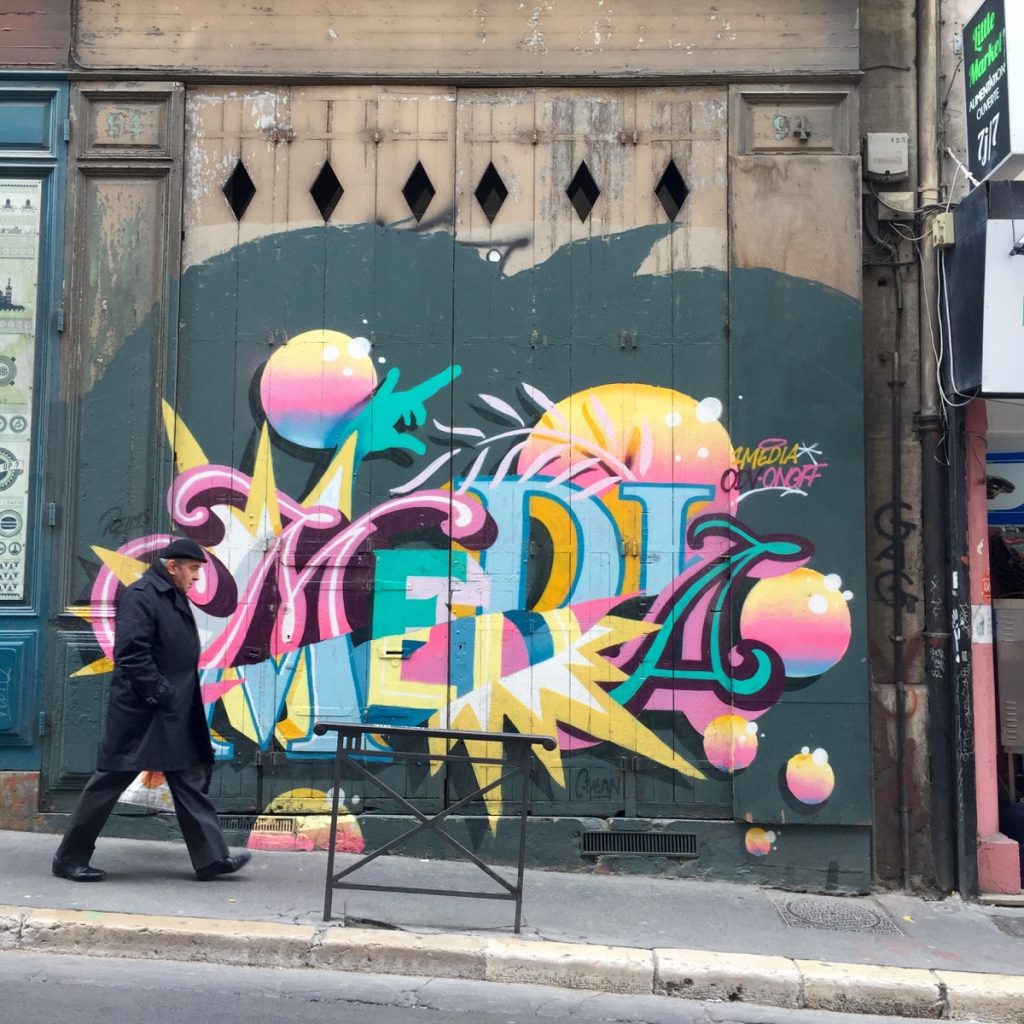 That's it – goodbye for now and until next time, Marseille!